NEWS - Most recent first.
We have added a video of Rosall on You Tube. It is a video of him and JJ Tate during one of the Tests at the 10 Day Advanced Stallion Performance Test held March, 2008 in Jupiter Florida. * see news below. http://www.youtube.com/watch?v=fAWsRBM8zOkMore recent video on the Hassler Dressage Website.
For Donavan use: http://www.youtube.com/user/wendycos
To learn about inspections for your foals and mares, go to the Links page. Find the registry you are interested in and go to their site. Read their menu for the inspection tour dates. LINKS page will help.
---

2009
December 1-31, 2009:Join us on Facebook!! There is a lot of nonsense and a lot of fun connecting horse people all over the country.
December 22: I may not be posting any news until after the new year! We go to see the grandkids, and come home and visit with good friends! So everyone have a safe and wonderful 2010!!
December 20
MARTY USED THE WISCONSIN TOOLS, THE SNOW BLOWER , SMALL ONE , AND THE HUGE BOBCAT WITH BLOWER ON IT!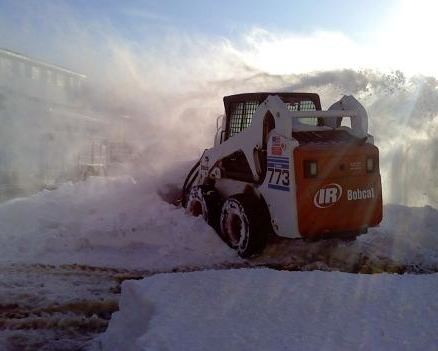 Wow. We have Snow!! A lot! So I am hibernating and working on putting Donavan on YouTube. http://www.youtube.com/user/wendycos. We have added a Donavan MIdwest Horse Fair Freestyle exhibition and a Grand Prix test in competition. We have very full memories of those days, and still marvel at what a remarkable horse he is. In a few days we visit our Grandsons again, and enjoy the end of this interesting year!!
Donavan loves the snow! We had a bit of a snowball fight!
We had a fun good bye party for Shari Walls, who is off on a new adventure out west in Arizona. We love her and wish her well. She is leaving things in great hands, as Josie Gomon will move onsite and is our full time Barn manager with Kim Ward stepping into the part time slot. Kim is from very nearby and has a small farm of her own that she manages, with several horses she has started and foals she has brought into the world. WE are very fortunate to have her on board too!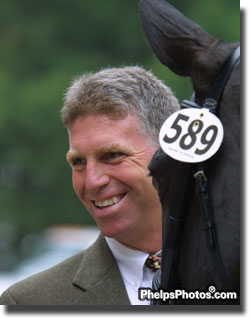 Congratulations to George Williams upon his election to President of the USDF!! We have known George and Roberta from before we owned Donavan, as George rode Donavan so successfully prior to our involvement. He is a wonderful person, and talented rider, and we wish him only the best in the new role. We still hold onto a dream that he and JJ Tate would go to the same Olympics!! We loved watching him on his wonderful mare Rocher as they wowed crowds at GrandPrix in many locations.Now he is on a new exciting horse and we eagerly wait to see how this turns out! The Williams's daughter Noelle, used to kiss Donavan good night when he was with them and she was a little girl.
December 13, 2009:
Rain Rain go away. The eastern shore is just soaked in rain .No, we are not digging out of snow, thank goodness, but the fields cannot hold anymore water. No one is out today and that is a pain. JJ has written that it is very hot in Florida, what difference the miles make. Note: Rosall now is a 2 star stallion for the Isr/Oldenburg NA. You might find it interesting to look up star stallions on the ISR/Oldenburg NA website. Donavan now is a 4 star stallion. There are only 5 you can earn. This is written Donavan ****; or Rosall **.
December 1, 2009
Well, Here we are! Home from N. O. and still raining, but today the sun finally came out. It is chilly! Some parts of MD had snow, but on the island here we saw none!
We are getting ready to say goodbye to Shari Walls, who has been a very important part of our team here at KIS. She has taken a really exciting sounding position out west , and will leave us Dec. 21. We wish her all the best!!
I am interviewing some very good candidates for her position. If you are near here and want to work form us, part time.. give me a call!
Everyone is good, Donavan is enjoying the brisk weather, and the young 'uns are very frisky! and Fuzzy! Princess and Rosall are now in Florida with JJ, and have settled in. We hope to get there this winter some time.
If you go to facebook we are on there and I have posted photos of my grandsons and also some of the horses from time to time!!
The pregnant girls are super. Berolina is large, due in April and I am hoping for a filly by Rosall, and might just call her Rosebud! So , if Pepper has a colt, he might get the name Roswell. That is a town in GA, and Pepper is registered as Atlanta. IF Manhattan has a full sibling colt, I may just save Isabelle some trouble and suggest she name him Royall KIS II ! Rusty is Royall KIS. Manhattan is settled in , due in May..

The American Hanoverian Society Annual meeting is in February, 5-7th. It is being held in PA this year, and the Mid Atlantic Hanoverian Breeders group is organizing. They are looking for some really nice items for the Silent Auction held each year on Saturday and money goes to further the goals of the AHS.

KIS is Wishing everyone a Wonderful, Joyous, and Healthy , Holiday and Happy New Year!!

November 1- 30-2009
November 21, 2009:
Many things to cover. Marty's mom passed away a few days ago, after a long life. She was 97. So we will be making plans to go to New Orleans for the funeral.
Prior to that we went to Seattle and immensely enjoyed the fun of having our two Grandsons to play with!! Corlan and Quincy are adorable, and of course charming, smart musical, funny and all of those things.
My son Adam and his wife Helen are terrific parents. They are so fortunate that Grandma Fang lives with them and can love the boys help. I am so envious that she can spend so much time with the 2 little ones.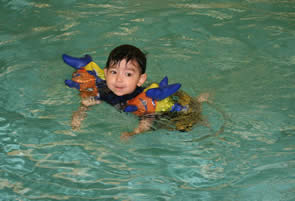 Corlan and his parents went for a swim at a lovely pool and we had a great time taking many pictures. Quincy is just starting to smile and laugh and make faces for me and I just adore him.
He is a very sweet boy.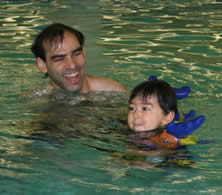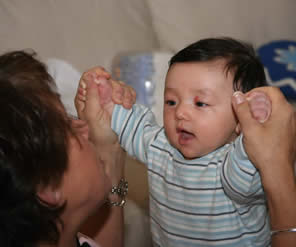 Quincy is beginning to look more like Marty we think. Below he is smiling with Grandma Wendy.
We have been showing Dax to some very nice people and are hoping we find him a great home soon.
November 12, 2009:
See the lovely foal duo on the right hand side of our heading? The one with the snip on her nose is Dragee. (2007) We recently made a quick video of her and our coming 2 year old Dahlgren ( Boomer) and placed it on YOU Tube. http://www.youtube.com/watch?v=1QOZaqTNFNo..( or use Google to find video of Dragee and Dahlgren). Both are for sale, and are maturing into very lovely and talented prospects.
Nearing Year End.
One of my favorite holidays is Thanksgiving.. so much to be thankful for!! And most of all for my family, and the two little grandsons I am heading off to visit tomorrow!! Seattle here I come!
Tying up some loose ends before we visit our Grandsons! Bhritta has called, and Caviar by Cor Noir has now arrived in Montana and is settling in! What a drive. A week to get her there. I cannot wait until Spring to see her in foal again to Donavan.
Manhattan is fine in Ohio. Dax is relaxing into his exercise routine, and we are showing him to some people soon. He has quite some gaits!! He is quite a buy!
Royal Princess OBX has arrived at JJ Tate's stable at Hassler Dressage @ Riveredge West. She is ready to work with JJ and then she will be off to Florida with JJ and Team Tate!! Of Course we will visit her and Rosall in Florida..a yearly trip we look forward to.
Congrats to JJ on receiving the Reserve National Young Horse Champion award on Figi , and USDF Horse of the Year on Rosie at training level.
Looks like Trilogy saddles has begun sponsoring JJ! So Rosall may just get a new saddle! (www.trilogysaddles.com)
---
October 1-31: Will I stop spinning?
Today Caviar leaves us. OHHH! Such a bittersweet time. I love her. But she will make Bhritta O'Neil very happy! Bhritta will take good care of her, and Montana will get to see some very nice horses! Bhritta has a Donavan daughter, and hopes to add to her herd.
INTRODUCING Dopple Dopple. (by Donavan) I never could get a picture from very neat lady, Kirsten Keene ( now Kaiser) in Canada.. of her Donavan filly that she really loved. I met Kirsten a long time ago, when I had reason to go to Canada with a new breeder I had met,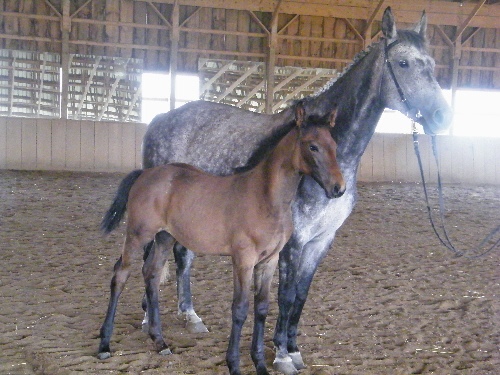 Heather Schulte. That story is somewhere in my archives. Anyway, she had bred to Donavan via one of Heather's mares. That was a little colt, then she purchased the lovely Dam of Dopple and the filly was born, But I never could get a picture from her.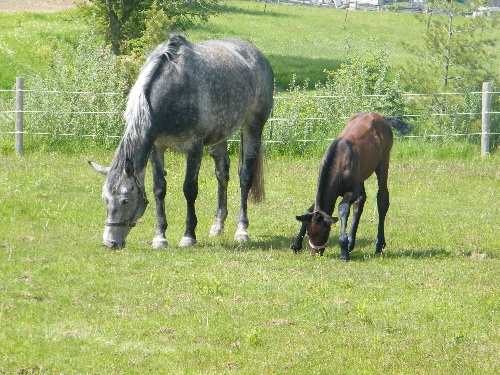 Here she is with a foal by her side. Dopple is gray, and so lovely. You will enjoy visiting Kirsten's website. She has a lovely black stallion Riot, that I met , and a stallion I did not know about Glorioso Noir. Plus I think she is working with some Arabians too,
By the way , she has a child or maybe two since I met her , and that is probably why I just could not squeeze that picture from her!! All is forgiven!! :-)
Dopple Dopple and her foal >
---
Might be fun for some of you that have traveled this journey with us to read the archives some times. you can also go back to the old farm web site, Riverland Farm, to remember some of the stories about our girls, Caviar and Manhattan. They will be leaving in the next week or so, and start another part of their stories with new owners and jobs. Read the Fall newsltter , link below to catch up.
What to say? Below is Dax in the mud.. anything to get out of work you say?. Eventually he laid down in the puddle!! He is a red bay with a couple of socks?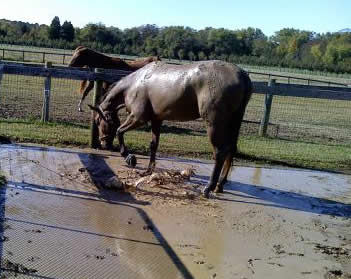 October 21.
Oh the boys, Song and Rusty, are weaned and now are joined by Josie's little Roulette, a 2009 filly . They are so cute together. First she was shy, then more friendly, now probably is in charge! The mama mares are fine, and getting plump.. due in Spring are Bevolina, Pepper, and Manhattan. Manhattan and her in utero foal by Rosall are now sold to Isabelle Brown, her original owner..who is coming to get her this weekend.
Please read the letter below. click the link.
October 21:
Bianna, by Bordeaux, is home! She looks great. Thanks to teri Smith for caring for her, and training her in the world of Hunters. She needs a little more meat on her bones, for winter as she was held in her stall to recover from an abscess, so was walking the stall, but now is almost healed and ready for work. Her friends Remy and Sugar remembered her , and they had a nice chat.
October 19.
Our lovely boy, D'Aktion, has come home for some cross training. He has had 2 years of great Dressage schooling and now we think he would like some jumping and Hunter, possible Eventing prep. Our new barn manager , Josie will work with him. He is for sale , and a good buy! Dax is 5 , by Donavan out of Atlanta ( Pepper).
His pedigree is impeccable, and both parents show some jumping skill as well as the Dressage. He is tall, almost 17hh, so not for everyone. But he is not bulky, and is very comfortable reports Josie who just got on him for the first time yesterday. Special consideration to a home of a young rider or Pony clubber.
So now our mares are very happy, several boys here now!! :-)
We also started the weaning process. Song , ( Sinatra Balladeer KIS) by Sinatra Song out of EM Bevolina handles it well. Rusty, our Rosall colt, (Royall KIS) is a bit younger and is a bit more worried. But all in all, they are all handling it ok. This is tough, but must happen! They are sure growing nicely!! See them on our sales and foals pages. And Below in News!!
We go to KC MO for my , ulp , High School reunion- on Thursday, back on Saturday and hope to go on Sunday, Oct. 11, to watch Dakairi perform for her Breeding approval with the AHS. I miss her, but she is beloved by her new owwners who have done a super job with her. She won a blue ribbon already in a Future Eventing Horse competition.
October 22nd to Philadelphia to see a show with a wonderful talent from Israel, DuDu Fisher. http://www.dudufisher.com/#. I saw him on Public TV and found out I could see him in person in Philadelphia. So we go. and it has nothing to do with horses!!
However thenext day, Isabell and David Brown of Ohio will pick up Our Precious Icon who is going back to them expecting their new Rosall foal!! Years ago we bought "Manny" and had 3 great foals , 2 by Donavan and one by Rosall. Now it is their turn.
And the most long awaited trip to take , but one of great importance... to see my new Grandson!! We will go in early November to Seattle to visit our son Adam and his wife, Helen, and the two boys. Corlan and Quincy..ages 2 years + and 1 month +.

Our Hope is everyone enjoys a fun Halloween , Delicious /thoughtful Thanksgiving, and a Healthy and Happy Holiday and New Year!! We are very thankful we have the friendship and support of so many great clients and talented people.
---
September 1-31 Autumn... my favorite time! Football, Homecomings, Reunions, Halloween!!
September is almost finished. Here come the pumpkins! Mmmn Candy ..Great riding weather.
Here is a neat article written by Scott Hassler for the Chronicle of the Horse , in 2007. I just discovered it on his website, and want to share with you. http://www.hasslerdressage.com/archives/between-rounds/btr-10-07.html
NOTE: if this link does not work, then copy and paste or go to my Soapbox page!
This is very important advice when considering which stallion is for your mare!
Enjoy!
---
*Dressage at DEVON: What an experience for a young foal. Royall KIS..( Rusty) had so much to see and he handled it like a champ!! He was such a good boy and showed very well his class. He earned an 8.0 for conformation and correctness, type, " elegant". .which is very good. His walk was excellent,..7.8, overall impression was a 7.8 , also very good and judges comments were, "Great Future"..just what we think. He is so butt high, he could not show offf his super trot..so that brought him down in score but we knew that was a possibility! It is always a chance to bring a foal to Devon, where there are other foals that are not so butt high, or have already been weaned many weeks before..but he learned a lot, was braided again, bathed again, and walked all over the very "electric" grounds!!
We had a great time with all of the Hassler Dressage and Team Tate people ! Again we were with Don and Dee Kapper who sold us our lovely Royal Princess, and Don is our very important nutrition advisor, the Nutrition specialist for Progressive Feeds. It is such fun to see all of our breeder friends, and see so many gorgeous talented horses!!
Everyone should go to Devon at least once!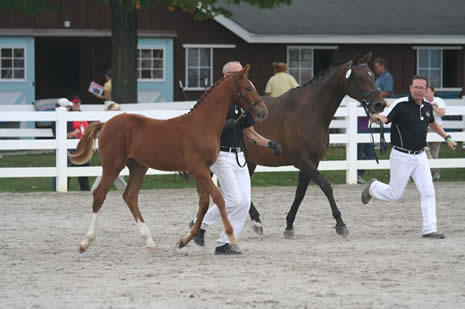 Devon: Royall KIS and Dam: >>
---
News News News!!
Here is link to see our Rosall colt, Royall KIS at his inspection, Royall KIS;
Remember our Dakairi? A Donavan daughter now owned by Beth Jennings. Check her out , she won her first blue ribbon in her first class at her first show..in hand. The show is a Future Event Horse Show ..a series for 1, 2 and 3 year old horses. Dakairi wins
Here is another developing success story!! Our lovely Royal Princess OBX, purchased from Don Kapper as a yearling is now also under saddle. She was Dakairi's best friend and she too is doing very well, with Emily Covington, getting her started well at Blue Waters Farm, near JJ at Hassler's.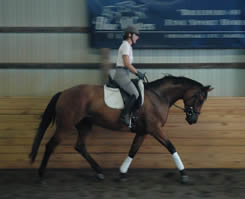 see right.
for more photos click on this one.>
Welcome to Josie Gomon,our new Manager assistant..! We are so glad to have her on board. She graduated from VA Tech and has a great deal of practical experience and .riding since she was 7, working with the foals at VT; has a new foal of her own, Roulette..
Sept. 12, 2009. Hurray! Royall KIS is a Premium GOV foal! Finally inspected/registered.
After a long day of bad weather, and rescheduled classes, the GOV inspection was sandwiched into the Mare and Foal show . Rusty was good as gold..or as good as a colt can be away from home and kept in a small temporary stall. see link for pictures. Royall KIS
September 10 , 2009
I forgot to mention another of Donavan's offspring that has been brought to my attention recently, tha tis doing so well in his new home, with a young carees! Divine, aka Divvy, is now owned by Andrea MItchell, in WI. She found Divvy when she saw him and his Dam , Winpenny (Weltbekannt/Weltmeyer) at Valerie Ahl's barn in WI. He is a full brother to Davy Crockett that I raised, in WI from the time he was 2 months old, after purchasing Penney and him from a breeder out here in MD. Are you following this??
We brought Davy out to trrain with JJ Tate, and we then sold him to Jayne Nessif who still trained with JJ for the last year or so. He did really well in the young HOrse classes, and both under JJ and with Jayne in the Adult Amateur classes, earning Regional championshiop.
Anyway, Divvy and Andrea are doing really well. Andrea reports very positive remarks from the well known judge Janet Foy saying they have quite a future ahead.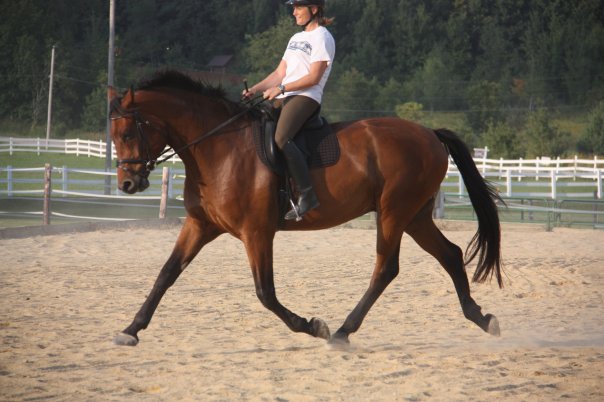 "We started showing First Level this year and we got a 69.6 and a 70% (and a blue and a red ribbon) at Silverwood. I love Divvy!! And my other trainers (Janet Foy, Gerd Zuther, Meg Williams and Katie Barry) and judges love
him too. Always great collective marks! We also started
jumping and he is so brave, curious and talented. I
may do a baby event later this year. Will see how he feels about
cross country jumps! My focus is on dressage and I
can't wait to get him up the levels."
Valerie Ahl still owns another full sibling. There were 3 brothers before Val decided they enjoyed riding Winpenny.
OK CROSS YOUR FINGERS, RUSTY (Royall KIS) GOES TO HIS INSPECTION THIS SATURDAY..
Maybe I will get some good photos, not from my phone!!
He looks very good, very strong, and is very elegant!
---
September 9, 2009
Hi everyone:
I think I have told you that 3 of my mares here at KIS took only one try to get in foal to Rosall. They are all fine.
See these two lovely mares? They are owned by Darlene Judd of TN. There is a wonderful story connecting these two to Rosall.
click here to see their pedigrees .
In 2008 I was asked by the NEDA ( New England Dressage Association ) to donate a breeding to my stallion for their auction. Rosall was new and I only had a few dozen doses of his frozen semen , but I decided to offer two doses for the auction. I really had no way of knowing at that time whether his semen would be dependable as frozen doses.
Darlene Judd , from TN won the 2 doses, but could not use them for 2008 and asked to extend this option. We agreed and this year, 2009, she contacted me and we set about to have the 2 doses shipped to her from Select Breeders Services, here in Colora MD.
Her mare Clio was chosen and we were all excited when on the first try she took. There was a bit of concern as there were twins, but her Vet successfully reduced the pair, to one good embryo.
After a couple of email rounds went by, I asked her if there was a dose left ? She thought the vet had used both but lo and behold discovered that there was one dose still saved. So she chose her mare "Charlie", a lovely TB, and on ONLY ONE DOSE again, the mare was pronounced in foal!! So we are all so happy. Two foals on two doses. Plus Darlene says her vet declared this"the best semen he has seen this year." Clio below, Charbeneau Slew top.
Another story that is such fun to share is that of Dr. Lori Minteer in Florida. She saw us and Rosall go through his 10 Day Advanced Stallion test last year in Florida and was so impressed she asked for his breeding fee right there on the spot. So she proceeded to order 4 doses of frozen semen . Little did I know that she was a veterinarian and was going to try to do an embryo transfer with her very lovely competition mare. Usual breeding protocol for frozen semen is to use 2 doses .., she purchased more to make sure she had enough on hand in case of the mare doing what mares do! I got an excited call and emails from her when the embryo was found, some concern since it looked a bit small, but she transferred i to the surrogate anyway. That embryo is doing just fine!! But she had decided to go ahead and breed the mare again to make sure she got one good embryo.
So she did and now has 2 embryos growing for two 2010 foals!! Both by Rosall!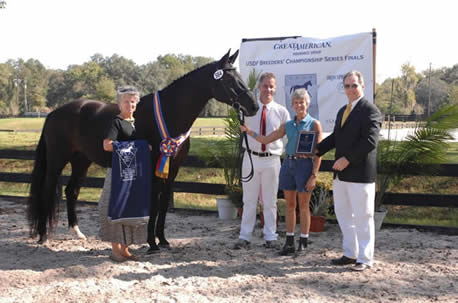 To see larger click here.
This weekend we go the GOV mare /foal show, to have our Rosall colt Royall KIS inspected. We are very nervous as we hope to do well, so we feel well advised to go to Devon with him. He looks wonderful to me! :-)
Now Some super Donavan news:
Read about our Dakairi, a 3 year old that was sold to Beth Jennings this year!
Hi Wendy - Hope all is well at your farm. I just wanted to let you know how wonderful Dakairi was at her first outing. On Friday, we drove 3 hrs. to Stony Brook Farm in Peterborough, NH, the host site of a Future Event Horse (FEH) competition. Dak, as always, trailered like a champ and settled into her over night home well. On Saturday, she experienced her first braids and found them to be quite itchy. In the ring, showing in hand, she grew at least an inch and was slightly ADD about standing. However, we managed to hold it together. Her walk was very relaxed and forward and I need longer legs for her trot and an oxygen tank. No matter how hard I run, it's never enough to show off her wonderful trot.

In any case, she won the three year old class with a score of 73.2. The high score was for her head, neck and saddle position for 7.5 and the low score was a 7.2 frame and trot. The judge thought she could be stronger in her loin and rounder in the croup. For the trot she like to see more push and swing. I must admit, she was a bit up and would have performed better if she was more relaxed. In all, it was a great experience for her and she handled it like a trooper. I'll forward pictures, once I receive them. ( we all know she is still growing , butt high , and if tense ,it is hard to trot with great impulsioinj)

Afterwards, I had a lesson with the farm's trainer. I figured that we went this far, it would be a great opportunity to ride in a different venue. She is such a cool, fun horse to be around and ride, but I wish that I had had this lesson before the in hand portion. She settled (because she was tired) after the ride. Everyone was very impressed with her gaits and attitude. We are all looking forward to see how she develops and what she expresses an interest doing. Perhaps next year we will attempt the Young Event Horse (YEH) test, that this same farm is planning on sponsoring in the fall. In the meantime, I'm looking forward to Oct. 11 mare inspection ... Hopefully, you will be able to drive over and meet us for the day. I could use any advice you have to offer.

Thanks again for breeding such a great baby. She is a character and such a blast to ride.~ Beth
This is what every breeder dreams of hearing from her clients,..and about her beloved foals. Dakairi is very special. Her mom, Atlanta is in foal to Rosall and to the right home, is for sale..we are trying to make room for her other daughter, our Paprika tostay and grow up here.
more to come ...September has only just begun!!
---
August 1-31, 2009:
Now we are at the end of August, and the month ended very well!
Rosall is healing rapidly, and JJ and her other wonderful youngsters had a super Young Horse Championships Show in Illinois. We went and it was such fun to cheer her on, and also re-meet many old friends from t he WI -IL region.. Dr. Doug and Shannon Langer, the breeders of Cabana Boy joined our Team Tate Table, and we all cheered as the pair of Cabana boy and Chris Hickey took top place in the Developing horse Ch. JJ was 3rd and what a wonderful outcome that was. She and her client, Suzanne Dansby Bowman's horse, Rower B. looked Super. In the 6 year old class, which would have been Rosall's class, JJ and Faberge ( Figi) took Second Place!! Reserve champions and were complimented on what a wonderful ride she had and her ride was the best to that point!
When we returned to MD, we were informed that our lovely Royal Princess is ready to go to JJ's stable at Hassler Dressage! We are very excited and cannot wait to see her blossom even more with JJ. We are so appreciative of the great start that Emily Covington at Blue Waters Farm in Chesapeake City has given Princess.
My second grandson was born on August 20!! Quincy Wang Costello weighedt in at a very big 9 lbs 11oz.This is brother Corlan's little brother!
I just got a few baby pictures, of Quincy, and will pick out a good one to show off next time! I have some family photos on my facebook site..feel free to check there.
We took a deep breath and signed up our new Rosall colt, Royall KIS for Devon. Of course he could start growing very funny and change our minds ..but he looks very nice right now!
---
Joy and Disappointment the first weeks of August.
The joy:
Our "Song" colt is now registered and branded AHS and made us very proud at the inspection at High Point Hanoverians home of his sire. He shows off that beauty and movement of both of his parents , Sinatra Song (Sandro Hit) and EM Bevolina..by Brentano II. Registerd name is Sinatra Balladeer KIS.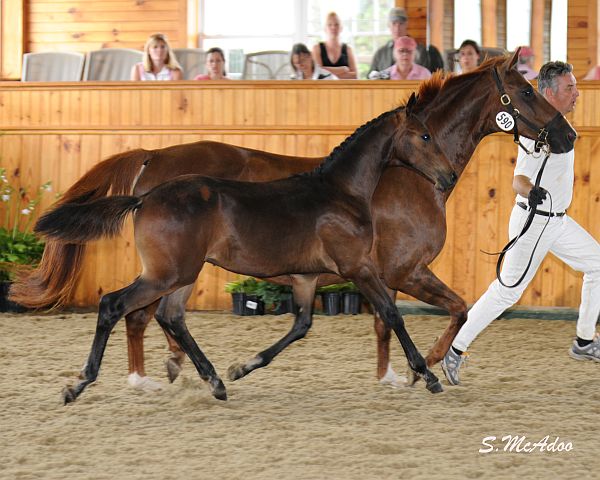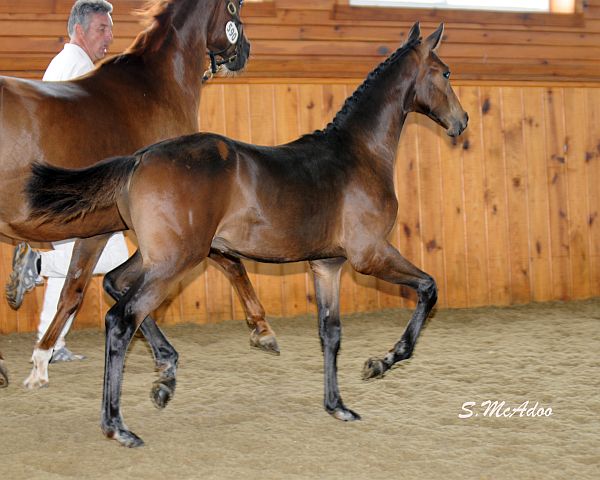 We think there could be a stallion prospect in this colt and would love for someone to buy him and keep him whole for a while. If interested please contact us.443-249-3566.
For more photos of Song, please click here.
The disappointment: Just ocurred . Our Rosall, cannot go to the National Young Horse Championships due to a minor but badly timed injury!! Many put their heads together on this, Scott Hassler, Susanne Hassler, Vets, JJ Tate and us, and decided Rosall would be better off staying home with Susanne to exercise him and help rehab the injury, while JJ goes on to Lamplight in Illinois to compete her other fine youngsters! We cheer her on to victory and a great show
We still look forward to Rosall at Dressage at Devon..crossing fingers.
JULY 1-31, 2009
July 28, 2009:
Hi everyone. Well I was at it again. I took my trusty cell phone out to the pasture and used that to catch a few new pictures of the foals. And also Donavan. It is hard to believe a 24 year old stallion, veteran of Grand Prix career, and Freestyle exhibitions until he was 20 and still breeding can look this good, and be this well, but he is. He trots to me when I call from the fence line, and we have our daily talk and hugs.
He nickers to his sons and daughter, and flirts a bit with the mares, but is always a gentleman and never a problem.
Here is the man at age 24..just returned home from breeding. click on Donavan for more Donavan at KIS photos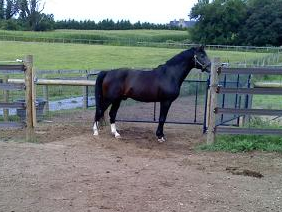 I also was able to get a couple of shots of our Sinatra Song colt, Sinatra Balladeer KIS ("Song".) a beauty and a talent! He is such a wonderful colt, so personable and yes a bit coltish.. could be vying for a stallion job? "Song" is for sale.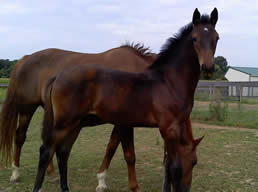 We are preparing to take Rosall to the Rhineland Pfaltz Saar inspection for his lifetime license on August 2. Then a few days later Song, will go to his Hanoverian inspection and registration at the home of his sire Sinatra Song, Angela Barilar's lovely High Point Hanoverians.
A few days after that, back to HPH for the GOV inspection/registration of our sweet and talented Rosall colt, Royall KIS.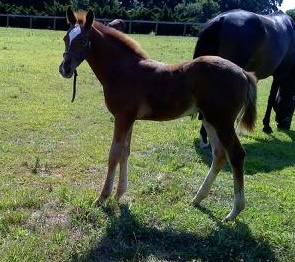 Both of these colts are long-legged with extravagant movement, and correct conformation. We offer Rusty for sale to a good home with some plans for him. We have 3 Rosall foals due in 2010..perhaps will offer in utero purchase. Go to Rosall's Offspring page to view these mares.
We get right of first refusal on a filly! :-) Although there could be a stallion prospect in the group as well.
<Royall KIS
---
July 17-19, 2009: Show at Horse Park, New Jersey.
ROSALL has made us proud again. This weekend he was entered in two 3rd level classes and has qualified for the Region 1 Championships. That will be held in OCT. Lexington VA. We have been learning about him as far as being able to compete and breed at the same time. It is not an easy thing for stallions to do. Donavan is one of the few that seemed to be able to do each well, going back and forth from breeding shed to show grounds in the same week. . Rosall is young and is doing well. We are concentrating on his Performance career right now, so will collect for more frozen in the Fall after competition is over.
There are still 3 big competitions for him this season. He will be in Illinois for the National Young Horse Championships ( 6 year olds) at the end of August. and then to Devon in September. After tha tare the Regional Finals. He will compete at third level.
Congrats to JJ Tate for her scores with her other neat horses too! She qualified for Regionals with her super guy Ruhmann ( Quincey) at Pre St. Georges; and Faberge ( Figi) also qualified at 3rd level. We love watching Katie Foster, JJ's young Rider student, ride her wonderful guy, Sacramento (George) to a first place ! She is JJ's "mini-me" , a beautiful young rider. We have known her since she was quite young in WI and are so proud to see her advance.
Well, I am just starting to understand Facebook. I am on there, asked to join by the wonderful young people associated with JJ Tate , and now some other friends of mine have made themselves known to me on Facebook. I do my best. I have put some photos of Donavan and Rosall, and my grandson of course on. I also have put a few videos on You Tube. I must keep up with the times!! Anyone needing a videoof a horse from me, ask, and we will try to get it up!!
July 20..Donavan is breeding. He is at Select Breeders Services, Colora MD and will stay the week. What a guy. His numbers for breeding are still very good, and he is able and eager to cooperate!! What fun to take him ourselves. He gets off the trailer, passages to the stall, announces he is there, then goes in. Gives a sigh, and relaxes into his sweet, loving self!
July 8, 2009:
Please go to the sales page and you will find new photos of Dalton, and changes in prices for some of the sales horses. Dalton has really grown up, since turning 1 year. see right below.
Our daughter Jill bred Dalton and he stays here at KIS to play with our Dahlgren, his half brother by Donavan. also for sale. You can see them together on DAlton's page.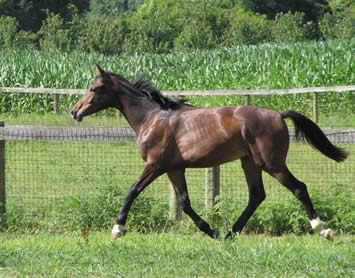 We enjoyed having JJ Tate and her mother Candy, over for a fun Bar B Que on July 5th. JJ was very happy to see Donavan again. they have a special bond. And she raved about Rosall's son, Royall KIS. JJ was impressed by Dalgren's development as well. The very handsome " Song", ( Sinatra Balladeer KIS) caught her eye ; I could see the wheels turning. If only JJ could ride them all! JJ rode "Song" s mom EM Bevolina for her Mare Performance Test when she gained her Elite Status and has always liked the mare.
June 1-30, 2009:
June 25-30
The last week of June was a very busy one. We went to New Orleans for Marty's High School Reunion! It has been a while. :-) We visited with his brothers and his mother, she is 96 years old.
While gone Donavan was breeding two mares, our Caviar and an outside mare belonging to a client's mare. Rosall was also at the breeding shed, being collected for some more frozen semen. He and JJ also are training for some more shows, and the big Championships for the Young Horses tobe held in Illinois August 21-23. at Lamplight Farms, not too far from where we used to be!
Manhattan did get pregnant with twins by Rosall and one was successfully terminated. Too bad I did not have a surrogate ready to go for Embryo Transfer. That Rosall has super semen! so , 3 mares in foal by Rosall for 2010!!
When I got back I had WONDERFUL LETTER, pictures and DVD from Jacqueline Ege, whose story is found on my Letters page.. Her Lacy ,(Deja's Legacy) by Donavan, is now under saddle and scoring well at her first schooling shows. She is a lovely filly and Jackie has done a wonderful job. This is a special story, worth taking a minute to read. It proves if you really want something badly enough , you can usually find a way to get it.
Just heard from JJ Tate that she is in WI where she is teaching a clinic and one participant is on a Donavan son, Divine.."Divi" who has now earned a 70%+ in an early show! so we are very excited! He is a full brother to Davy Crockett, out of the lovely mare, Winpenny that was sold to Valerie Ahl a few year ago after I got little Davy at 2 months. She is by Weltbekannt who is a stallion out here in MD. A full circle. sop now here comes JULY.. Have a Happy FOURTH OF JULY celebration!
June 17;
We went to NYC , the Big Apple, for some time off and to celebrate our 40th anniversary.. Since it has been a while since I was there, it was really special. The city looks great, cleaner and prettier than I remembered it as a younger person. We saw two wonderful shows: Hair, a revival and Billy Elliott, a fabulous musical about a young boy who dreams of dancing, not boxing as his family wants him to do. This show had just won about 10 Tonys, so we were lucky we had the tickets!WE went with my brother Don and his wife LuAnne. We were able to meet up with Don's son Andy, my adorable nephew who is a professional Dancer.
While we were gone, our lovely Manhattan, our Dutch mare ( dam of the new Royall KIS) , was bred to Rosall, and we will see in 2 weeks if she is in foal. She did double ovulate so we hope there are not twins.
Caviar is next..we may breed her to Donavan again. stay tuned!
June 9, 2009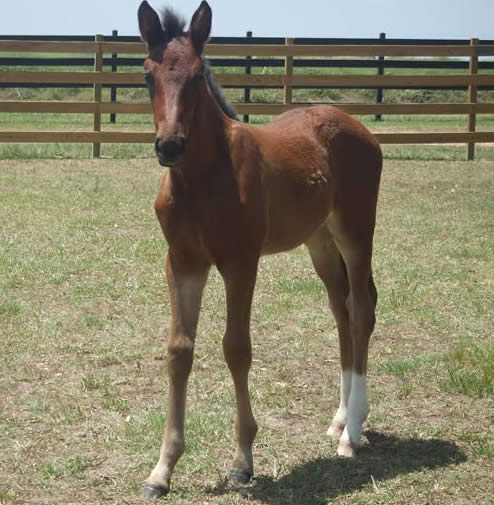 Just received some photos. This is Devereaux, a 2009 filly by Donavan owned by Erin Gillespie. Isn't she cute! you can go to the page with some 2009 foals by clicking on her picture.
The second photo is Leslie Persans's colt, "Nicholas" who I think is now being named Definite Class. (by Donavan out of Brass is Class)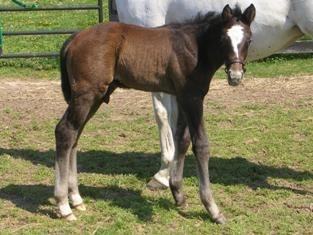 What a wonderful email we just received from a mare owner letting us know that her mare just was found in foal to Donavan using one dose of frozen semen. That is a wonderful option for you, Donavan does his part and if your vet is experienced in using frozen semen, then it works almost every time!
June 1, 2009
Royal PrincessOBX by Royal Prince , our 3 year old, has gone off to train, be backed and prepared for JJ to ride her. She is at Blue Waters Farm in Chesapeake City, very near to Hassler Dressage. . Emily Covington will be starting her, She is a part of the Hassler Dressage Team. I hear she is settling in well. Susanne Hassler stoped by to see her recently and says she is lovely.
Our home bred Dakairi by Donavan has been sold to Beth Jennings in CT. WE are very pleased and she is too. Dakairi traveled like a champ to her new home and Beth has already started introducing her to her new job..to be a successful riding horse! Maybe some Dressage, maybe some jump. I cannot wait to watch her grow.
Two KIS mares confirmed in foal to Rosall for 2010. Atlanta ( Pepper) and EM Bevolina ( Berolina) are both in foal to Rosall for April foals. We may have one more , and may breed Caviar to Donavan again for another wonderful youngster from this very successful cross.
Hooray, Rosall and JJ are qualified for the National Young Horse Championships ( 6 year olds) to be held in Illinois, at Lamplight Farm, late in August. As I write I think they are ranked in the top 3 6 year olds according to the qualifying scores. Not sure if all are in or not. So , if we can travel then, we will be able to reunite with some great friends in the WI -IL area. This is a young program that is much needed in the US. There are still some rough spot in the programs , I think, in the judging and in keeping the interest of the professionals to bring their young horses to this intense testing. Yet it is good for US Breeders to get support from the trainers and riders so we are bringing up our country's next stars . How wonderful is it when an American bred horse with an American rider wins a big international competition!!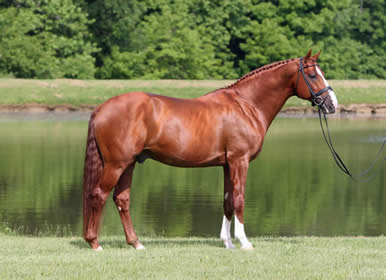 New photos taken by Richard Malmgren of Hassler Dressage.
Scott Hassler is the wonderful head Trainer of the Young Horses in the US and he is passionate about this program. Donavan's son Davy Crockett has done quite well in the program, and I am sure there are others out there with talent enough to try. Don't be afraid to try. click on Rosall's conformation photo left to see enlarged photos.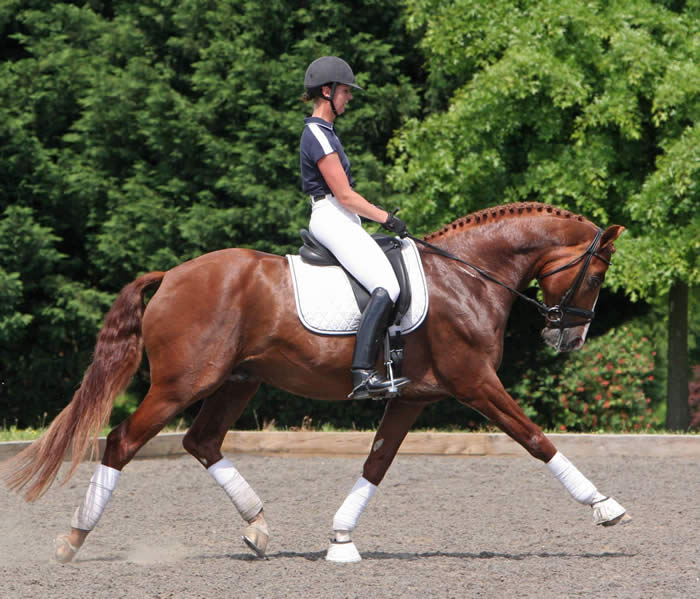 JJ Tate and Rosall.
May 1- 31, 2009 :
May 29, 2009:
Well, my trusty phone camera and I went out and were determined to get a couple of photos of Rosall's boy, Royall KIS in motion. He is a delightful colt, correct from day one! see left below.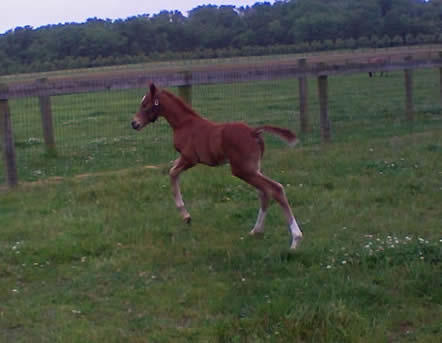 Here is one I like, and more are on his page, under Rosall-Offspring.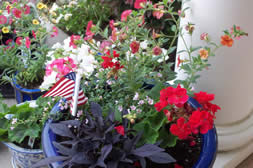 ---
May 22-25, 2009: Happy Holiday. We are having a great Memorial Day weekend. Please think about the men and women who have fought to protect us and our freedoms in this country.
©wwc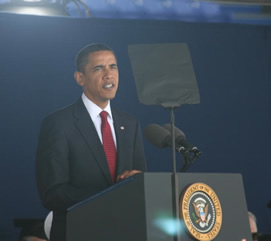 © MJC
We enjoyed attending the Commencement /commissioning of the USNA midshipmen in Annapolis at the USNA and we were able to see President Obama and hear his speech. John McCain was also there to watch his son graduate and be commissioned. It was a lovely day and lovely service and celebration. Brings back many memories for us !
Of course the excitement is only complete after
the hats are thrown into the air! ©MJC USNA '69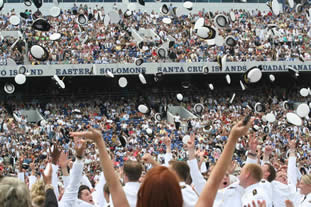 May 16, right after midnight. The Star is born!!
Rosall's first son, a pretty chestnut with a large star and strip, snip..4 socks? was born. We are calling him Rusty in the barn..and trying hard to think of the appropriate registered name for this important first colt. Rusty is very strong, nursed easily and got up quickly.
(May 23 ) He is now one week old and galloping, performing his changes, and pirouettes well!!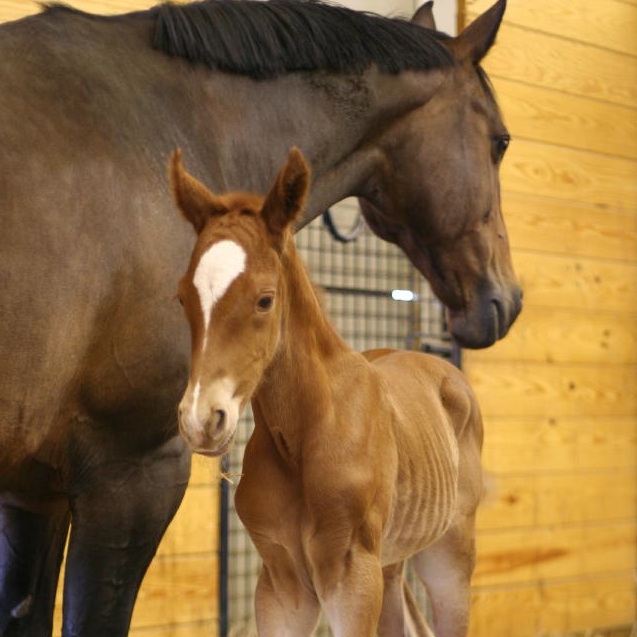 ( see left and below right)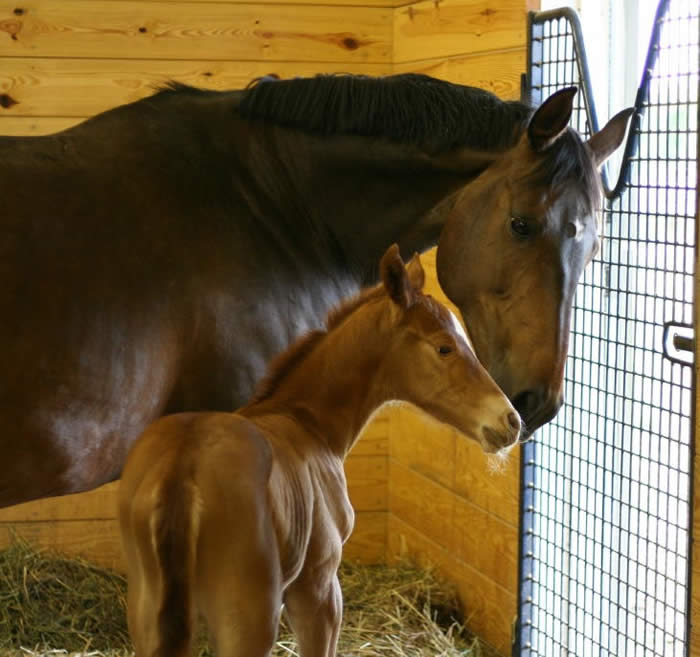 This colt is very much a Rosall son..and his dam, the lovely Precious Icon ( aka Manhattan) is a very good mother. she is dam of Dahlgren, a yearling here with us., as well as Don Giovanni both by Donavan. Rosall threw much of himself on this boy! We are very pleased. Also our EM Bevolina is now in foal to Rosall for 2010!! more soon.
wwc
May 15, 2009
Hello everyone. We are just hours away , (I think) from having a Rosall foal. Our lovely mare Precious Icon, by Rolls Royce, is showing all of the signs. She is not due until the 24th but she has gone early before.
We should be going to Rosall's next big show weekend tomorrow. He will compete in the Young Horse 6 year old Test , still highly ranked (#2) to go to the championships. If the foal comes then I may not go.. we will see.
I just received this wonderful photo of Donavan's son, 2 year old Don Giovanni out of the mare Precious Icon, the one who is about to have the Rosall foal.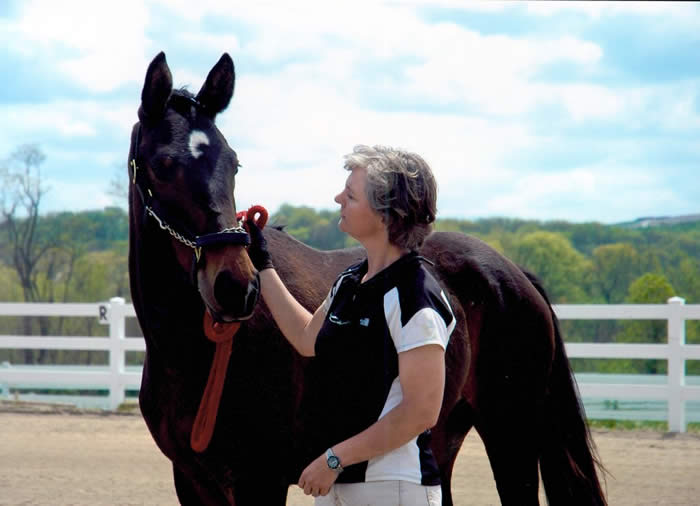 <Look how Don Giovanni has developed. How handsome is he!! Isabelle Brown is the proud owner, and she is the person who sold me the mare, "Manhattan " ! click on photo to enlarge.
We sold Donavan's lovely gray 3 year old filly, Dakairi. She will go to a lovely home in Connecticut with her new owner Beth Jennings. I will surely miss this one. She is such a joy to have around. She was just about to be backed so now Beth can start her and have the fun of knowing her from Day one!
May 6, 2009:
So sadly we have to report that Caviar lost her foal, a filly, by Rosall this morning. We are still waiting for lab reports , necropsy final report, but it appears the placenta was not quite right this time. But we will know more soon. This would have been Rosall's first foal.
So we now wait for Manhattan ( Precious Icon ) to have her Rosall foal. Due date May 24.
May 1, 2009:
As we took Dax (D'Aktion) back to JJ Tate at Hassler Dressage in Chesapeake City, MD, we were very excited to see JJ again and visit with Rosall. (Riley). JJ very quietly informed us that Rosall is now ranked #1 Six Year old horse of the developing horses in the US since his scores were compared with other 6 year olds across the country.

Learn all about the National Young Horse Championships series, http://www.usef.org/_IFrames/breedsDisciplines/discipline/allDressage/2004yhProgram.aspx
Rosall will go on to  compete for the selection of young horses to represent the USA at Verden Germany in the World Young Horse Championships in July/August. Continue to watch for more results in the competitions held to choose  the Highest ranking young horses ( 4,5,6 years old) for the National Young Horse Championships at Lamplight Farm in IL .
Another foal hits the ground running. Erin Gillespiie of Louisiana called to let me know she has a new Donavan filly, named Devereaux! She is thrilled and we are for her. see her below, left.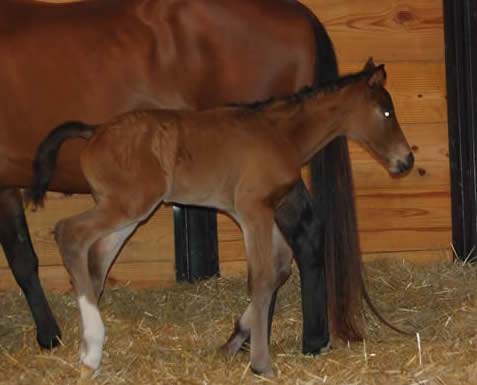 This brings the count of foals by Donavan for 2009 to 3 fillies and a colt as far as we know at this point. Often his foals start out this way, but the colts catch up and when I counted once , it was almost 50/50 colts to fillies over the years.!!
April 1-30, 2009: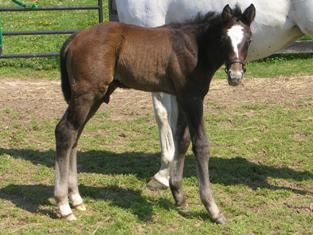 <April 14: A colt is born! Leslie Persans in Delaware, has written about and sent photos of her new Donavan colt, barn name "Nicholas". He will be registered RhPSI. Mom is gray and this lovely colt will be gray also. She writes: "We are thrilled. Mom and baby are both doing well!" Will register him as Definite Class.
Rosall is now listed on the stallion lineup with Hassler Dressage. When we got the news that JJ Tate and Rosall were going to be at Hasslers, it was just too late to have him put into all of the 2009 HD ad campaigns, however he is online and they have started his pages.
April 5-12: We had the most wonderful visit with our son Adam, his wife Helen Wang, her mom Fang, and their son ( my first grandchild), Corlan. I had bought a saddle and pad and bridle for our little pony, Honey and she looked wonderful and Corlan sat on her and we took pictures!! She was a very well behaved pony who had never had anyone sit on her. Corlan's favorite moments though were riding the tractor with Grandpa Marty. We also visited the fantastic Baltimore National Aquarium, and Port Discovery which was also an exciting experience! Of course we have a few photos.! In August we will welcome another little boy, a brother for Corlan!!
April 11-12: Rosall excells again! We are very pleased that he and JJ Tate were top scoring pair at the Morven Park VADA/NOVA Spring Licensed Dressage Show in the Young Horse Tests on the first day!! On the first day, judges gave four 8.0's and one 8.5= 8.1 total points averaged. Excellent scores. JJ reported to us "he was AMAZING!! The second day , he was bit tired, so he averaged a 7.8 and tied with others for second place of all of the Young Horses, 4,5, and 6 year olds. . This is part of the series of qualifiers that could result in Rosall competing for the National Young Horse Championships to be held in IL, at Lamplight this summer.. JJ Tate has also planned to compete with Rosall for an opportunity to go to Verden Garmnay for the World Young Horse Championships .
Please see the sales page for some decisions to sell 2 much loved broodmares.
April 5: He is here! The colt, born at 7:30 AM, is wonderful! Very handsome, dark bay , star! He is long legged like his sire, Sinatra Song, and very attractive like both parents. The birth was no problem, thank goodness my daughter Jill and Shari Walls our weekend barn manager were right there , up all night and ready to call it a night, when yes, here he came! He was up and nursing within 45 minutes , and as always EM Bevolina ( BrentanoII), is a dream mom. Names anyone? Songbird? Song of the Bay? We decided! Sinatra Balladeer!
Below is photo from my phone! click on photo for more of Song as he grows. For sale.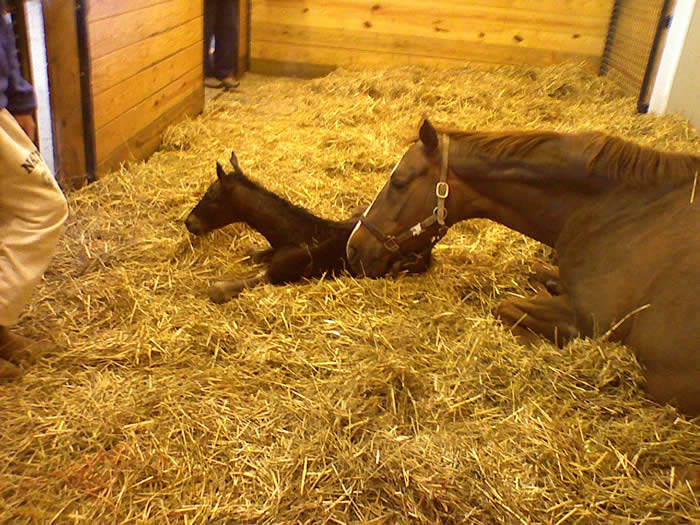 Angela Barilar , of High Point Hanoverians, who owns Sinatra Song (Sandro Hit), is very pleased that putting together her stallion and our EM Bevolina achieved what we hoped for , a longer leg and the combined talents and beauty of the 2 pedigrees!
April 4: Still waiting for the first foal of our season, By Sinatra Song, out of EM Bevolina ( BrentanoII), was due yesterday, so we are holding our breath. She is ready.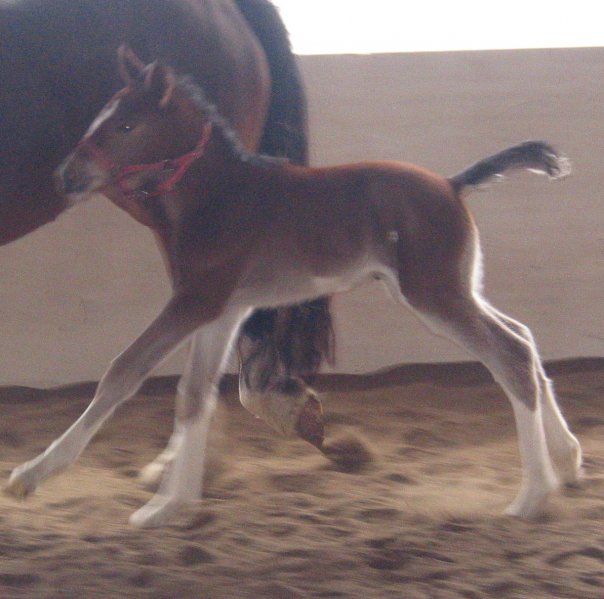 April 1: Second foal, another filly, born in Canada! Congratulations to Maureen Hall. Her filly , to be called Danika ( day star) surprised her and was found awake in the corner of the stall early morning. She has 4 socks, which is an "extra" sock for a Donavan foal! He has 3.
We are very pleased for her. She intends to show the filly in 2009. This was a frozen semen foal I believe. Super
Danika, left, 1 day old. This filly is to be registered CSHA, Canadian Sporthorse. Sheiis a draft/warmblood cross.
March 1-31
March 27: First Donavan of foal of the season, a filly, has arrived. Bred/owned by Stacey Suter of MD.!! She wrote: " Delia had the newest Donavan foal sometime over last night. I was trying hard to catch when it was time but she managed to let me go too far asleep. Anyway, it's a filly and all seems to be great with them both. I am naming the fill Dominicus - guess we are calling her Mini, and I will send you some pictures soon."
We are very excited for her and hope we might get to see this one in person. More details to follow.
---
*March 24, 2009: Rosall tops the field at the Oldenburg Testing for lifetime license
What a wonderful time we had at the 10 Day Advanced Stallion Performance Test in Jupiter Florida. The facility is lovely, at Lady Jean Ranch and the atmosphere was very relaxed and welcoming. The staff of the testing was very accessible and gracious. All of the stallions were very nice.
Rosall was a happy camper throughout the test, a bit tired and playful on the very last day, but he ended up top of the field and passed with flying colors. He earned a total of 129 points, with many scores over 9 and many eights as well. JJ Tate , our wonderful trainer did a wonderful job and came away feeling Rosall is even a more talented horse than we even believed when we purchased him in Germany. She is ecstatic. We are so grateful for her continued care for Rosall and look forward to reaching new goals with this team. Read about JJ on her new website: http://www.Team-TateDressage.com (see links page).
The CEO of the ISR/Oldenburg NA , Ekkehard Brysch feels that this format will be eventually be adopted throughout the USA, as it is truly "User Friendly" to the owners of stallions who also campaign them and cannot spend the months preparing for the tests that are much longer. It is not easier because it is shorter. It encompasses some of the same procedures of the testing done in some countries overseas, using test riders and the horse's own trainer to show off the horse's abilities. The head trainer , in this case Helmut Schrant, (who also served in this position for the 100 Day testing in the US) carefully assesses the horses for their character, willingness to work, and other interior qualities, and riders assess the horses for their athletic talent, and rideability. The last 3 days are for the Expert Rider to come and ride each horse, and the horse to be put through two different Dressage Tests for Young Horses, ridden by the owner or trainer. Mikaela Gunderson was the Test rider and she gave Rosall a 9 when she was finished on him! One interesting addition to this testing is that a specialty is named by the owner for the stallion, ie Hunter, Dressage, or jumper. Had there been stallions with those chosen specialties, then the end testing would have included more of that for them.
Read more about the Testing on the ISR/Oldenburg NA website, see our links page.
###
March 17--- Happy St. Patrick's Day..
We are getting ready to go to Florida..to see Rosall, and JJ at the ISR/Oldenburg NA Advanced 10 Day TEST in Jupiter Florida. He is doing very well, and we are excited to watch him.
Requests for breeding are coming in and we are looking forward to the first 2 foals by him. We are offering him at an introductory rate to select approved mares. please call : 443-249-3566.
Great News! about Rosall
March 6, 2009: Wellington, FL- Rosall takes second place in his first 3rd level test ! He and JJ earned a 61+% , the horse in first place, had a 62%..so scores were not so high, but JJ reports that Rosall is just causing a buzz in Wellington! "Who Is that horse??" Others who know the pair when he first arrived , have commented that he looks so different and so good.
On Saturday, Rosall and JJ earned a 64% even though Rosall was feeling his oats! JJ says, acting Chestnut!
But on Sunday, the 8th, they earned a 70% at third Levell! Wonderful result after just 3 3rd level tests! This was the high score at third level for the entire show! We knew he was special and that he would like the higher levels!
Leftover 2008 news: At the end of the 2008 season, Donavan was listed in 85th place out of 1130 places on the USEF Leading sires -Dressage list. There were many places with more than one stallion tied. This is a remarkable finish for a stallion who was 100 Day tested, completed a successful Grand Prix Dressage career, and has sired all of his foals in the US and Canada.
Economics: the hot topic and grave concern for everyone. Please give us a call. We are very sensitive to the fact that money is tight..it is for us too. So we will work with you regarding costs of a breeding or a purchase. Those of you with Premium Oldenburg mares, or Main Book mares that have had premium foals, that would cross well with Rosall, please call, or email. We will give you a very excellent introductory break in costs to breed to him. I am expecting his first two foals and we hope to see many more while he is competing.
Our sweet Hanoverian mare, Bianna is now in Training with Terry Smith and her team at Riverside Equestrian in VA where they train not only Dressage but Hunters too. Bianna has a talent for both , and truly makes a lovely Hunter. Please check out her ad on Dream Horse.com, and see her on our sales page.
March brings us much closer to the first foal! EM Bevolina, our Elite Hanoverian mare by Brentano II, is near her due date, of April 3..and she looks great! I cannot wait for this Sinatra Song (Sandro Hit) foal. As some of you know we lost her foal by Sinatra last year and were very saddened. He was a handsome colt.. We do not know what our girl is carrying but we will be thrilled to have this foal on the ground.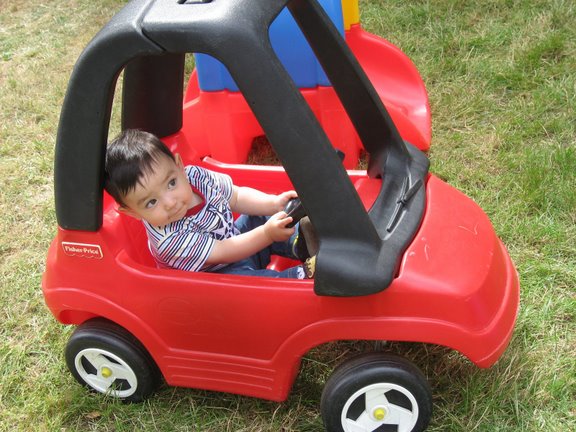 April will also bring a visit to our Farm for the first time , of our son and his family which includes our first Grandchild, a darling young fellow named Corlan! We are very excited. So much so that I have bought a new saddle for the pony , Honey, and hope we can get some photos with Corlan on her.
< Corlan Wei Costello
March 3, 2009 JJ Tate reports that Rosall is doing very well and may enter his first class in Florida the weekend of March 7-8. Then it is off to the 10 Day Stallion Testing for the ISR/Oldenburg NA iin Jupiter Fl. We head down on the 18th-24th. Can't wait to see "Riley" as he is now fondly referred to in the barn.
---
February 1-28
News from Wellington, Florida. JJ Tate has been sending back great reports about Rosall and how well he is doing. She has been taking lessons with Scott Hassler, and loves the way Rosall is coming along. We plan to go to Florida in March. There is going to be a new Ten Day Advanced testing for Stallions given by the ISR/Oldenburg NA for stallions to be lifetime licensed for breeding. Rosall is slated to be in that, and are looking forward to seeing JJ and the gang, and watching this new test. Check with the ISR/OldNA website for more details.
---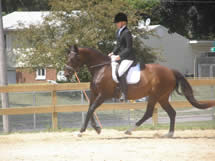 Wonderful news about our Doha Day, "Dodie" . She is now under saddle and winning her first ribbons with her happy owner Kristi Lamp. Dodie was our first filly, and full sister to Duesenjaeger,( Pilot), our first ever foal. Dodie is the little foal that is jumping on our logo. She was top filly at her AHS inspection. Congrats to Kristi for her wonderful way of starting Dodie.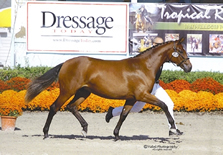 <We also are very pleased with how our Royal Princess by Royal Prince is growing up.
We first met her at Devon with her owners/breeders, Don and Dee Kapper.
She and her pasture buddy, Dakairi by Donavan, are both preparing for backing in the Spring.

January 1-31
Donavan has settled into his Condo well, and is very attentive to his offspring.
January has started off slowly. Thank goodness. All of the horses are well, and Donavan has settled into his Condo here at the Farm. What a joy having him here. Now I have learned to accept what I have known about the Big D. He loves to roll and that is the first thing he does when turned out each day into his private paddock and pasture! He is in the barn with several of his kids, and our little Posh by Pablo, and he nickers at each one as they come in or go out. He is a gentleman and so easy to work with and be around. He is eating well, and invites us over to pet and scratch him all the time. He keeps the barn assistants busy keeping him groomed!
Rosall is in Florida with JJ Tate and her very fine string of Dressage horses, training and competing in Welliington. JJ came home to give some lessons and we watched her instruct D'Aktion (Dax) with Florence Daviet riding him so well. She thinks he could start in the Dressage ring at First Level. How nice it is that another of our Donavan "kids" is on his way.
Donavan after a Roll in the mud..at KIS
American Hanoverian Society Annual Meeting Feb.6-8, Reno, NV.
We are going to the AHS Annual meeting this year in Reno Nevada. It should be a lot of fun as always. We also always learn something new about our stallions and mares, breeding, selling and marketing the foals. We enjoy seeing the others in the industry, and getting the latest news from Germany. We are able to celebrate the successes of our friends and cheer them on. Of course a highlight is the Silent Auction and dinner, which raises money for the Registry to use for programs, awards and education.
Exciting Event
Recently I was surprised by a call from an artist named Karen McClelland who noticed the wonderful photo we have of Donavan with JJ Tate on the centerline saluting the judge, when he was competing at Grand Prix. That photo, one of several that are almost our "trademarks" of Donavan, was taken by Karen Lietz a fine photographer and friend in WI. The artist had searched for a Salute photo to use for a special painting she wanted to do.
So after everything was arranged with Karen Lietz, then Karen M. set to work and created a wonderful piece on display in a gallery right now , in Kirkland, WA. View the painting of JJ Tate on Donavan "Salute" This artist has graciously offered to donate something to the Silent Auction at the AHS meeting! I cannot wait to see what that might be. After the AHS meeting we are going to Seattle to visit our son Adam and Daughter- in- law Helen, and our Grandson Corlan so we are going to be able to see the painting! What fun! wwc


January 20, 2009
Hooray for a new President! Let's get behind him and watch our country go forward!

Stallion Service Auction Starts. Check the registry website. Find them on the Links Page.
KIS has donated a breeding to Rosall, to the GOV Stallion Service auction this year. We also donated breedings to both Stallions to the ISR/Oldenburg NA auction and a breeding to Donavan to the AHS ( Han. Society) auction . Please support these organizations as they support our stallions and the programs that reward the hard work of riders, breeders and trainers with awards and educational programs. Should you bid and not win, please contact me, as I will do my best to work out a comfortable Private Treaty. (The registries let us know who has bid and who the winners are of course.)
Team Tate Dressage
has been invited to train and teach at Hassler Dressage, not far from us in Chesapeake City, MD at their Riveredge..the beautiful new facility that is going up. Congrats to JJ who is very excited to be joining in her love of horses and Dressage with one of the most highly esteemed horsemen in our country, as well as over seas. He and his wonderful wife Suzanne, a top FEI Rider as well, are responsible for helping so many young horses and stallions reach their potential, and breeders to have successful foals of their own, and riders to hone their skills for their own success. We have been so fortunate to have made a friendship with Scott and Suzanne and plan to keep sending our horses to JJ for training and campaigning under Scott's tutelege at their lovely Equestrian heaven!! In April, when JJ and the horses , including Rosall , return from Florida they will be at Hassler's. More news will follow! Please visit JJ Tate's new website.
See it at http://www.Team-TateDressage.com