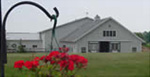 Our Story
Started at Riverland Farm, 1993, located in Mequon, just north of Milwaukee, WI an hour and a half north of Chicago. Riverland consisted of 38 acres of partly sloping former farm land, and lowlands that were bordered by an oxbow (bend) of the Milwaukee River. The house, ten-stall barn barn, an indoor and outdoor Dressage arena, wood fenced pastures with shelters, paddocks and round pen, sat on 12 acres with the rest groomed for trails, full of wildflowers and wildlife. We enjoyed our time there very much. wwc
 

The Move to Kent Island
Kent Island Sporthorses opened its doors on October 6th, 2007 when the main group of horses arrived from Riverland Farm in WI. Donavan landed that day into the care of his wonderful trainer and former Rider, JJ Tate.
Our new home is made up of 20 acres, with the backyard running to the banks of the "Northwest Creek" really a body of water more like a mile long lake, that is really connected to Chesapeake Bay. The fencing and the original barn were more than adequate to begin our program., though we needed more stalls.. and the farm needed some sprucing up.
Household and barn items arrived in MD by the 8th, and then we went back to finish the move. We drove our dogs and cats and arrived with the truck/ trailer on October 10. Our mare Manhattan (Precious Icon) arrived the following weekend from Ohio where she had been with her former owner, Isabelle Brown and Isabelle's new Donavan colt, Don Giovanni. Then our two yearlings, Dakairi and Debbie ( both by Donavan) came home from visiting with Angela Barilar at High Point Hanoverians in Chestertown, MD. Thanks so much to Isabelle and Angela and her staff!
Not long after arrival we added a couple of newcomers to our group. We purchased a beautiful yearling Hanoverian filly from Don and Dee Kapper at Outer Banks Farm in Ohio. She is Royal Princess by Royal Prince out of Brimming by Banter. We also welcomed "home" a lovely, young red bay mare by Donavan and bred by our daughter Jill, several years ago. In short time, she was tuned up by JJ Tate and her staff and has found a lovely new home, here in MD.
Bianna, our kind, lovely Hanoverian mare, who had a sweet Donavan filly, was showing talent for hunter/jumper. So she stayed back in WI., with the excellent eventer Ann Jennings of Pigeon Creek Farm, Mequon, WI. Bianna came to MD later in 2008 and is easy to ride and loving the attention! So she is for sale well suited to a Performance career.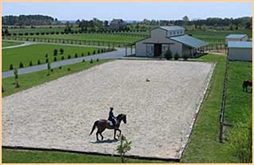 < The original barn.
The New Main Barn
March 23, 2008:
Here comes the second barn! It was a long and sometimes frustrating process with the usual delays and change in plans, however the main barn, with 10 stalls, a feed room, hay storage and apartment above is now full of mares, foals and VIP friends. There was still some tweaking to do, details and touches, but by Fall 2008 we were in and by January 2009, waiting for Spring to plant!!
We have put up some new fencing for a new pasture, and some stone walks are in so no more muddy walks. We made the entry gate areas of several pastures firmer with bluestone, and have added new blue expanded steel mesh gates. Safety first! The photo at left is from a time when the farm was new, we now have very mature trees near the arena and along the drive.
December 2008. Donavan is home!
We built a "Condo " for Donavan and he settled right in. Such a joy to look out and see the Sire and his kids!
We will consider building an indoor arena or covering our existing outdoor arena. Additions to the house and landscaping will eventually come.
In lieu of the above, we will fence in the Dressage arena so we can use it for some work with the youngsters, and for picture taking etc.
New Stallion, Rosall Joins Donavan
As of February 2007, Rosall, a lovely German Oldenburg Stallion by Rosario was acquired as our "Junior Stallion," to bring more wonderful talent and variety to what we can offer North American breeders and to match up with Donavan's lovely daughters as well as other quality American mares. He will be trained and competed by Jessica Jo Tate. Read more about this excitement that Rosall is bringing to the new Kent Island Sporthorses, and Team Tate Dressage.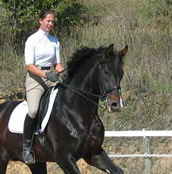 Regardless of the change in the name of our program, location and look of Kent Island Sporthorses, the following remains true:
With Donavan something wonderful is always happening!
With Rosall, there is always excitement!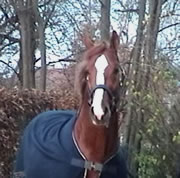 Our new location is in Maryland. Please call to come by and visit our new place!
Address:
7220 Kent Point Rd.
Stevensville, Maryland, 21666; on Kent Island
Across the Bay Bridge from Annapolis, Maryland

phone: (443) 249-3566
fax: (443) 249-3568
email: Wendycos@gmail.com
Home of The Donavan Group, LLC and Rosall Partners, LLC
Don't you want a KIS?