News of 2008
December 11, 2008-January 1, 2009
Donavan is home!
We are very excited to announce that Donavan is here with us now at KIS! He is in the Condo, a stall attached by a breezeway to his own small paddock with run-in shed, which is attached by gate to his larger grassy pasture. He is such a love. We are enjoying seeing him daily as I knew we would. So now, if you are shopping for one of our foals, please come by and chances are you will see both Dam and sire! Please check the sales page for the current pricing that reflects the Economic Crash going on in our country. wwc
December, 2008
KIS is happy to report that both of our mares in foal to Rosall are doing well. Caviar (Cor Noir) is due early May, Precious Icon (Rolls Royce ) is due in April. Elite mare Bevolina ( Brentano II) is looking wonderful for her foal by Sinatra Song (Sandro Hit). due April 3, 2009.
We have completed Donavan's "Condo" , his stall with breezeway tro his a grassy paddock, with run in shed just for him. Fit for a King..or a wonderful Hanoverian stallion we adore. He should arrive this weekend. Please read the "Party News below" that also explains some changes in his breeding program. He is definitely available, and breeding well, but we are trying to takae some load from him..he deserves it.
Our mare Bianna, (see Sales Page) is now with Terry Smith in VA , Riverside Equestrian Center, staying tuned up , and offered for sale. She is proving to be a neat Hunter , suitable for young and old alike! Terry is just thrilled with her. Please cdall with any questions. She is ready to show..Fun Immediately


September 19, 2008
Kent Island Sporthorses — Let's have a party!
In September 2009, ES Donavan, our beloved Hanoverian stallion will have been with us for 10 years. He will be 24 years old in March. We are amazed at the flight of time, but also all that was experienced, accomplished and created due to this wonderful stallion coming into our lives. We have made lifelong friends, through Mr.Donavan. We are now in the midst of completing and updating our new facility, for the newly formed Kent Island Sporthorses. Though buildings of "KIS" are not yet finished we are far enough along to want to celebrate. We plan to have an Open Barn Party. Perhaps this fall or early next spring. We want all of our horsey friends and acquaintances: mare owners, and foal owners, breeders, and Donavan offspring owners, new neighbors, old non-horsey friends to please come and share in our progress! Depending on schedules, and construction, I hope to have Donavan's condo built here then, perhaps our young stallion Rosall can visit too assuming our wonderful trainer, JJ Tate says OK. :-) It is my hope/plan to establish an achievement award in Donavan's honor, perhaps with the USDF or AHS. I would love to hear ideas of an award or recognition that should be sponsored.
Since Donavan is now 23, we are making some changes. He is still healthy and able to sire more offspring. However we want him to be fully retired soon to live like a king. He has been "semi retired" until now — after Grand Prix competition until 18, Grand Prix exhibitions until 20, and continuing under saddle until very recently, breeding very full books of mares throughout.
So with that in mind we are also announcing that Donavan in 2009 will only stand for collections to the public for a limited book in private treaties. We also have frozen semen and it is very good quality. I invite inquiries. Donavan is a proven sire of quality offspring, crossing especially well with the approved TB's of several registries, and the very refined warmbloods often seen today. He carries bloodlines on his sire's side, Dirk, Duft II, Duellant, that cannot be found readily in Germany today, but are highly esteemed, and therefore, we believe should be cultivated for the future. On his Dam's side is the ever sought after A line of Argentan. We often hear glowing reports from those that love their big and strong, good boned Donavan horse, that succeeded in the sports and also for pleasure riding. Donavan is an extraordinary example of health, soundness and longevity. His temperament, trainability, work ethic, along with his natural talent are appealing qualities that are consistently passed on, producing sought after Amateur horses as well as those also shown successfully by professionals. His sons and daughters produced in nearly equal numbers, almost always are bay, a few gray, never chestnuts, and are both attractive to look at with talent for successful competition in all disciplines, Dressage, Jumping, Hunters and Eventing.
Thank you for your friendship and support.
Good Luck to all in 2009.
We will be in touch again, soon.
Wendy and Marty Costello
Kent Island Sporthorses

September 13, 2008:
Wow, another busy week or two. We just confirmed the sale of our lovely Debrentanya to Mary Joyce Flinn from right here near Washington DC. Debbie has been so much of a favorite that we thought of keeping her to breed to Rosall. We hope that Mary Joyce will discuss that with us in a year or two. Right now she is very happy to put her into prep for backing in the spring. She passed her vet check with flying colors, and she even allowed flexion tests and x-rays, for a two-year-old that was very nice!
Our Essex KIS and my daughter's Dinah both went to Arkansas to live with new owner, Carolyn English. They traveled well, and got off the trailer and charmed everyone at the new barn. Their futures are to be jumpers, with some Dressage training for balance!
We now get Posh ready for Devon and the big week there. I hear from JJ Tate that Rosall is doing super in preparation and from Jayne Nessif that Donavan's son Davy Crockett is also putting his best hoof forward! We have just finished the design of the newest ad for Donavan for the AHS stallion Book to come out for 2009. Have a wonderful Fall and hope to see you at Devon. — WWC

New foals are arriving!
August 20, 2008:
Another busy week. We had the area outside the new barn graded, so water will drain properly. That will now allow us to finish the last fencing near the barn to create the foal and mare pens, for the newborns and their moms. Then maybe the fun stuff, like planting flower-boxes and bushes, trees, etc will occur, in due time. Right now we are probably going to throw dirt in the leaking trough and plant in there! We hope to have a open barn party this fall, somehow squeezed between Regionals, the last inspection, and Dressage at Devon.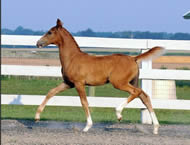 Which brings me to Dressage at Devon
KIS has decided to take Atlanta and Paprika KIS, "Posh," to Devon for the foal competitions. She is so lovely, and earned such wonderful comments from the judges at the AHS inspection that it is worth it to take her and have some fun. We will be with Hassler Dressage this year, soaking up any advice we can get, and wisdom from Suzanne and Scott and JJ Tate, who will show Rosall, and Davy Crockett (by Donavan) too.
Also, please note the new Hanoverian Society All-American Young Horse Awards being given for the first time this year at Devon. We are proud to help sponsor one of the Young Horse classes for the AHS.

We hope to see you at Devon September 22-28!
Read more about the AHS awards on the AHS website.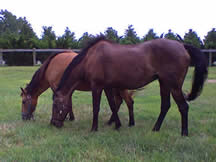 August 14, 2008:
I have not mentioned our two very special horses on the farm for a while. They are Sugar and Remy. Sugar is a true mustang, adopted from the BLM and is only 13.3H. She is a pet, but most of all she is the best "nanny" for the the weanlings. She is also a great calmer for new horses or sensitive ones. She is the one who teaches another horse to get on the trailer, and she will do anything for me. Though some would say she is not a pretty or correct girl, but the longer we have her, she somehow gets cuter and cuter!

Remy is the first mare I ever owned. She is 26 now, and has had two wonderful Donavan foals. She is a Jockey Club TB, a Bold Ruler Granddaughter, who was on the track, and luckily for me she flunked racing. Eventually I bought her after she had some very good Dressage training. I rode her, took lessons on her and also bred her. She was approved by the AHS and they loved her walk, giving her a 9. My first born Duesenjaeger (Pilot), by Donavan was everything I wished for and he was with me and JJ Tate until last year, at age eight when I sold him after sparkling performance success at First and Second Levels. Remy probably could have had another foal, she had her Donavan daughter at age 21, but I was not going to wear her out or risk having something happen to her having a foal for me. So she and Sugar are best friends and are a joy to watch out in pasture or with the foals. These two are with me for the rest of their lives.
August 1, 2008:
We have had a very nerve wracking week or two. Our wonderful mare, Caviar had to have colic surgery at New Bolton Center in PA. We are very pleased that she is recovering very well, and so far so good. She is still in foal to Rosall. The doctor even ventured to say it will be a filly! We have never been through that before so it was hard to wait and see what would happen.
Then on a happier, yet bitter sweet note, we sold her handsome black colt by Escudo II, "Essex" to Carolyn English of Arkansas. Her plan is to combine some Dressage ground work with jumping training to have a high level jumper. Very smart. We really will miss him. He has had to be weaned early since his mom was in surgery but he is a big, strong, tall boy and is doing very well!
We also sold his yearling half sister, Duchesse, last week. She is by Donavan and out of Caviar. She is now in Florida with her new owner, Donna Stevenson. Donna is also waiting to see if her mare is in foal to Donavan as well.
Last but not least, the sweet Donavan daughter I purchased to tune up and sell, Dilly (Delicious Dot), just sold too. She is staying in MD and is owned by Linda Byrd, an Adult Amateur. We are so glad she will stay in MD, where we might see her start her show career.
Breeding, foaling and inspection season draws to an end
July 19, 2008:
The last two weeks have been crazy! Dahlgren (Boomer) is now an Oldenburg with the Oldenburg Verband, after a lovely inspection at Angela Barilar's farm, near us. Then the next week, Pepper and her beautiful Hanoverian filly, Paprika (Posh) drew great compliments and comments from the judges as she tied for top filly of the inspection with a pretty Sinatra Song filly.
Caviar and her colt Essex will be going to the ISR/Oldenburg inspection later on this summer.
We will be weaning Dahlgren and my daughter's filly, Dinah in a day or so and then her colt Dalton, and eventually Posh and Essex. Our wonderful mustang, Sugar will have her job to do to keep these weanlings in line.
We visited Donavan this weekend at Select Breeders in Colora, MD, and he is great. He is trim and shiny. The last few mares that need to be tested for pregnancy will be finished by the end of the month and he will go back to being a gorgeous "lord of the manor."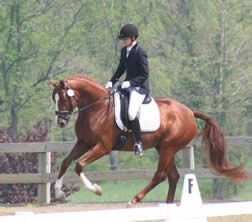 Rosall is excitement!
July 16, 2008:
Rosall is dressed in blue ribbons! Rosall (Rosario x Akzent II), our five-year-old Oldenburg stallion ridden by JJ Tate has been high score of the show at several Region 1 dressage shows. He has wowed the crowds (and judges) with numerous first place finishes and scores in the high 70s. Rosall and JJ are qualified for the BLM Finals to be held this fall in Lexington, VA, as well as the GAIG Finals taking place at the New Jersey Horse Park.

The Big Show (over 400 horses) in Lexington, VA, at Training Level saw him win all of the classes he entered, and his scores ranged from 74% to 77% earning them high point of the show as well. The last show PVDA Ride For Life Show, he had high Pt. Show, with high score of 75.2%, Training Level Test 4. He is averaging 75% at Training Level with a 79% as his personal high so far.

Rosall's first foals expected May 2009
June 23, 2008:
Rosall will be a father! We have just confirmed that Caviar, our lovely, special mare by Cor Noir (Cor de la Bryere) is in foal to Rosall for 2009. We used his frozen semen, and with one dose, on the first try, she is pregnant! Our excellent veterinarian, Dr. DiDi Callahan was very pleased with the breeding dose, and we have also inseminated our mare Precious Icon, "Manhattan" (by Rolls Royce) with Rosall semen and we are waiting to see if that is also a success.

July 1, 2008:
Manhattan is also in foal to Rosall for 2009! This is very exciting. She is GOV approved and her foal by Donavan this year is very nice. We are very pleased to be expecting two Rosall's. This also was a frozen semen insemination.
Rosall is in training with JJ Tate, and recently was ridden in the clinic with Scott Hassler and Michael Klimke at Hassler Dressage. He is so much more mature now after going to Florida with JJ, and he is schooling some piaffe step, he has a talent for it!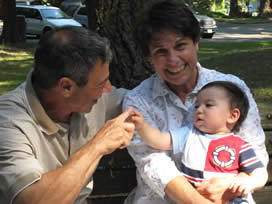 On a personal note: we are going to visit our first grandson in Seattle, WA this coming weekend. Corlan Wei Costello is almost a year old and we have only seen him in person one time, a few weeks after he was born so we are very excited! Cannot resist sharing photos of him.
I just found some misplaced photos of our gray mare Atlanta and her two offspring by Donavan. Wonderful photos taken by my husband Marty. Both of these youngsters are for sale. Dax, is now four and under saddle; and Dakairi is two and just a lovely young filly.
May 24, 2008:
Our daughter, Jill Costello Kilmartin's second new foal arrived here at Kent Island. The first foal actually born on the property! A handsome colt (Dalton) out of her Banter mare, Breathless. This young Hanoverian looks very special. He is bay, two socks, and a lovely large star and strip, snip! Photos to come! He joins our growing KIS herd of five mares with foals by their sides! What a show each day!
We had heard, back on April 5th, from Catherine Valentine about her new colt, out of her Arabian mare C'est La Vie, she named him Domineaux. Here is a bit from her note to me: Just want to report a beautiful colt out of my arabian mare, C'est La Vie. He is huge and extremely attractive: bay with four tall socks and a big star, very uphill conformation and substantial bone for an arabian cross. I think he's 85% Donavan and 15% the mare. I would rebreed her to Donavan to get another one like this, but my vet said absolutely not, based on the fact that we had to help the foal be born. it all worked out fine in the end. C'est La Vie is 18 now and I'm going to call this colt her "grande finale." We've named him "Domineaux" and I'll send photos soon. Again, thank you for providing your beautiful stallion to me for breeding. I probably will keep this foal to ride myself. All the best. — Cathy Valentine
And another letter, this one from Martha Kemmer, about her mare Blessing, and her new filly, Demeanor: Hi Jill and Wendy, sorry this is delayed. Blessing had a beautiful bay filly, March 29, 2008 at 1:45 a.m.! I am thrilled! Her name is Demeanor (we will call her "Dearie" in the barn. That was what my father called all of his daughters) She is perfect! Two hind socks, star and snip. I will send pictures. Tell Baley she is an auntie! I hope she is doing alright. Please let me know her status. Donavan should be very proud! Thanks again. — Martha Kemmer
Baley is a mare that Jill, our daughter has, sister to Blessing, both by Banter. She had a darling colt, named Dalton! He is a Donavan, bay, two socks, star, adorable personality.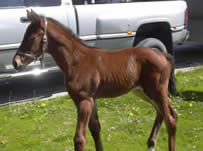 Filly born in Canada, Diamonte
Hi Wendy, did you get pictures of the baby I sent, she is lovely, beautiful face and eyes, so expressive. Thank you for all your help. She will be shown on the line. — Sylvia
Hi Wendy, probably show in Aug., if not the CSH (Canadian Sport Horse) foal futurity in September., and the royal winter fair in November. She is lovely, I will send better picture when I get one. Thanks. — Sylvia
Congratulations to Sylvia Dixon on her new filly. Born May 21st.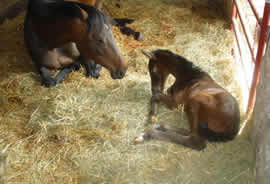 May 19, 2008:
Congratulations to Shannon Grager on her new filly, born at 7:30 a.m. She is adorable even only a few hours old.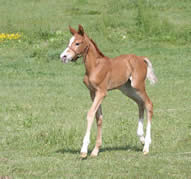 Happy Mother's Day!
May 11, 2008:
Our filly is finally here! Atlanta, (Pepper) gave birth to her filly by Pablo late at night, and she is a beauty! Not being used to seeing chestnut since Donavan never throws one, I was startled to walk in and see the loveliest, flashy orange baby! She has three white socks and a strip and a couple of freckles, I think at her nose, and a red and white tail! She is very feminine and correct! I do not yet know if she will turn gray like her dam, but either way she is a prize!
In honor of her Hungarian connection: her dam was imported from Hungary by JJ Tate, (her Damsire is Dutch stallion, Aktion who competed very successfully in the Olympics and World Cup for Gyula Dallos of Hungary.) We will name her either Paprika or Paprikask and I am calling her Posh. Paprika is a spice used in several Hungarian dishes, ymmm! Coming to think of it she looks like a baby Rosall.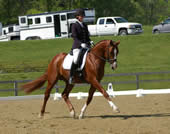 May 9, 2008:
Rosall, comes out swinging! At his first show for 2008, and only third in his career, Rosall earned two blue ribbons, one with a 79.2% for his first class, Training 3/BLM at Morven Park, VA. May 3-4, and a 72 % for his Open USDF/ GAIQ Training 4, Qualifier. Thanks to JJ Tate for her continued excellent work with our young stallion.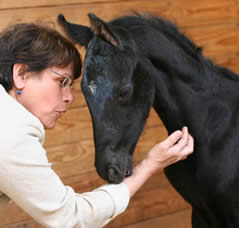 April 24, 2008:
Look what we have now! Caviar (Cor Noir) had a gorgeous black colt by Escudo II at 5 a.m. Our wonderful Oldenburg mare, Caviar had a lovely black colt and he is long legged, very typey, modern. He is very much like his Sire Escudo II (Espri), who is a top Jumper sire and also strong in Dressage.

We are considering his registered name, and think he will be named Essex KIS. The Essex was a U.S. ship in World War II that Marty's uncle was on. It also refers to an eastern county in England. His barn name might end up as Echo. He is so like both parents. Or Edgar, in honor of his sire's owner, Edgar Schutte, a very nice person!

Caviar and Pepper are at the foaling center
April 22, 2008:
Our two pregnant KIS mares, are now both at the foaling center to wait for their foals. We are expecting a colt for Caviar by Escudo II, and a filly for Pepper, by Pablo. Both are due April 26. We are now painting in the new barn, and trying to get the last things done before the maternity ward is full. Thank goodness we have great weather.

Our daughter Jill is arriving tonight to start putting up fences for her move to Kent Island! She and Jimmy sold Riverbottom Farm and will be moving to a neaby rental, by May 7th or so. They will now move their horses and other critters to be closer to us. I am very excited. She is the proud mother of Dinah, the new filly by Donavan out of her mare Dona Valiant.
Donavan is doing well at Hilltop
The big guy is breeding at Hilltop Farm in Colora, MD. He is happy and they really like him. I miss seeing him, but will try to get there soon. We hope to make him a suite here at KIS so he can be near us. I am anxiously waiting for news of the other foals for this year.
Rosall is home...and so is JJ! Hooray!
Rosall has returned home with JJ from Florida along with Dax and a few others. JJ says he is great, and feeling very good! Like a five-year-old stallion will! We saw him recently and he was quietly snoozing in his stall, very laid back, resting. He and JJ will be riding with Scott Hassler up at Hassler Dressage this week.
JJ is planning to show Rosall at Morven Park the first week in May and also near the end of May.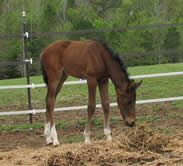 Jill's mare Dona Valient, had a gorgeous filly!
April 18, 2008:
She has four socks! and the star. Jill is very happy and excited about this filly. She reminds me a lot of her sister Doha Day, born about five years ago. Her Dam is a French TB, who has had an eventing career. Jill is calling her Dinah for now.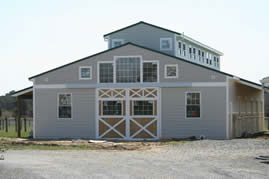 Happy Easter! Happy Spring!
March 23, 2008:
The new barn is coming along.

March 20, 2008:
We named the Colt! Our new colt, is going to be registered as Dahlgren KIS. Admiral Dahlgren was an inventor of large guns and cannons for the U.S. Navy. There is a Hall named after him at the Naval Academy in Annapolis, MD. We are calling the boy "Boomer," for his barn name, and I am going around calling him baby "Boomer" :-) He is very cute, long legs, and now a bit darker bay than at first. He is still unfolding. He has pretty soft eyes, and he is not shy, he calls and speaks very easily. We have had him out running with mom, and they can fly!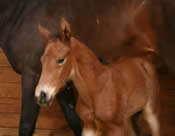 First foal for Kent Island Sporthorses 2008
March 15, 2008:
DOB: March 15, 2008 Time: 2:15 a.m.
We just had our first foal, a colt, for 2008 and the first one at Kent Island Sporthorses. He is by Donavan out of Precious Icon (Manhattan) who is by Rolls Royce, the sire of Rocher who was a Grand Prix mount of George Williams that was so successful. Mom and baby are fine. She kept me waiting as I thought she would be early, but no, foaled right about on her due date, one of them! ;-) No name yet. He is a light bay at the moment. Huge joints, and bones!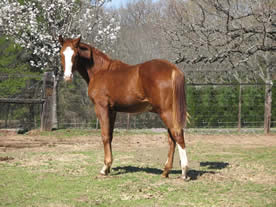 What a Riot!
March 13, 2007:
Look at our young colt, Riot by Rapture R out of Dominique (Donavan). He is growing up! He is coming yearling, and such a handsome red head! He was born in Texas, bred by my daughter. He will be coming to Maryland soon if he is not sold, because my daughter and her husband Jimmy are trying to move closer!

Rapture R., his sire was a high scoring stallion at his recent 100 Day Test. He has a very impressive show record for such a young boy. This colt looks very much like him.You can't go wrong with this boy, who Jill reports has personality plus he likes to entertain himself.

Breaking news!
Rosall and Davy Crockett (Donavan x Winpenny) were both selected with JJ Tate to participate in the Young Horse Training Symposium in Wellington, FL. It will be held March 18-19, at The Main Show Grounds of the Palm Beach International Equestrian Center located at 14440 Pierson Road, Wellington, FL 33414. Look for the Mogavero Arena. Scott Hassler will be the coach, and is the USEF National Young Horse Training coach. The USEF is sponsoring this event. JJ and Scott have been working together a great deal with Rosall and Davy and JJ's own Donnermuth, who went to Verden, Germany and competed last year.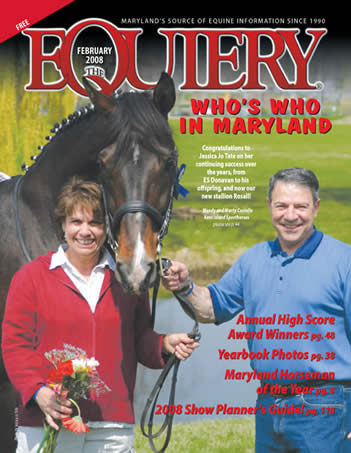 Needless to say, KIS is very proud of this accomplishment for the horses and JJ
March 5, 2008:
Look, we made the cover! We are so pleased that we made the cover of the issue, called Who's Who in Maryland, but mostly pleased that it focused on congratulating those we appreciated. And of course we love to show Jessica Jo Tate that we appraeciate her very much! So we, with Donavan said thank you to JJ Tate for all that she does for us and our horses, and Donavan's kids!

Note: That photo was from Donavan's last Exhibition with JJ at the Midwest Horse Fair in Madisoon, WI. When JJ rode him to country music with her cowboy hat on! What a very wonderful moment and such fun; bitter sweet end of his Exhibition career. He turned 20 that month.
February 6, 2008:
We have returned from a wonderful four days in KY, and the AHS Annual Meeting. Everything was perfect from the tours of the Top TB Farms to the bourbon factory, to the Silent Auction and of course the meeting and welcoming our guests from Germany. I encourage everyone to plan to attend next year in Reno, Nevada!
I have now listed Dax (D'Aktion) for sale, $25,000.00 on the Dressage Daily Marketplace and already have had responses! He is doing well in Florida as JJ Tate reports. Please look him up, and if interested, we have a DVD.
Donavan is doing very well and looking good! We are going to have him at Hilltop Farm this year for collection. Please get your deposits in and your contracts signed if you wish to breed your mare early in the season. I anticipate Donavan going to Hilltop by the end of March for preparation. Please call if you need some forms from me. — Wendy (443) 249-3566
Note: We donated breedings to Donavan to the NEDA, Oldenburg NA and GOV, and AHS aucions this year. Those auctions have started.
Also we have donated a breeding to Rosall (frozen only — two doses) to the NEDA and GOV auctions. For this year, since he is competing we cannot offer shipped semen at this time. Also, I must limit the number of mares since we only have collected a small initial supply of frozen from him. So please call me first for approval to breed to Rosall. We have to use some first for our mares. Thanks for your understanding. He is young and we hope will be around for a long time. — WWC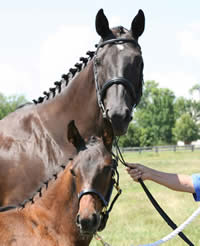 January 27, 2008:
Finally photos of our darling Duchesse! We have been so busy that we had no time to find our photos. She is now six-months-old and these are of Duchesse with Caviar at the ISR/Oldenburg NA inspection last summer. She was second with 8.4 (first was 8.5). Premium filly. She is now very dark like her dam, and very elegant and so sweet.

January 23, 2008:
Dax is coming four, and doing very well under saddle. We cannot wait to go to Florida and see him and Rosall.

Happy New Year to everyone
We are enjoying a super beginning to the new year with wonderful weather, after coming from WI, and a new barn over half way built. We also had a bit of sadness, right before the new year. Our elite mare Bevolina slipped her Sinatra Song colt and it was a very upsetting evening, to say the least. It turned out to be an infection in the colt, and no real way to know how he got it. My husband Marty actually was the hero, as he delivered the foal, and also gave the oytocin shots the next day. This colt was already spoken for so we are joined by others who are sad over this loss. Bevolina is in fine shape, and good spirits. She will be bred back. She has had two wonderful fillies before so this was a shock. But it happens to us all eventually. This is the flip side of the joy of breeding.
Now on to happier news
Rosall and Dax are in Florida with JJ Tate. She reports that both are training well. Dax is maturing, has shoes on both fronts and hinds. We hope to get down to see her and the boys this winter. We are really in need of thinning our herd, so please go to the sales page to read about some reduced prices on our horses for sale. The yearlings are adorable and the sweetest two fillies ever. I have Dakairi listed but did not list Debrentanya aka Debbie. I have always thought to keep her to breed to Rosall. She will be perfect. However, if you wish to buy her (by Donavan out of our Bevolina by Brentano II) I would sell her but reserve a breeding to her by Rosall.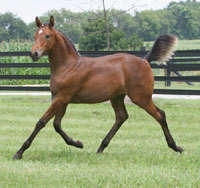 We welcome Royal Princess by Royal Prince (Rohdiamant / Prince Thatch / LdB Wenzel I) and out of Brimming (Banter / PB Adroit / Akzent I). She will be wonderful to bred to Donavan and Rosall eventually. She looks a great deal like her sire.
Rosall breeding
Many of you have been asking about our plans for breeding Rosall. We had a chance to meet with JJ Tate recently and discuss this young fellow's future. We all agree he should be competed and try to qualify for some prestigious awards. (This helps the value of his foals too.) We also did not have a great deal of time to accomplish his first round of freezing so we are left with limited supply. So the decision for this year is to offer frozen semen only to Premium and SPS mares, and others on a case by case basis, if it is available after I breed a couple of my mares. We have donated two doses of frozen to two auctions, the GOV and NEDA, also for Premium mares. It is my hope to be able to offer him to a wider variety of mares as I have always done with Donavan. It makes me very proud if my stallions can make mare owners happy, with a fine mount, even if their mares are not recorded as Premium, but for now I have to get some nice foals on the ground so I may see what Rosall produces. Please be patient with us.
Donavan 2008 foal watchers
Hi all, plese let me know when your foals are born. Our first is due in March, out of Precious Icon (Manhattan) and I am hoping for a colt. She had a super colt last year that was sold, and is darling so I want one! — WWC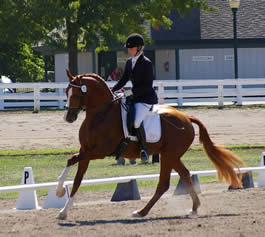 Rosall (at his unofficial debut)
September 17, 2007:
Earned his first blue ribbon at his first show, a 73+% at Training Level Test 4!
JJ and Rosall, Kentucky Horse Park
We are all very pleased with how he behaved, taking almost everything at this busy Kentucky Horse Park, in stride. He was such a quiet guy, even his stable mates, mares and geldings were more attention seeking than he was! We received many compliments and looks of appreciation as he walked the grounds and schooled in the warm up rings. We thank again, JJ Tate for her excellent riding of this fabulously talented young stallion. The weekend before, he was seen by the German Oldenburg Verband Representative here in the U.S. and she thinks he is one of the best stallions in the U.S.