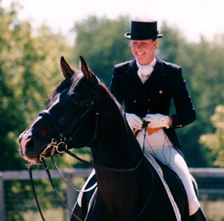 Dressage Rider, Trainer and Coach; USDF Gold Medalist in Dressage
JJ trains horses and students in the art of Classical Dressage; she coaches at competitions and shows horses at all levels for their owners. At times, she also represents horses for sale. She gives many clinics throughout the year at many locations both near her new location in MD, across the country, and Canada. She is an articulate speaker, instructor and clinician. JJ Tate has ridden in clinics with notables: Gyula Dallos, Hungary, World Cup and Olympic Competitor; Oded Shimoni, Israel; Steffen Peters, U.S. Olympian; Charles de Kunffy; Walter Zettel; Jane Savoie; Nicole Uphoff, Olympic Champion; and many others. JJ clinics with Gerhard Politz, and in 2006 began her close associationi with Scott Hassler, Head Coach of Young Horse training for the USDF in the USA. JJ is thrilled to be the coach for Katie Foster, one of the top Junior Young Riders in the country.

To learn more about JJ Tate, visit her website at
www.Team-TateDressage.com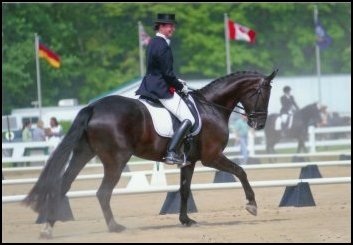 Growing Success for JJ: Some Accomplishments
In 2006, JJ was a World Cup Finalist and at the Winter Equestrian Festival in Wellington, she placed first in the Grand Prix Special and was FEI High Point Champion. JJ has had top placings at Dressage at Devon at Grand Prix and in the FEI Young Horse classes. She has been Champion or Reserve Champion multiple times at Regional Finals at the national and FEI levels on numerous horses and has been named to the United States Equestrian Team Developing Riders List.
For more than six years beginning in 2000, JJ trained horses and riders at Wyngate Dressage Center in Walworth, Wisconsin while wintering and showing in Wellington, Florida. Her FEI career has developed with several different horses, including the imported Elite Hanoverian Stallion, Donavan, sire of breed show and performance champions, the striking Swedish Warmblood, Cambay, and her current duo of talented horses, the exciting young Oldenburg stallion Rosall, and her FEI Level gelding Quincey, new in 2008. She has earned scores from esteemed judges in the high 60- to high 70-percentiles at lower levels, and FEI Levels including Grand Prix on a variety of talented horses.
Prior to 2000, JJ was a member of the Region 2 Dressage Team at the North American Young Rider Championships in 1996, 1997, and in 1999 when the team won the Silver medal. Also during 1999, JJ participated in the Pan American Games Selection Trials.
JJ is a noted clinician who trains students in several states and Canada, and was part of the Search for next Dressage Idol, organized by six-time Olympian Robert Dover.
JJ has returned often to Europe to continue her training and has ridden extensively with Gyula Dallos (World Cup and Olympic Competitor from Hungary), spent several months in Hubertus Schmidt's barn in Germany, has also trained with Conrad Schumacher, Gerhard Politz, Oded Shimoni, Klaus Balkenhall and Charles de Kunffy, her mentor. Young Horse Coach Scott Hassler, in 2007 became one of her most constant instructors as she rides several promising young horses.
It is rare to find a trainer who is equally talented in preparing horses for their FEI career as well as the Young Horse classes. In addition, JJ excels in preparing mares and stallions for performance tests. She has ridden as a guest rider at the 100-Day Stallion Testing at Paxton Farm and at inspection sites.
Aspiring to Olympic Success

Having ridden for most of her life, Jessica is inseparable from horses. She began dressage lessons in Fort Atkinson, Wisconsin at age seven. Later, under the guidance of Charles de Kunffy, world-renowned Dressage instructor, clinician and USA equestrian judge, JJ had the opportunity to study dressage in Budapest, Hungary for two years with that country's Olympic and World Cup finals competitor, Gyula Dallos. While in Europe, she successfully competed at international competitions both at the CDI and national levels. JJ is focused and disciplined. She has her sights set high and with integrity and grace she works hard for those goals.
Special Highlight: October 3, 2005: JJ Tate a Star at Devon! JJ Tate is chosen by Robert Dover as a Rising Young Star! JJ went to Devon in Pennsylvania, a top Breed and Dressage show, for the first time and made her presence known! She not only placed sixth in the Grand Prix Qualifier to make it to the Grand Prix Freestyle, but she then placed sixth (69.9%) in the Grand Prix Freestyle on Saturday night, placing along with top riders, several Olympians, under the lights showing a wonderfully choreographed dance with Cambay (her Swedish warmblood horse "Chip"). She had the crowd cheering and whistling! Betsy Steiner, a top U.S. rider, trainer, gave commentary on the radio headsets that could be rented, was just glowing with positive comments and praise for this young Dressage star! "A Freestyle as it should be done".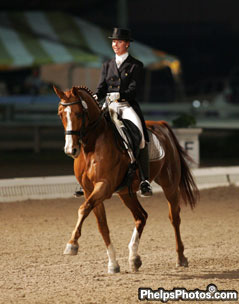 Other Proud Achievements for JJ
August 9, 2007:
Jessica Jo Tate and Donnermuth, "Petrie" represent the USA very well at Verden, Germany!
JJ Tate on her six-year-old Rhinelander gelding, by Don Bedo, rode the two six-year-old qualifying tests at the prestigious World Young Horse Dressage Breeding Championshps in Verden, Germany. She earned many scores well over 8.0 for her walk, trot, general impression and horse's submission scores. Donnermuth (Petrie) only faltered a bit in his canter work, but JJ explains he is is still conditioning to be stronger and he still earned respectable scores over 7. After a flight from Maryland, getting acclimated, and amid all of the excitement that one only finds in Germany, JJ is pleased with her horse's performance and upbeat and cannot wait to return! This is a high honor for an American to be able to go, and she is raring to get started with Rosall and perhaps other young horses for coming years.
Marty and I were thrilled and proud to be able to watch her, and the judges were very complimentary of both horse and rider, the scores obviously saying we "like what we see, it is correct and excellent riding, and please return." We waved American flags and whooped it up! The USA was noticed! JJ ended at 17th in the World for six-year-olds, and finished the Small Final in seventh place. She led the USA Contingent in their week of five and six-year-old competitions. — WWC
September 2007: JJ and Davy Crockett, by Donavan, Donnermuth, and Rosall all went to Dressage at Devon, the largest breed show in the U.S. Davy earned third place in an FEI Four-year-old Test, Rosall placed first in a Four-year-old Stallion/Gelding Materiale class, as well as placed well in two other classes
October 2007: JJ and four-year-old, Davy Crockett, owned by Jayne Nessif, were Champions at Training Level during the Region 1 Finals in Lexington VA. During that season were several High Point of Show and other awards for JJ.
2008 Season:
Devon in 2008 found Rosall placing 2nd and 3rd in his two classes with JJ riding. They also earned reserve championship at Training level at Regionals and placed 9th for the Horse of the Year Awards for the USDF. Baronessa owned by Shari Glickman, new at PSG under JJ, took several high placings throughout the season as did Donnermuth and Davy Crockett. Rosall finishing the season as 9th HOY at Training Level.
To the Present:
JJ prides herself on using classical dressage to ride and train all of her horses. She gets great pleasure in bringing dressage to riders of all ages and donates her time and talent to worthy causes. Most enjoyable occasions were her annual Freestyle Exhibitions given at the Midwest Horse Fair on Donavan, and their rides to raise money for Charitable organizations, and Equine Rescue services. In MD she has ridden in the PVDA Ride for Life, and in Wellington participates in their charitable rides during winter.
JJ has received a great deal of attention for her ability to train the Young horses coming up as well as the FEI talents striving for the top of the sport.
IN 2011, JJ married her fiance , Richard Malmgren,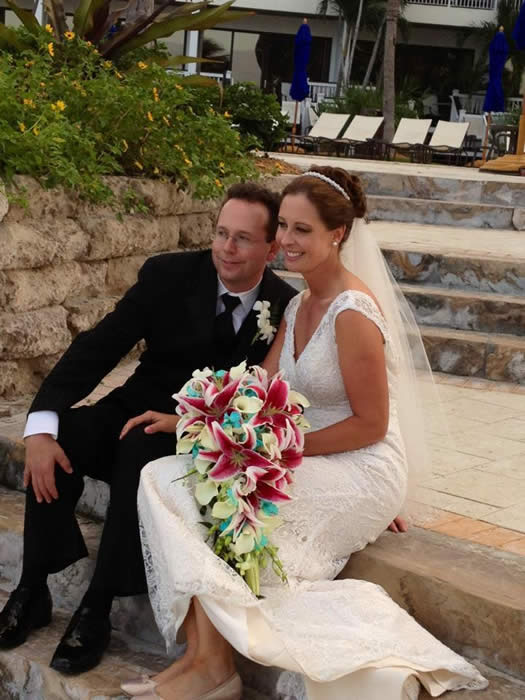 in a lovely ceremony in Florida,
where she continues to school and compete each winter.