"All three judging teams convened at Michael Clabaugh's Woodvale Farm in Frederick, MD, August 17-18. This was the site of the East Coast Stallion Inspection. Donavan (Derwisch/Akelei/Argentan), who is 11 years old and competing at FEI Level, was presented under saddle in a satisfying performance. To produce such a horse who willingly and competently fulfills his potential is surely the goal of every breeder."
"Woodvale Farm Inspection in Frederick, MD in terms of numbers and quality was truly outstanding. This time seven stallions were presented for Korung. Understandably, we the judges, were very rigorous with out scores, because it is the function of a selected stallion to improve and elevate the existing breeding stock for a long time. After three presentations, two stallions were 'gekort' (licensed). Unanimous Champion was Donavan, a Derwisch/Argentan offspring. The good-sized stallion commanded respect with his excellent gaits, his outstanding type and his extremely correct conformation. He had already shown in Dressage up to five classes and I would like to mention his distinguished rideability. A real champion on that day… It may seem to be very demanding to have just two stallions selected. We, in Hanover, have the motto that only the best is good enough to be able to endure at the top."

— From the American Hanoverian Fall 1996,
The quarterly magazine for the American Hanoverian Society
Dressage Daily StallionAd, 2011; Click Here
http://www.dressagedaily.com/index.php?option=com_mtree&task=viewlink&link_id=1780&Itemid=335
Don't miss:
Donavan's final performance at Midwest HOrse Fair, in WI, and his retirement age 20. " She's Gone Western" https://www.youtube.com/watch?v=LeASl2yCugc
Donavan story in Warmbloods Today:
http://www.hanoverian.org/artman2/publish/Feature_article/A_Fairytale_Ending_for_Donavan.shtml

Watercolor by Judy Walker ©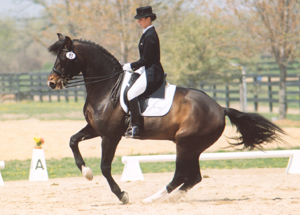 Early Years
Donavan was born in 1985, in Germany and brought to the U.S. as a coming three-year-old. He completed the very rigorous 100 Day Testing for Stallion Licensing in 1988, receiving a very high score of 136.16, for the Reserve Champion honors competing with 18 other stallions. His marks included 9s for rideability, willingness to work, jumping ability, trot and a 10 on his canter. This score still stands as one of the highest earned since the United States 100 Day StallionTesting has been held. This emphasizes that even as the general quality of stallions in America improves, Donavan's quality endures! German judges in 1996, at the Hanoverian Stallion licensing in Maryland, declared Donavan East Coast Stallion Licensing Champion based on his performance record at the time and commented on this very fact of enduring quality.
Middle Years
As a youngster, Donavan was owned for many years by a group of enthusiasts, and he was given to several trainers. At age nine, he was purchased by a private owner, and he was put into the capable hands of George Williams, then head trainer/rider of the Tempel Lippizzan Stallions in IL. With this top rider and trainer to bring him along, Donavan blossomed along his way up the Dressage levels, and began his FEI work, earned many USDF Year End Awards, trophies and high placings; and then began his Grand Prix work. It was at this time that the circumstances of Donavan's owner changed and in 1999-2000 the present owners, Wendy and Marty Costello, entered the picture.
Present... and into the future
It reads like a fairy tale sometimes, or a soap opera, but once upon a time Wendy Costello wanted to breed one wonderful mare to one wonderful stallion to have her "last best horse!" She had found the mare, (Ona Rainy Day aka Remy); the Bold Ruler TB mare had been approved by the American Hanoverian Society and then she saw Donavan. She was very excited to discover she could breed her mare to him. The result was Duesenjaeger (Pilot), foaled in 1999.
A month after he was well received at his keuring, a turn of events occurred that resulted in Donavan becoming her stallion and forever changing her life!
JJ Tate and Donavan
From age 15 to Donavan's 20th birthday, JJ Tate was by his side. They competed at Intermediaire I and II, and then Grand Prix. They topped off a brilliant career of USDF, AHS Year End Awards, trophies, and cheering crowds at Exhibitions with a fabulous presentation to 8 to 10,000 fans at the MIdwest Horse Fair in Madison WI. Donavan, went on to "Dance" at clinics with JJ and to give lessons to select students. During this time he continued to breed a very full book of mares. JJ continues to be an inspiration to us all, and keeps a loving eye on Donavan while reaching for the top of her field.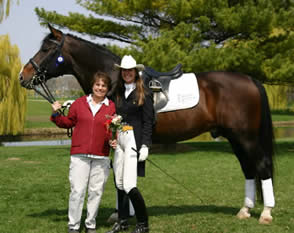 October 2007:
Donavan moved with his owners and the rest of their horses to Maryland. His former rider JJ Tate took wonderful care of him at GoodNess Ridge Farm in Mt. Airy, MD until that Farm closed and in Fall of 2008 he is home with the Costellos at Kent Island Sporthorses on Maryland's eastern shore.
Consistently listed on the USEF list of Leading Sires: Dressage/Dressage Breeding;
Donavan achieved #7 on the Final list of the New USEF Leading Sires List— Dressage Breeding for 2004.
Donavan was listed #9 out of 164 stallions on the 2005 USEF Leading Sires Dressage Breeding List.
In 2007, he was 71st out of almost 1,000 places listed for Dressage Sires. This was a very big accomplishment. His traditional type continues to mix well with more modern type, and his offspring with their wonderful minds continue to bring joy and success to all of thier riders.
He is also on the lists of Leading Sires Hunters list with several very successful Hunter offspring
Donavan's 100 Day Test score, 136.16 points is still among the highest earned in the U.S.
Donavan seems to throw just about 50% fillies and colts. ( Some years more fillies, but this is average.)
Donavan never throws chestnut color! Even some gray mares have bays!
To view Achievements of Some of Donavan's Offspring Click here
Breeding Approvals
Donavan is lifetime approved and licensed for breeding by the American Hanoverian Society, the German Hanoverian Verband, The International Sporthorse Registry/Oldenburg NA; Canadian Sport Horse Association; The Oldenburg Horse Breeders Society (GOV); and the Rhineland Pfalz-Saar.
2015.
Donavan nears 30.. We want to insure he stays strong and feels good! So we now only offer Frozen semen available through Select Breeders Southwest, Inc. and also some is in Chesapeake City MD. See Links page.
Donavan is having excellent success with frozen semen.
Donavan is nearly a 100% success rate for the use of frozen semen and most were after only one try. We offer a contract with full LFG if you use frozen semen from Donavan for an entire season, five doses to the season. See at the top of the page.
For Canadian citizens we can offer private treaty, frozen only.call Select Breeders for the special rates and way to send to Canada.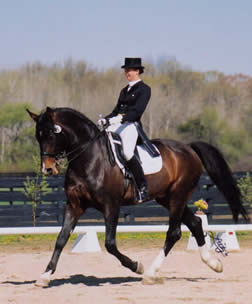 Our Dream
Wendy and Marty Costello, owners of Kent Island Sporthorses (formerly Riverland Farm), and ES Donavan strive to breed and assist others to breed, the highest quality warmblood horses for FEI Level sports and for pleasure that embody Donavan's kind and affectionate temperament, his natural talent and striking beauty. These offspring are suitable for both the amateur and professional rider. Donavan's long, successful Dressage career has demonstrated that he represents the best qualities of the Hanoverian breed, and consequently, the characteristics desired by all warmblood breeds. He absolutely fulfills the goals of the American Hanoverian Society and the German Hanoverian Verband.
In accordance with his high 100 Day Test scores in jumping and dressage, he is sire to successful offspring in all the Olympic disciplines.
"With Donavan, something wonderful is always happening!"
Donavan's Pedigree
Derwisch
31 7406879
brown

Edle
H 31 3002072
bay

Garbe
H 31 6974366
Grande
Akelei
H 31 3318877
bay

Argentan I
31 0415867
bay

Weinbrise
H 31 7121167
gray

Wicht
31 0406360
Freischaerler

SPS Schutzinsel
H 31 6314858
Schutzherr
Donavan's Sire — D Line
Derwisch, by Dirk, who is by Duft II by Duellant

THE ESTEEMED HANOVERIAN "D-LINE"
Donavan is rejuvenating in the USA the line that almost disappeared in Hanover breeding area Germany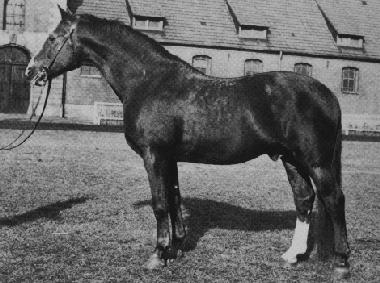 The late starter Duellant was originally only intended as a bonus to the stallion Anselmo who was treated as an absolute top sire in his day, when he first occupied a loose box at the Landesbrück station in 1946. In addition to his great expression and enormous trotting movement Duellant had a robust nature. He displayed great loyality and dedication under the rider and before Duellant established milestones in the breeding scenarios of Hanover via stallions like Duft I and II, Duden I and II, Durban, Dünkel, Derby, Dezember and Davos. Duft's progeny were strong performers although not always easy to ride. In Hanover, he left behind four sons, of whom the DLG king Diplomat was particularly outstanding. Duft II who himself was less of a performer, produced his "masterpieces' in Dirk, Darling and Dürkheim. Duden I presented numerous good sports horses, but was less prolific in breeding terms. His smaller but very elegant full-brother Duden II can still be found in many performance lines even today, with rideability and good character being almost guaranteed.
Durban, who was very strong in paces, Donald Rex's sire was only able to transmit himself via the maternal line despite a relatively long covering stint. The same is true for Dünkel and the small strapping grey Derby. The bay Duellant sons Davos and Dezember were not optimally utilised in Hanover. Davos had a fulminant start to his career in Baljerdorf, where he produced the three top hereditary transmitters Drachenfels (Celle, Stallion performance test winner), Donar (Dillenburg) and Damokles (Warendorf), before falling into obscurity. He later spent many years covering in Yugoslavia. Dezember likewise the result of great breeding efforts, was not able to assert himself and spent the latter part of his career in Canada. Following the sale of the Duft II's great-grandson Dressinan to Zweibrücken, there is only one member of the Duellant line left at the Celle state stud, namely the former approvals winner Derwisch (by Dirk). The Duellant blood is currently being revived by the Damokles son Dinard I, who is at stud in Westphalia but has had nation-wide influence with his first crops already. (Since this was published, Derwisch has passed away.)

From a competition sport point of view, he was an absolute ace as a hereditary transmitter. His most significant progeny include foremost Dux / Dr. Reiner Klimke, Mitsouko / Ilsebill Becher, Doublette / Willi Schultheis. Duellant left his mark on almost every German breed: In Bavaria it was Duell, in Mecklenburg Duell I and Don Juan, whereas in Brandenburg and Saxony-Anhalt the genotype of Duell II was disseminated. Westphalia on the other hand, secured itself several Duellant sons in Dualist, Duft III, Doktor, Ducker and Durchlaucht as well as three significant grandsons Dirigent (by Duden I), Damhirsch (by Duft I) and Damokles (by Davos). In Rhineland-Palatinate-Saar, Diskus, Dörfler, Duellfürst and the Dünkel son Dewett were on active service, whilst in Dillenburg, Donar (by Davos) made Hessian breeding history. Duellant - this name stood for something in Hanover and was the quintessence of particular quality. It is certainly a great pity that his genotype is barely available in the Hanoverian breeding area today and that his bloodline has almost become extinguished in the paternal strain. But the USA has Donavan!

Grande is is on Edle's side (Donavan's Grand Dam's side)
Grande: Graf/SPS Duellfest (Duellant); 1958 - 1989; 16.0H (162cm); Chestnut Hanoverian Stallion
Grande is one of the "blue blooded" names in hanoverian breeding for both jumping and dressage. The Hanoverian G-line is known for it's huge neck, round body style, and wonderful temperament, trainability and talent for both jumping and dressage.
Donavan's Dam — A Line
Akelei, by Argentan (Absatz/Abglanz)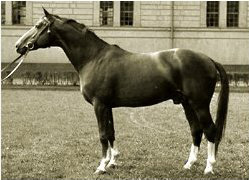 Abglanz: Foundation Stallion of All Breeds
The chestnut Abglanz did his name honour. As regards the transmission of type, he was able to predominate against every other bloodline. He derives from a famous dynasty. His dam Abendluft was the full-sister of the renown hereditary transmitters Absinth, Absalon and Abendstern. In 1946, Abglanz was first stationed at a covering station of the Celle state stud, in Handorf, which was the forerunner of the Roydorf station of today. He remained in Handorf until 1949, where he merely left the granddam of the sought-after Duden I son Dirigent (Warendorf state stallion) as a permanent relict.
In the immediate post-war years, this lightly built true to type Trakehner did not have it easy. Agricultural horses were in demand and they were not his forte. His big moment came in Jork in the Alte Land, at a studfarm that no longer exists today. At this new location Abglanz had bulls eyes in series. Mated with the Aktionär I daughter Ankerhirtin, he sired the triology of brothers Abhang I, II and III as well as their full-sister Zukunft who celebrated international successes with Alwin Schockemöhle. All four siblings were very variable: The 1.60 metre sized Abhang I was a prime upgrader of type in Badbergen, yet only occasionally did his elegant progeny manage the jump into the higher spheres of riding sport. Abhang II at 157 cm stick measure was the smallest of the group. In Hohnstorf, Groß Liedern and its successor station of Hanstedt II, as well as in Frankenburg he produced outstanding dressage horses of great charm, rideability and quality of motions. Abhang III, the tallest of the three brothers sired predominantly showjumpers and even today can still be found in numerous performance bloodlines. The full-sister Zukunft overshadowed them all. She was neither elegant nor charming in her demeanour but she could jump endlessly. The square shaped down to earth Absurd did not have a great impact in breeding, but he had a famous full-sister, Fritz Ligges' Zuckerpuppe.
Abglanz's blood has been able to prevail in the paternal line via Absatz, who from Otersen and Roydorf became a prolific disseminator of his sire's genotype. Stallions such as Argentan I, Arsenik, Akzent I and II, Admiral I and II, Aktuell and most certainly also Aderlaß , started a real "Absatz boom".
Today the Argentan I son Argentinus is the most popular sire of this dynasty. Archimedes had already mastered the complete advanced programme. He belonged to the same age class as the approvals winner Akrobat, who in contrast to Archimeds, was a tenacious fellow. His progeny were good jumpers, but were not always easy to handle. The Hechthausen period also produced Aalfänger and the proven Trakehner Kassio.
As Abglanz was stationed in Celle all of his life as a sire, his influence on his own population remained limited. The Trakehner studbook only lists nine registered daughters and three sons. Of these three stallions Kassio, Morgenglanz and Valentin, the last two derive from the few months that Abglanz spent in Hunnesrück in the Winter of 1963/1964 before he had to be put down on the 14th of March 1964 because of geriatric infirmities.
(Text from Ausgewahlte Hengste Deutschlands)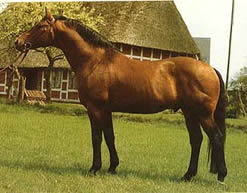 Argentan
Born 1967 — Died 1996 (165 cm)
Breeder: Jürgen Clasen
Argentan was one of the most important founding sires of the modern Hannoverian. Argentan was Reserve Champion of his stallion licensing in 1969, and the following year, was fourth out of 15 candidates in the Performance Test.

In 1994, he was crowned Hannoverian Stallion of the Year as a result of his extraordinary success as a sire. Argentan was the sire of 805 competition horses who won a total of DM1,648,638. His broodmares in particular were highly regarded and included three Champion German Riding Horse mares at the DLG show: Aragonia (1978), Ascona (1980) and Arabella (1984). However he was also the sire of some top performers including Mario Deslauriers 1984 World Cup winner, Aramis.

He was the sire of 19 stallion sons, including Airport, Al Capone and most famed of all, Argentinus.