Wendy and Marty Costello completed the barn in Mequon, WI with just few horses..The TB , Ona Rainy Day (Remy) was to be bred to Donavan, and the little Mustang, Sugar, was to become the best "foal auntie" ever. Upon purchase of the Hanoverian stallion Donavan, Riverland began to evolve into a sport horse breeding farm, producing a few high quality Hanoverian and Oldenburg offspring each year from this wonderful stallion. Riverland was a family owned and run, and very much hands on operation. Costellos personally handled the foals and mares and everyone in between on a daily basis. The number of horses varied, with an attempt to keep it under 15.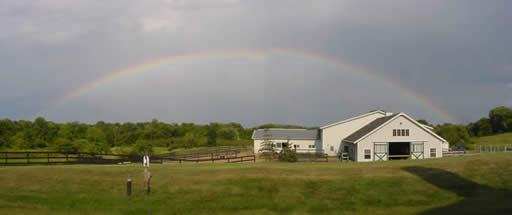 Friends Along the Way
Riverland Farm got nutritional advice from Dr. Doug Langer, their veterinarian of over 15 years, a breeder of high quality sport horses and specialist in the study of nutrition for the horse, as well as lameness and is a surgeon. High quality products were fed and care always exercised in early feeding of the young sport horse so that they do not grow too quickly and put too much strain on young tendons and joints.
When it came time to back the youngsters, early on we called upon several talented folks: Shelley Day, Margaret Goodell , Wayne Kiehnau , and then Jessica Jo Tate and staff at the former Wyngate Dressage Center to give them the correct start. Each foal is different, so he or she gets individual attention custom tailored to its personality. We had wonderful shows in our very competitive Region 2, and if a youngster was ready we showed in hand. Jessica Jo Tate, Olympic hopeful, Grand Prix veteran is now based in Wellington, Florida for winter and in Maryland for spring and summer. She is the professional we chose for on-going training and to compete our horses; and for giving us much needed lessons .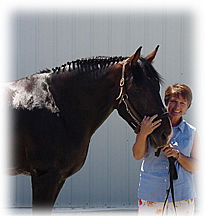 The Donavan Group, LLC at Riverland
The Donavan Group, LLC., was then created to market Donavan, buy mares, breed and sell his offspring. None of this could have happened without the advice and encouragement of many friends, old and new, hence "group."
We took great pride in the fact that any youngster purchased from Riverland was a very healthy, well mannered, confident horse, one that enjoys human contact and ready to be a solid citizen of the equestrian world. Our foals consistently demonstrate a good work ethic, and eagerness to learn.
Donavan was collected and cared for during breeding season by the exceptional repro staff at the Wisconsin Equine Clinic and Hospital in Oconomowoc, WI. under the guidance of Dr. Andy Schmidt, he had continued to have the highest success ever breeding his full book of mares.
Visit our Links page to learn more about the The Wisconsin Equine Clinic.
For some fun, try visiting our Archives pages found below News.
Family memories are found at http://www.kentislandsporthorses.com/ARCHIVE/familynews.htm