NEWS - Most recent first.
We have added a video of Rosall on You Tube. It is a video of him and JJ Tate during one of the Tests at the 10 Day Advanced Stallion Performance Test held March, 2008 in Jupiter Florida. * http://www.youtube.com/watch?v=fAWsRBM8zOk
Please also check on the Hassler Dressage Website for more videos and recent information about Rosall. see the Links page.
For Donavan and his foals, use: http://www.youtube.com/user/wendycos
To learn about inspections for your foals and mares, go to the Links page. Find the registry you are interested in and go to their site.
Read their menu for the inspection tour dates.

Note the new Facebook link, above. Follow us!
Wendy Winett Costello, Donavan, Rosall and Kent Island SPorthorses each have a page on Facebook.
---
Happy Holidays to everyone and thank you for your constant support and for checking in with us when you are thinking of breeding or buying your next horse! We really enjoy working with everyone.
December, 2011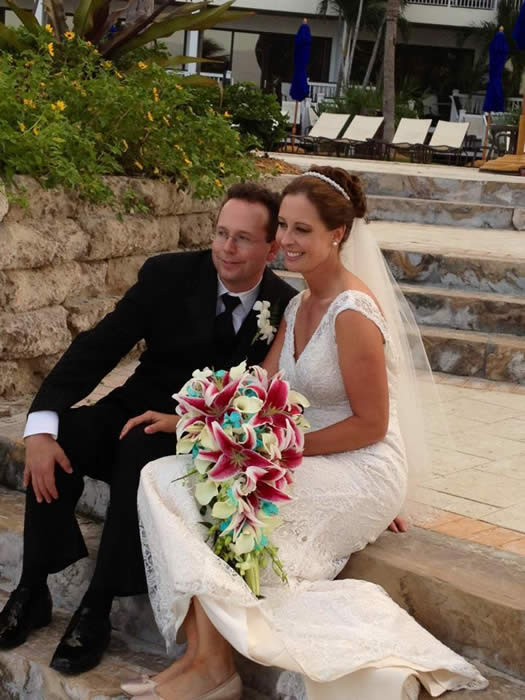 We just returned on the 13th, from the lovely wedding of our "tall Daughter" JJ Tate, our wonderful trainer and long time friend. She married her fiance, Richard Malmgren in the Florida Keys and we all had a wonderful time. I played with some dolphins, and danced all evening!
JJ and Richard looked absolutely breathtaking, and the entire wedding party was glowing! It was so much fun to enjoy with Susanne and Scott Hassler, Candace , Joe and Jen Tate, all of JJ's Team Tate, and so many others.
Our home is getting dressed for the 2 holidays, Christmas and Hanukkah, and we will go to Disneyland in Anaheim, CA to spend time with our son Adam, and his wife Helen and our 2 grandsons.
Even our dogs , Bekki and Trip ( shown below) are ready. A gift I purchased for myself , has arrived from Tulsa ( where we spent Thanksgiving) and is sitting under our tree.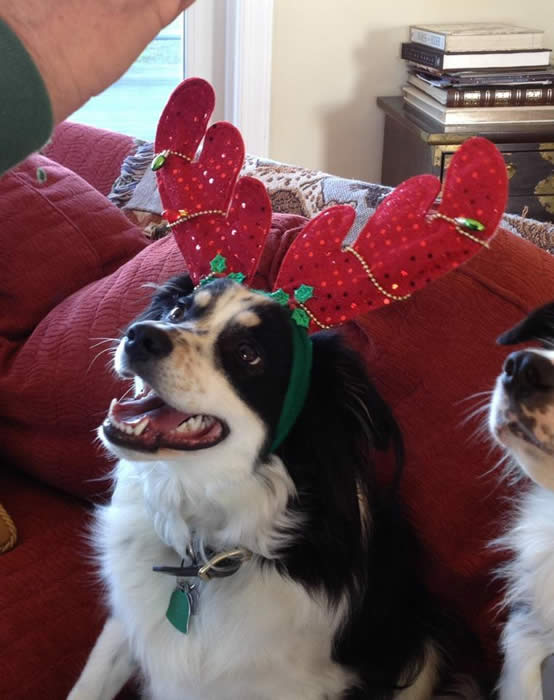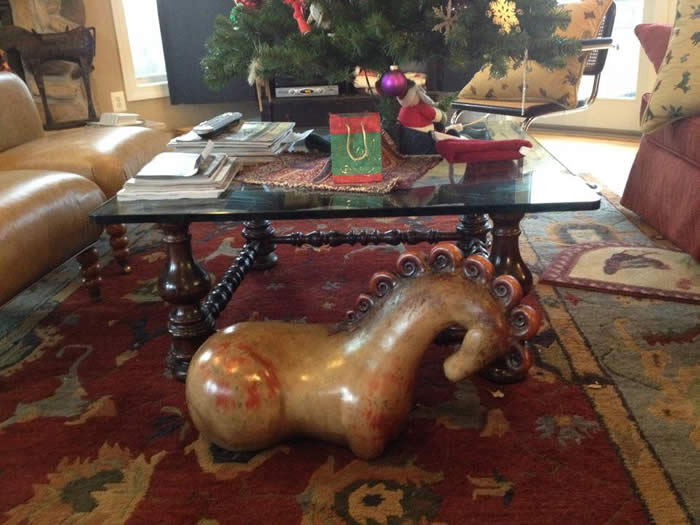 The lovely ceramic horse, is form Mexico, and really will fit nicely into my home,.. we are planning some remodeling!
Rosall is safely in Florida with JJ and slowly and surely coming back form a time off from an injury.. he looks super and JJ reports he is doing really well.
Donavan is enjoying himself , though I think he wishes it would snow. He likes it colder and we are enjoying some mild temps.
We wish everyone a safe and Happy New Year!!

Happy Thanksgiving to one and all. We were with Family in Tulsa and had a wonderful time!! Let this be the start of a fun filled, rewarding Holiday season and a Healthy, Happy New Year!!
November 17, 2011
Top 10 % for Donavan!! The OLD guy keeps on ticking!! Nothing old fashioned about Quality!!
Of note: Donavan ranks 110 th , out of over 1200 stallions in the USEF Leading sires listings, and 10 different offspring contributed to the standings by being in the ribbons in their Dressage classes!! We are really pleased.
Drum roll please:
Ok Something I have needed to do for a long time. So many of the Donavan kids are checking in with me that my head is swimming. They are growing up so well, and their owners are so proud and happy. It really makes us happy too.
I am now going to attempt to mention many that have sent in photos in the last months ( or year) , and try to show each one at least once. Some are for sale, and some I need to place on the offspring listings.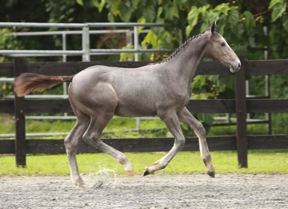 First, the pretty gray boy, left , is Definite Class, a Hunter prospect who has already been in the ribbons. He is owned and bred by the Persans.
The next one is the cutie looking right at you, that is Davante , bred and owned by the Stadlers.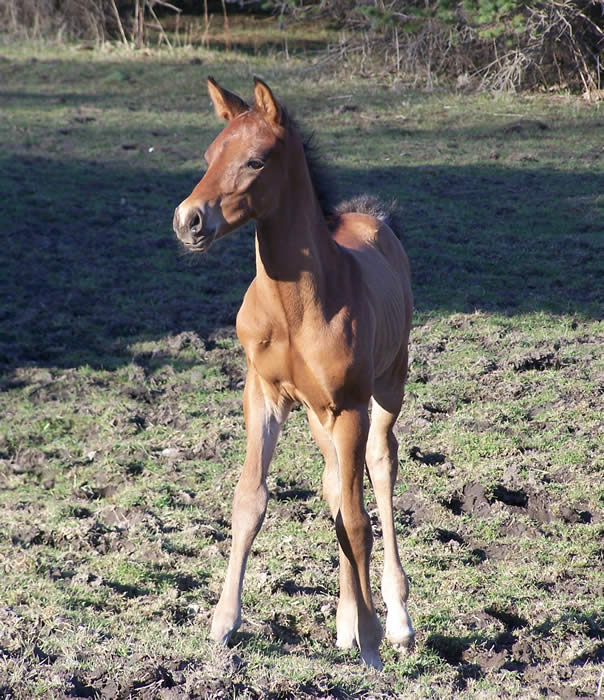 The third one down, with his rider , is Digby , full brother to our Davy Crockett. He is now winning many ribbons in Dressage, and is also in Wisconsin . He was bred by Valerie Ahl who still owns the Dam, Winpenny, and she is now a riding horse.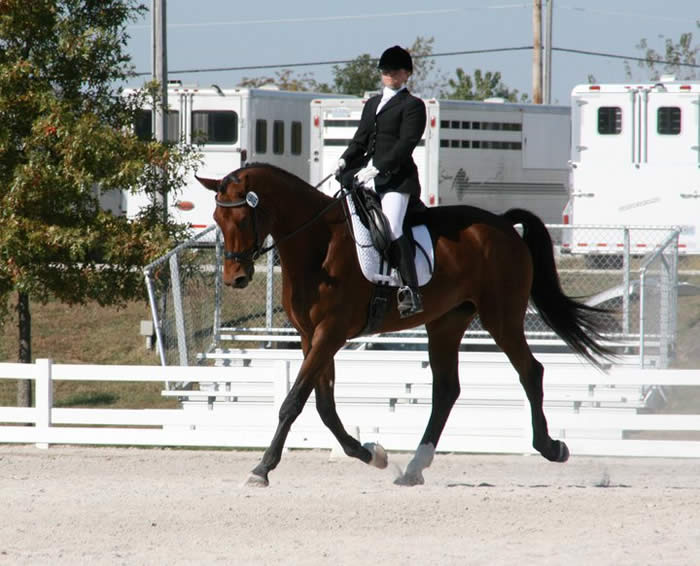 The next exciting pictures we have received lately are of Diva , Owned and bred by the Petersens one of the earliest breeders of Donavan kids, and they wanted horses to drive. Look at what they have produced! Now their D kids , Diva and Draper, also are being trained in Dressage.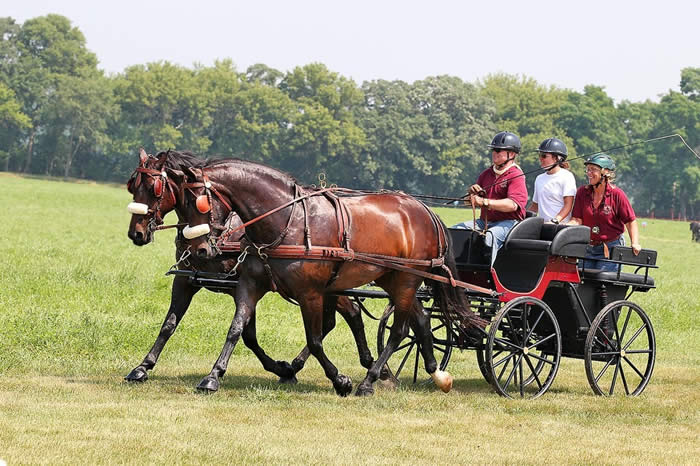 Diva is in this photo being driven by Dan Petersen, and Draper is below.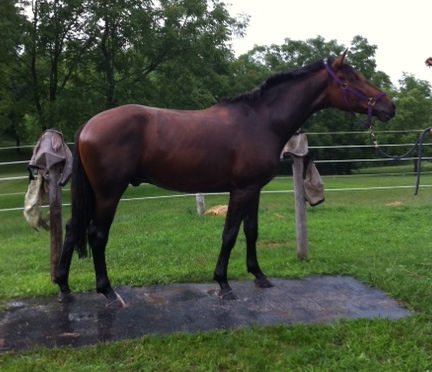 Draper is growing into a nice gelding! The Petersens, Susan and Dan may be breeding again in 2012.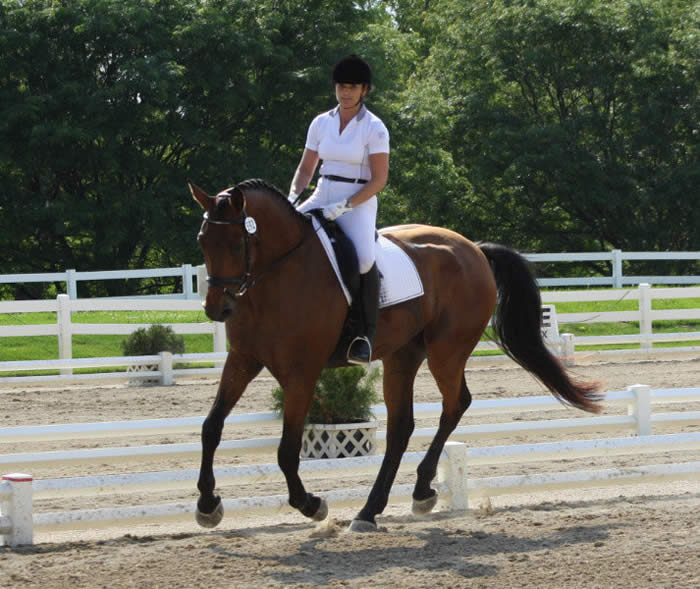 <Look at this gorgeous boy!! Divine, ( Divvy) Also a full brother of Davy Crockett, who are all 3 out of Winpenny by Weltbekannt. That pretty mare came from MD, went to WI to me with Davy, then was sold to Valerie Ahl and she still has her!! Divine is being shown to winning results by his owner, Andrea MItchell ( my memory is failing me on the names , but will get them).We are so pleased how these boys are doing!!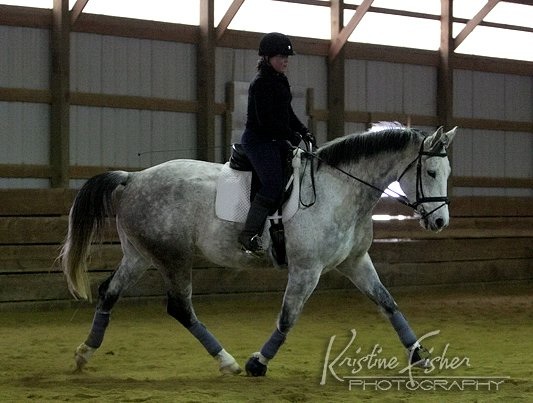 <LOOK HERE!! Another gorgeous gray offspring, a colt, by Donavan out of Winteroza, a filly we foaled when she came to us in utero to Teerose, in WI. Winnie was also sold to Valerie Ahl and she then had Drizzle the big boy seen here. He and his owner Bobbie McDonald are also really doing well in their Dressage work! Her Grandsire is Winterprinz.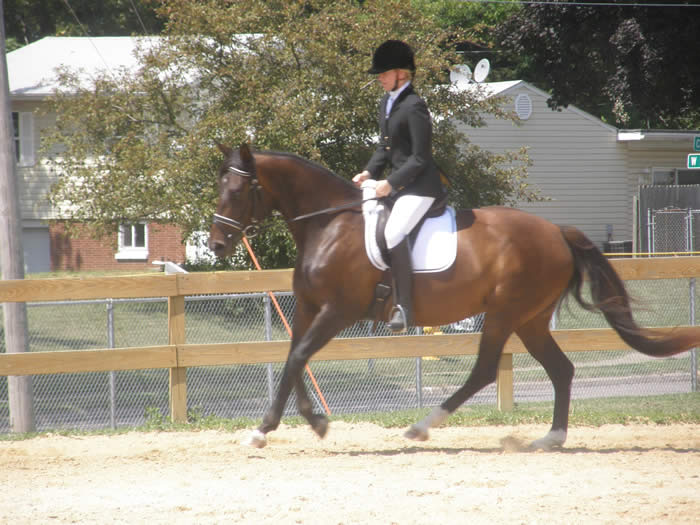 Ahh!! An emotional favorite, Doha Day. Aka Dodie. we bred her, oneof our early ones. Sheis full sister to the first one, Dusenjaeger, ( Pilot). She is looking so pretty!! She is now for sale , and is located in the MIdwest, her owner is Kristi Lamp. I hear she is doing nicely in her Dressage work. She had some time off as Kristi is a new farrier and her business is growing!! I would love for someone to buy her, and I would make it easy for you to breed her to Rosall. Dodi was top filly at her inspection.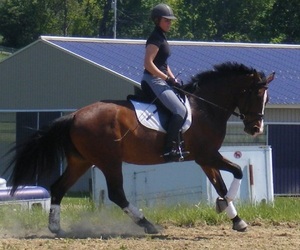 ON the left here under saddle , just gorgeous is Donaseuse. I just discovered her , at Reindance Farm, .. for sale. She is owned by the Diel's and they are in NY. Anyone would be lucky to own this one!!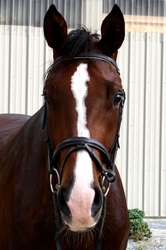 <See Donaseuse's pretty face.
Below her are a couple of special photos:
A golden Donavan granddaughter!! She is out of De Bonne Grace, or Gracie. She was our first foal out of the wonderful Elite mare, Bevolina. She is by Brentano II, and is now owned by our wonderful client and friend, Dee Herman.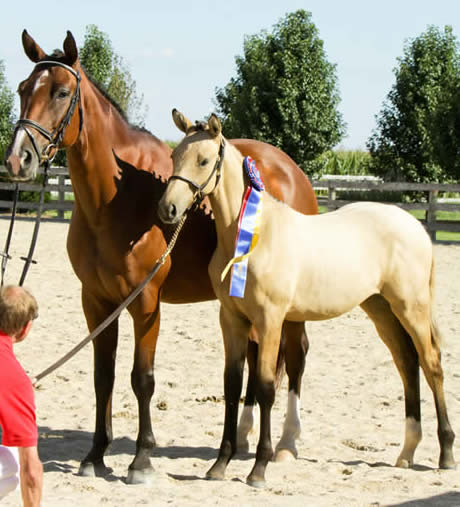 This golden foal is by Champion's Devito out of Gracie , Devito is a Buckskin colored German Sport Pony.
Her name is Champion's Dior and was top foal at her inspection, earning well over 8 in several categories. Her owner and breeder is Paige Schlicksup in Illinois, owner of the sire.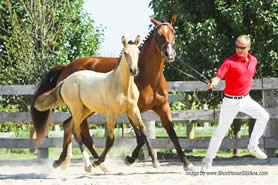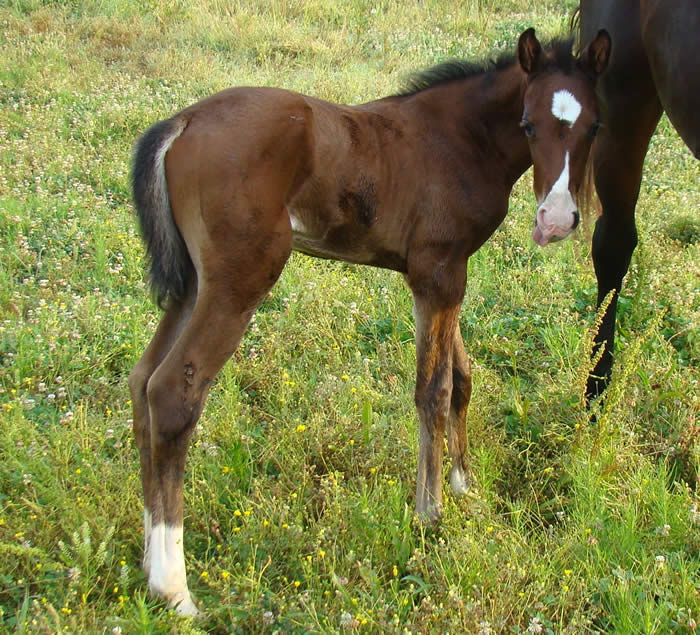 This pretty little filly above , with the star ( who is now older) is Donika out of a talented mare named AstairtotheMaster. She was bred and is owned by Carolyn Wright of Rome GA. She is breeding again to Donavan, as so many of these breeders have done and are doing.
Two more of the kids and then I am pooped with my typing efforts!!
Fein Dancer is another Grandchild! She is out of Dee Herman's Donnica.( aka Cookie) .In fact there is now a great Grandchild!! Fein Dancer (aka Piper) is shown here with a son , Loch by Liberty Gold.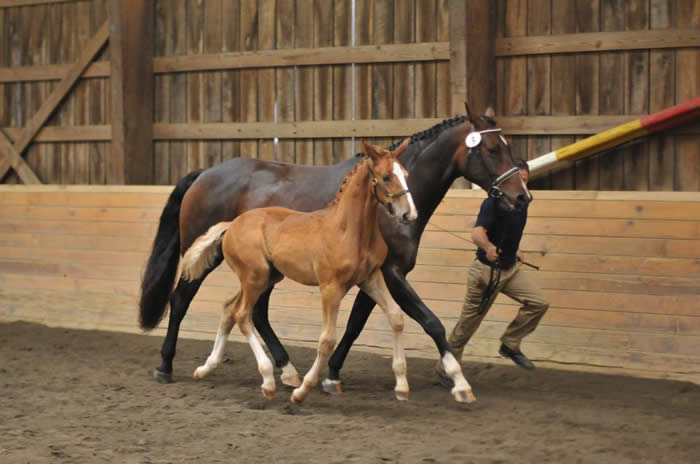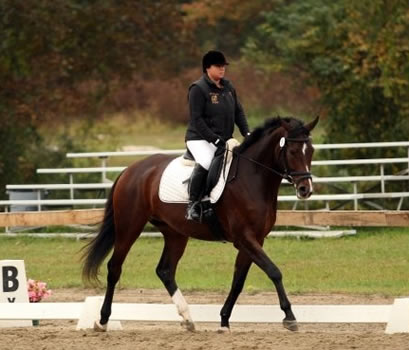 This pretty bay shown under saddle is Zalani out of Zejaluna, who is doing very well in the Dressage ring after numerous ribbons in hand.
And now ,in the Ribbons under saddle!! see her in the photo , on right below!!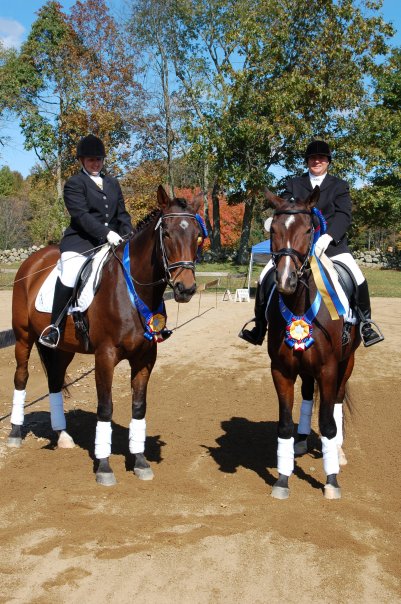 FOR SALE, MOTHER of our star Royal Rousseau. See left below, Oct. 1.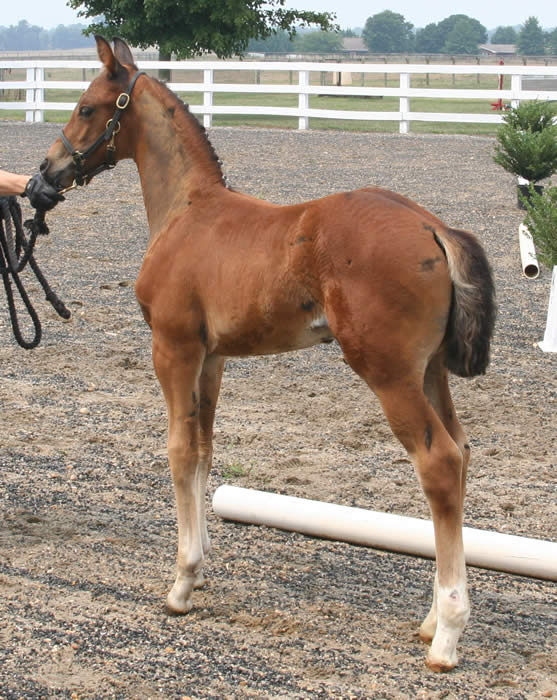 Royal Princess OBX, is a very lovely Elite Hanoverian mare and she and JJ Tate did very well at her MPT for the Hanoverians , and she is an Elite mare. After a great deal of thought we decided to sell her to a serious breeder or rider, as she will enhance any breeding program, or bring success to a Dressage or Hunter rider.
See more on our Sales page.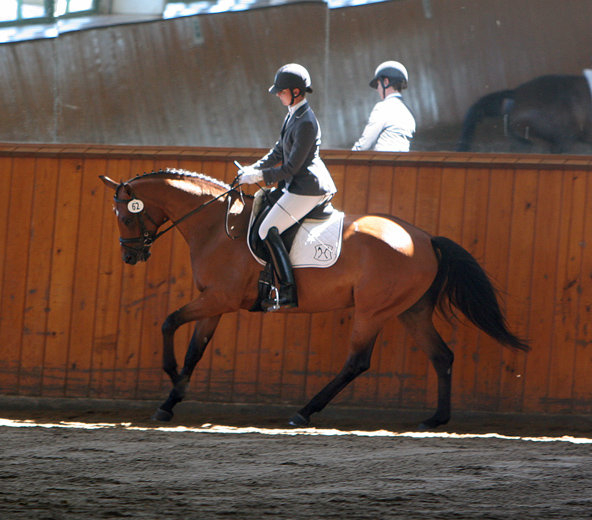 October 1, 2011: Devon a huge Success!!; Not only did Roy pin in both of his classes he won the Hassler Dressage Breeders Challenge Sweepstakes!! We received a nice money prize and they will be buying him from us as well!! So very exciting! He was a little star at Devon and we may breed his Dam, Royal Princess OBX back to Rousseau and also to Rosall soon.
An added surprise: The fillies from 2010 did really well too. Balenciaga KIS, by Bugatti Hilltop out of our Little Black ( Beauty) pinned in two classes, and Rosallie KIS pinned in her yearling class, 3rd, and WON her GOV Breed class!! this is Rosall's first filly!!
Thanks so much to the help we had, Sue Jackman, and Bruce and Staci Griffin and their son, "Turtle".
September 24, 2011; DRESSAGE AT DEVON
A lot of news. We are going to Devon! We are taking our Roy-boy, (Royal Rousseau KIS) and his Dam Royal Princess, and planning to have a good time!! We have asked Bruce and Staci Griffin to help us out as handlers , and also Sue Jackman as a groom. We will be there Monday -Friday, and have entered Roy into the the Colts of 2011 class, and the Hanoverians under 2 class. If Roy does well, there may be a championship class also. Lots of work, and planning, but will enjoy it. We will be able to see many old friends.
And a BONUS!! Our two fillies from last year, Balenciaga KIS ( by Bugatti Hilltop) and Rosallie KIS ( by Rosall) are both entered in several classes. Deb Dalseg owns these beauties and I am so excited to see them again.
SALES NEWS: Just got word that both of our beloved Remy's kids by Donavan are now going to be offered for sale. Duesenjaeger, "Pilot" 1999 and Doha Day, "Dodie" 2003. They have both grown up beautifully. They are both Hanoverians, Pilot has been competed a lot, and has done really welll, Dodie has been beloved by her amateur owner, and has done some showing and schooling. Look thorugh our news page for some of Pilots recent news, or go to our Facebook pages and look at the albums showing Pilot.(Duesenjaeger.) Soon I will post them on the Sales Page. I don't have all of the details . Pilot lives in Massachusetts and Dodie is in Iowa.
Remy was just recently put to sleep at age 29, and was my lovely , approved TB mare , who knew Dressage and gave me such joy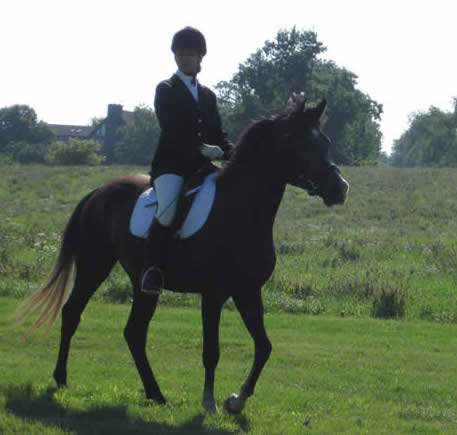 .Left is Donalli owned by Deb Van Orden-Smith. He is part Arabian, and what a darling young fellow he is . Deb is expecting 2 more Donavan foals next year out of two of her lovely girls. She also has a young one, Demarra for sale , also by Donavan. This photo , with her gray Dam, is of her new after being born, hope to get more of her soon.
We are also still hoping to find a great home for our Bianna, and her daughter Dragee, below right who is doing so well with JJ Tate and her team.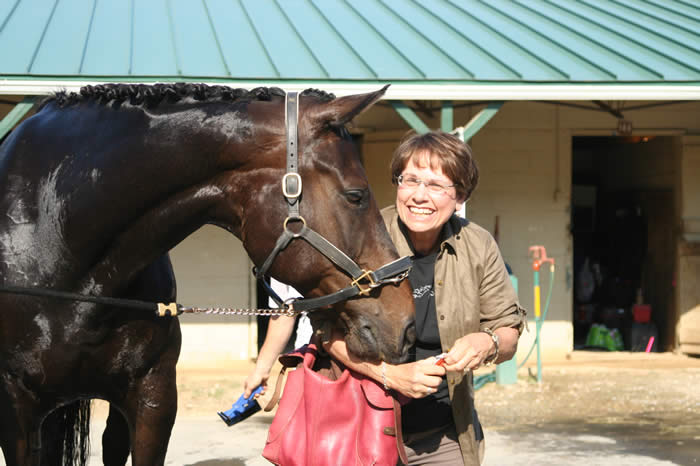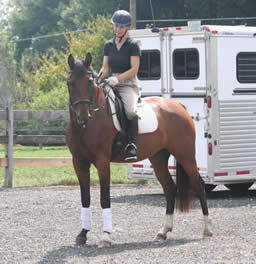 (left) I was so very lucky to see Pilot at a show this summer, with his trainer, Jane Hannigan, and his owner , Susan Karsch. Just loved that boy!!
In Georgia , Terry Blair is enjoying her riding/showing with her wonderful Donavan gelding, Don Noir, and is offering for sale her other Donavan boy, Daniel. ( seen on lower left here,) is a very handsome 4 year old.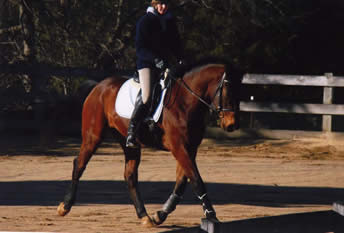 Wishing everyone a wonderful Fall season, and great weather!! Come see us at Devon!!
Hooray! Royal Rousseau KIS = Top Foal!!
Royal Rousseau KIS by Harmony's Rousseau and out of our Beauty , was top foal at his Hanoverian inspection!! We are so proud. The judges were so impressed they first commented "WOW!! He is the whole package", fabulous movement , hock action, shoulder , presence type etc etc. We love him. He is for sale, but must be a home who will help him reach his full potential.
Many people helped us to present him and his pasture mate , Dempsey well. Deanna Mann, Carolyn English, Rebecca Arnold, And the staff of High Point Hanoverians.
Donavan's colt, Dempsey (Democracy KIS) also received high praise from the judges saying what a "modern boy" , great type, long legs, and excellent movement. Donavan works magic with the TB mares.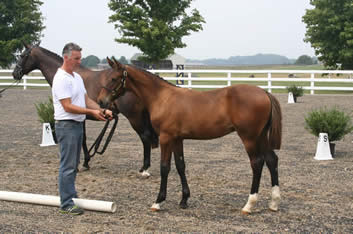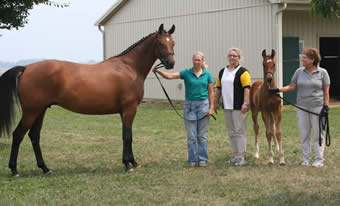 Dempsey left , Roy and team above and below right, Royal Rousseau KIS >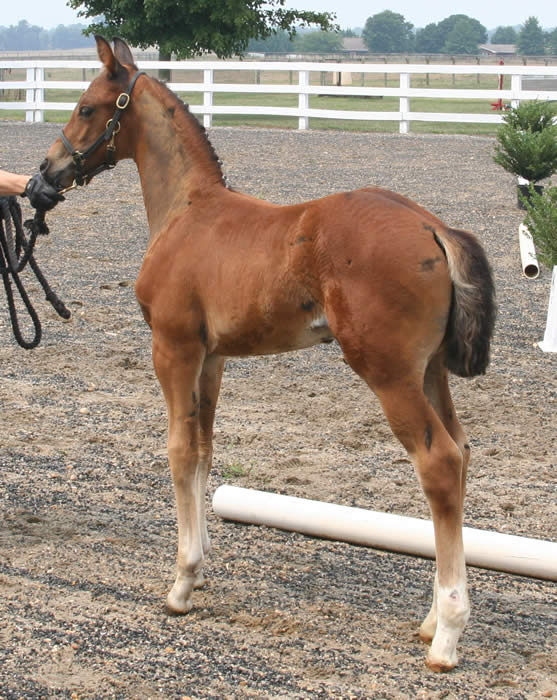 Dee Mann, Carolyn English, Wendy Costello, Klaus Schengber with Dempsey.
Sad news, in August , we lost my beloved mare, Remy (Ona Rainy Day), our little Bold Ruler Granddaughter. She gave me so much joy and produced two gorgeous foals by Donavan. I rode her and she taught me, and she was always my best friend. She was 29 years old and we are truly grieving her loss . We buried her out in her pasture and we will save a place for her best friend out Sugar , mustang mare.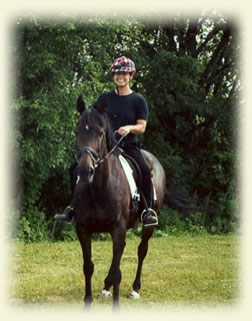 JULY 20, 2011
Must report on the birth of our gorgeous colt by Rousseau out of our now Elite mare, Royal Princess OBX!!
He is adorable, born June 25, a week early but so ready to go!! jumping and spinning with a kick out very early!! Name is to be Royal Rousseau KIS. We call him Roy, or Roy boy!!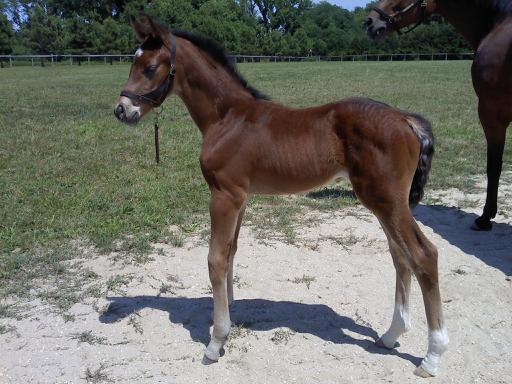 photo right at just a few days old.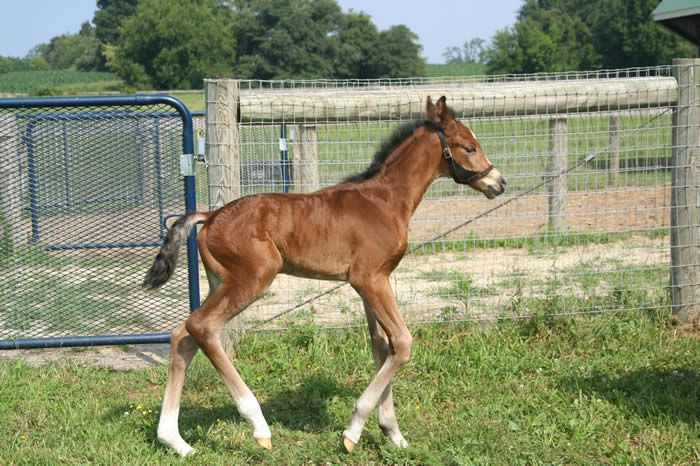 Below Roy is out early on trying his legs, which are long! What a gem! He uses his front end as well as his hind end!! MOre to come for sure regarding this star!! He is for sale, but to the best home only!!
Check out Rousseau, a big star in the performance and breeding worlds , on Hassler Dressage Website.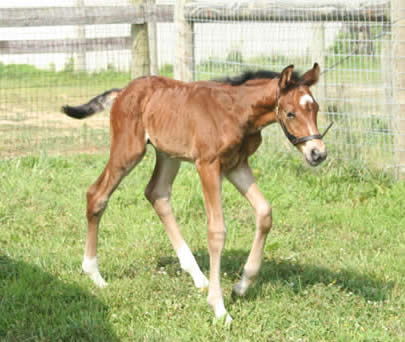 RIP my dear Remy.>
pics of our Rousseau colt
Also look at this lovely picture, I took with my phone!! Our Big boy Dempsey ( Democracy KIS by Donavan!!)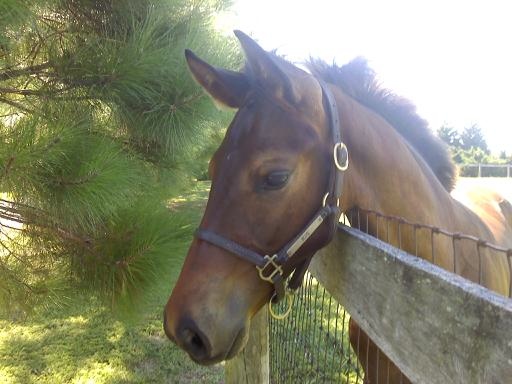 <Democracy KIS.. nearing 4 months old.
July 16, 2011: During the last 2-3 weeks, we visited Donavan and Rosall offspring in SC, owned by Dee Herman, and had wonderful visitors to KIS, Carolyn and Steve English from Arkansas, owners of Dinah by Donavan, and Royal English KIS, by Rosall, and Essex KIS by Escudo II. Delighted to have also Terry Blair from GA. Terry owns and rides Don Noir, a top foal of ours who is now 5. She also bred her own mare to Donavan for another gelding Daniel by Donavan, who is for sale.
We got to see JJ ride Rosall with the great Debbie McDonald, and then the very impressive Ingo Pape from Germany. So Pleased with their comments and JJ truly enjoyed their insight into riding our talented red head.
And the Heat goes on!! But the horses are good. Donavan gets a few more baths, and the foals get more time in the shade, but doing well. So proud of Dragee ( Gigi) in training. JJ Tate says she is a super star.. doing well in her Dressage work and getting ready for her GOV and AHS mare breeding approvals. Look for her at the GOV inspection end of July at HIGH POINT Hanoverians, in Chestertown, and then at the AHS inspection August 13 , same location.
<Dragee, 3 at left is now 4 and training with JJ Tate. She loves her, and knows she will go far. Offered for sale on the Sales page, a super prospect.. can jump too.
Her Dam, Bianna, by Bordeaux, is also for sale and is suitable in a variety of disciplines, and does well in all! She is a hunter, and also likes to jump.. so with the Dressage component, she then discovered she likes eventing too! Has schooled cross country!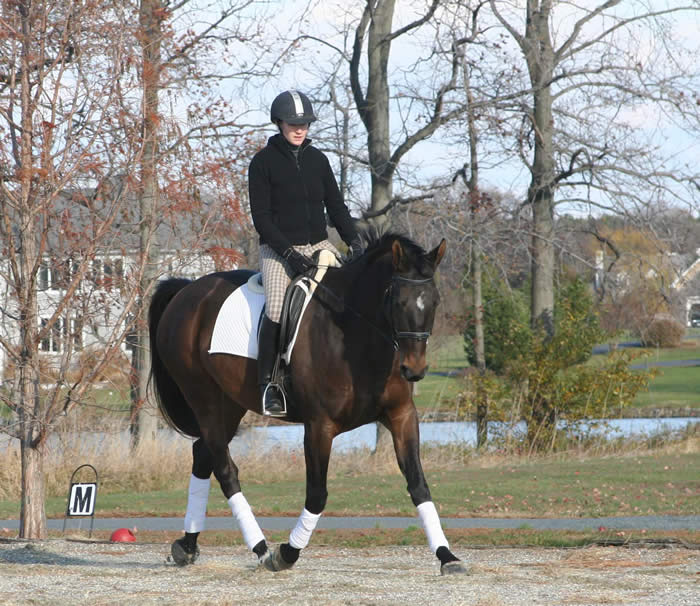 <Bianna, 8 yrs old Bianna is a delightful mare and will make any rider proud.
June 10, 2011;
HOT! HOT! That is what has been going on this June. It is hard on Donavan when the temps are in the 90's, so we work hard to keep the fans running and keep him comfy. He even got to go to the mare barn, which is a bit cooler than his, and he enjoyed that! He is such a flirt , especially when my Faith goes by, and she is totally smitten.
But the breeding that has been going on is with Beauty and Rosall! WE have inseminated Beauty with Rosall fresh semen, and we are waiting to see what has happened. His frozen semen has bee superior so we plan on the same result. It is more complicated in a way since we must "call up" Rosall and make sure he is ready to be bred, since he is in competition and training. Run to Select Breeders to pick up the container, and then bring it home, and the vet then comes and then she is bred, and then we wait and check the mare, etc etc.
Rosall has fully recovered from the light injury that kept him from the show ring much last year after he qualified for the National Young Horse Championships , so he got to a show at Morven Park. He was a bit unfocused the first class ( he had been collected for breeding the day before) but gave a nice performance the next day, earning a fine 65% at 3rd level , test 3. JJ Tate as always put him nicely though the test. Looking forward to more shows . He looks wonderful and he was a star at the Charles de Kunffy Clinic at Riveredge earlier in May. Charles could not say enough great things about him.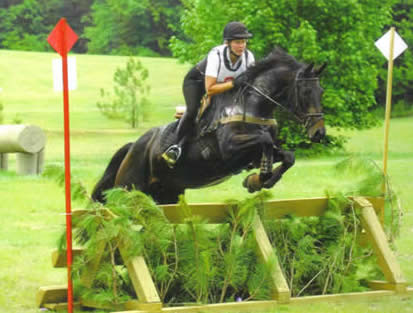 Look at a new Donavan filly!! Below at right. This is Donika ,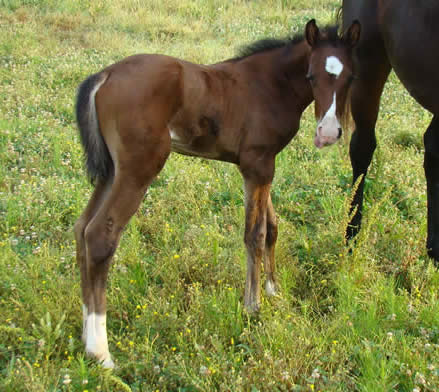 bred and owned by Carolyn Wright, born in May.
<Mom is AstairetotheMaster, A TB mare, pretty girl who has jumped;
Now we get ready for presenting Dragee to the Hanoverian Society for mare approval, and we will present Democracy KIS also. We are now getting close to the birth of our Royal Princess/Rousseau foal, so exciting!
IF we can time it, perhaps then Princess will be bred to Rosall!! What a match! Stay tuned!
A Donavan daughter, Dinah, out of a TB mare, bred my daughter Jill, is now with JJ Tate at Riveredge West, for her first backing!! So exciting She looks wonderful . Her former pasture mate, Essex ( aka KISS) our colt by Escudo II, is also there too, as both are owned by Carolyn English of Arkansas! They look smashing!! We had a great time seeing them at Riveredge West. Time has been flying!
Carolyn and her hubby will be arriving here to visit , see their young horses , see Rosall and Donavan and also to see our Democracy KIS.. (aka Dempsey).. the big colt by Donavan. She is going to partner with us to keep him for JJ To train .
May 5, 2011:
So much news. First off, We have been worried about our mustang , Sugar. , She suffers from Cushings , a hormone imbalance, and is on medication. but it also can make a horse prone to founder. Sugar has had an episode of founder (laminitis) and for a while we thought she was not going to make it. But we finally found the right combo of meds and feed, ( low sugar/low carb) and the farrier put some special shoes with poured pads on her and she is much better.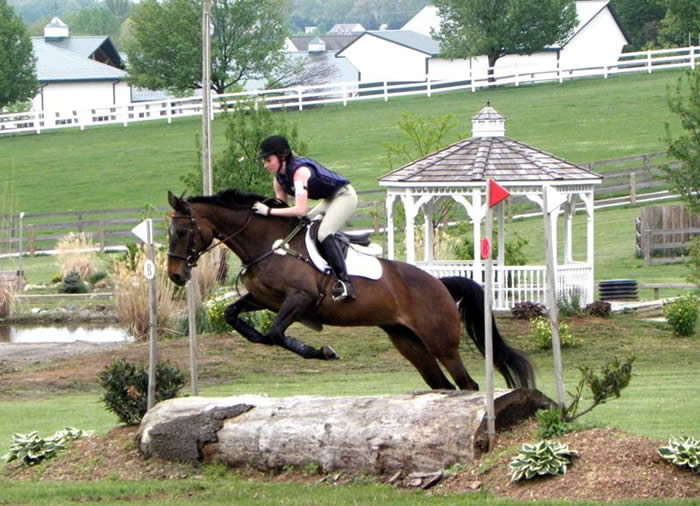 <Look at our Bianna!!! She is showing great promise as an eventer.. went out to her first cross country course! She is training with Hailey Leishear , and is doing really well. She is keeping up with her Dressage and jumping. She will go to a Horse trials soon and we hope to find her a buyer .
Marty and went to visit two of the fillies of 2010, now owned by Deb Dalseg. Remember Rosallie KIS (left ) by Rosall? And Balenciaga KIS ( right below) by Bugatti Hilltop? Both are so nice!! Just beautiful. In the Fall they will head to Canada as part of Deb Dalseg's herd.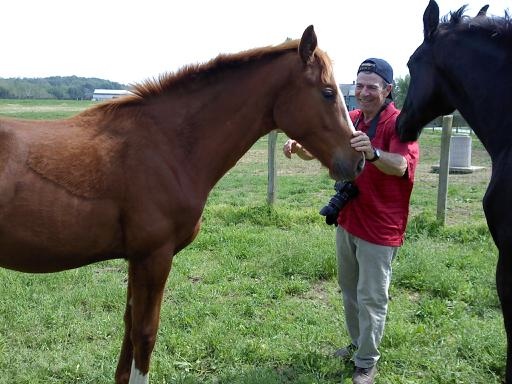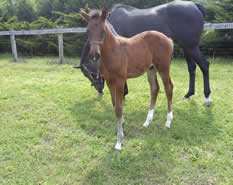 Democracy KIS by Donavan, 5 weeks.
Our colt is growing so beautifully and Beauty is the best mom. Thinking of breeding her to Rosall..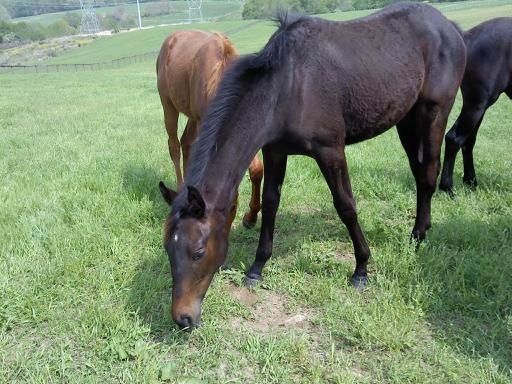 We will be taking a trip to SC to visit Dee Herman and her two Donavan daughters and perhps will meet 2 new foals, a Rosall, and another Donavan. Fingers crossed.
April 21, 2011:
Look what we just learned! Our lovely filly of 2005, De Bonne Grace, "Gracie" has had a foal!! She was bred to a handsome German Riding Pony, Champion's Devito and look at this gorgeous filly, Champions Dior !!.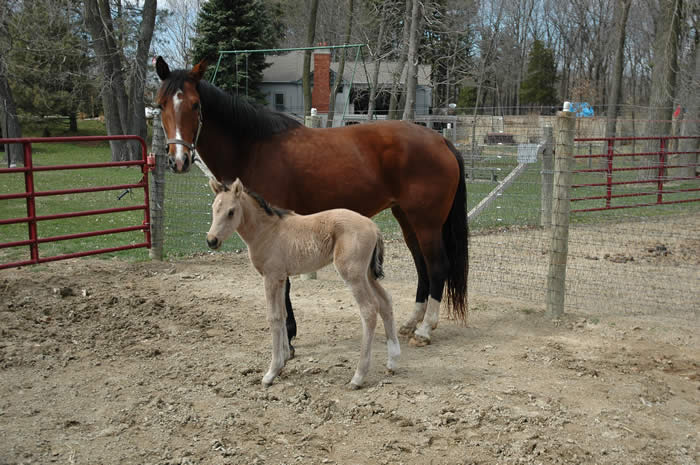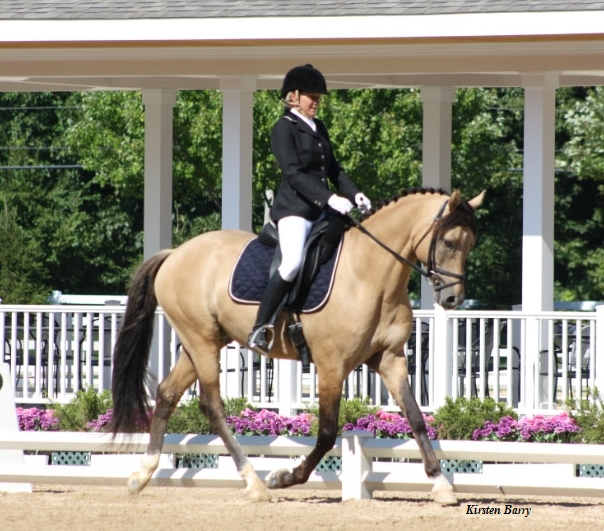 The stallion is doing well in Dressage, and the owner, Paige Schlicksup is delighted with this foal. They are in Illinois, and Grace will be going to inspection this summer.
Grace is by Donavan out of a Brenatano II mare, EM Bevolina that we had owned and then sold t o Dee Herman.
Keeping it in the family!!
We are anxiously awaiting a Rosall foal out of another Donavan mare, owned by Dee Herman, in S.C. Dee also has an approved GOV TB mare waiting for a Donavan foal, .. a full sibling to another Donavan she has in early training. So exciting.
KIS just learned that the USNA, United States Naval Academy in Annapolis, (Marty's Alma Mater) now has an Equestrian team!! We are going to try to help if we can. They are holding an Open House this weekend and we hope to attend. They need some things and help to keep going. The team is doing well in jumping and hope to add Western too. They are trying to develop a logo for future apparel as well. Hmmm seahorses , anchors, and items from the USNA crest come to mind!!

Our young colt, 2011,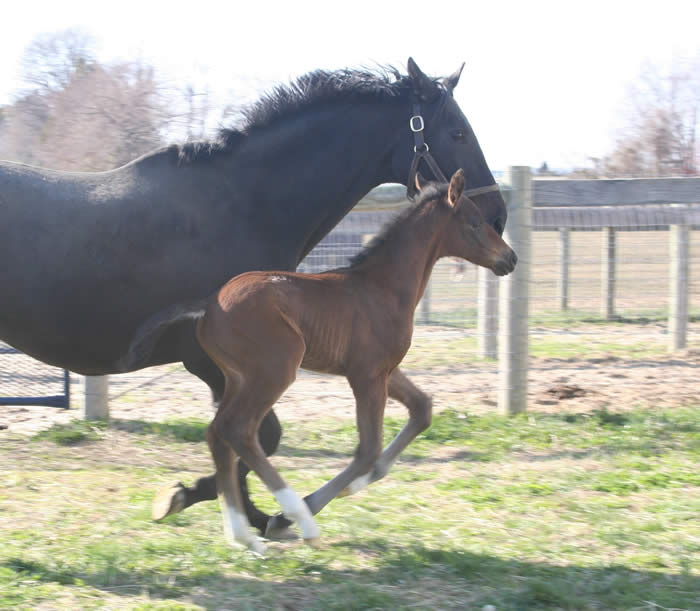 Democracy KIS, aka Dempsey is doing so well, He is long legged and very friendly! Like his Daddy, a people colt.
Donavan is teriffic, and doing well. He is shedding of course and happy to be out on grass!
Rosall ( aka Riley) is back in MD!! He and JJ and the others from Florida are safely back at Riveredge West in Chesapeake City and he has been doing his two x tempis!! On his way to FEI shows!!
Congrats to JJ Tate, on her ranking at #1 on Figi, for the Developing Horse Rankings! A 69% score for the lead.
Looking forward to the Charles de Kunffy Clinic at Riveredge in May. Rosall and JJ will be riding for her long time mentor,.
________
~~Our hearts go out to the people of Japan, in this time of great heartbreak due to the earthquake and resulting tsunami and nuclear accident. May the outcome be the best it can be .. Please share what you can with the people of Japan.~~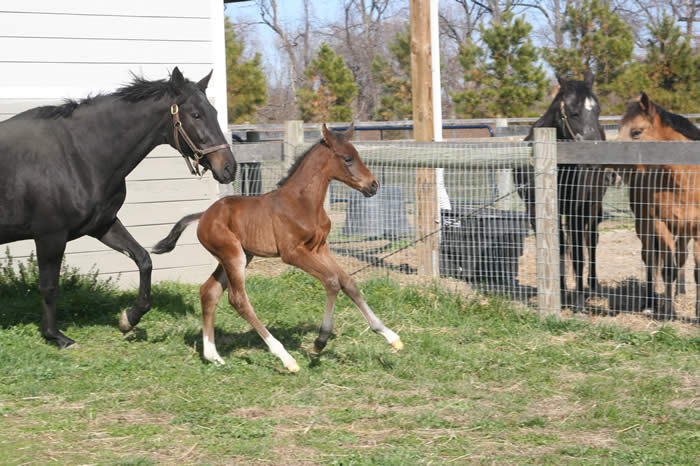 APRIL 1 -- A GREAT HAPPENING ON MARCH 26.. A HANDSOME COLT BY DONAVAN OUT OF OUR"BEAUTY" ( LITTLE BLACK) WAS BORN. That was our April Fools a bit early.. thought we were having a filly!!
We are very pleased. He is so handsome! Tall and strong, athletic! His sire's 3 socks and a snip , few star hairs too! We will register him as Democracy kis. And we call him Dempsey.. after a old time boxer.. .. Beauty is a perfect mom! See The other mares approve. Auntie Sugar and Remy look on!>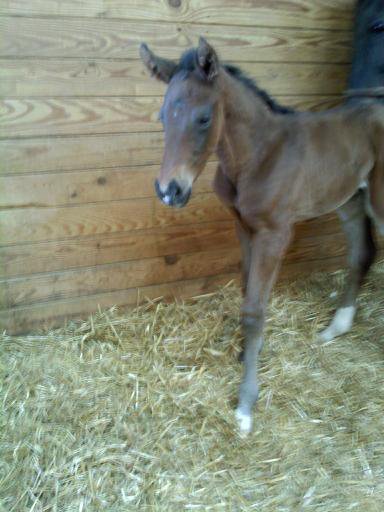 More pictures to come! See him on our facebook page.. he has an album!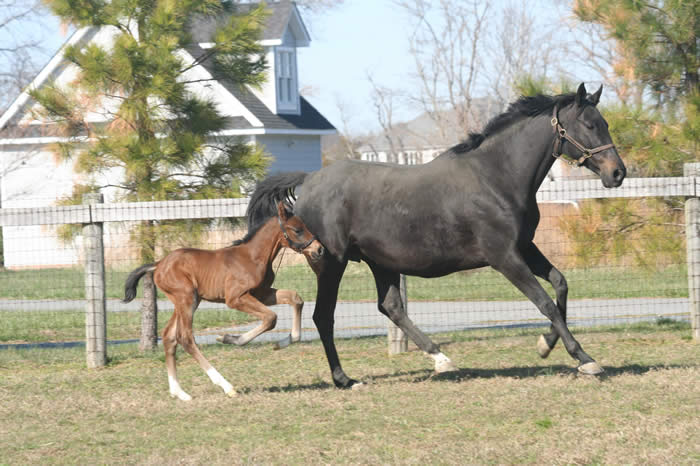 Bianna our lovely Hanoverian mare by Bordeaux and out oaf Abajo xx, is in her new location in Hagerstown MD, at Tim and Jenn Gargana's Breezy Ridge to tweak her jumping training and will show with a wonderful young rider, Hailey until we can sell her. They have a great facility and are so excited to have her with them. Hailey's grandmother is my good friend , Nancy Bowlus, who first sold us our Davy Crockett as a foal with his mom Winpenny, many years ago.
Davy had now been sold to a family in PA and is starting anew career as a Hunter. So exciting for him!
Good luck to Shirley Calvert and family!!

March 2011: The wearin' o the Green soon! Shamrocks and leprechauns!

March 17.
Foal watch is on, Beauty looks ready, but only the Foal knows!! Thanks to Rachel Buckler, our Barn manager for keeping a close eye on the lovely girl.
All Spring shots have been given, .. And even the barn cats, Abby and Annie had to endure a bit of a stick!
Word from JJ Tate and Rosall is good! They have ridden with Steffen Peters , the US highest ranking Dressage rider, Olympian and accomplished International rider/trainer; and Jan Brink, another international trainer/rider from Swedan, . both say Rosall is a really nice stallion and shows World Class talent. After being out of the ring due to last years mild injury , Riley ( Rosall) is getting used to the excitement of the Wellington Show grounds, .. Stallions can be wooses sometimes! :-)
DID YOU SEE OUR STORY IN THE MARCH WARMBLOODS TODA Y MAGAZINE? I have few extra copie sif anyone wants one.. Send me an address.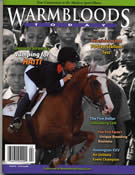 I was interviewed in January and the story was put together with some great photos of Donavan and JJ and us from way back when. I am thrilled , since of course I believe he should not be forgotten, and now more people know the story.. He has touched many lives, George Williams, Hilda Gurney, Jim Kofford, JJ Tate.
The entire article can be viewed on the American Hanoverian Society website!! Go to our Links page for that link.
I hear form Aimee Boyer that Gigi is doing so well, too. She likes her as a jumper as well as a Dressage horse. NO surprise there as many of the Big D's kids jump!!
Such great news!! Our wonderful trainer, rider , friend and "tall Daughter" JJ Tate , has become engaged to marry Richard Malmgren! This a beautiful match made in heaven! Marty and I have been hoping for this and we are very excited. She and Richard made it official in Key West Florida , and the ring is beautiful too! Congratulations to JJ"s mom Candy , and her Dad Joe and his wife Jen, and to all of her sisters , and other relatives!
We just got back from a visit to Wellington and saw JJ and her Team and Rosall ( Riley) and Dragee (Gig)i , all doing really well in Florida sunshine!! Rosall is getting ready for a show, and Gigi looking really good, not only in her three gaits but jumping too!! Aimee Boyer says she is a natural! Rosall is all muscles and talent!! JJ has ridden Rosall with Scott Hassler, Jan Brink, Steffen Peters and all are singing his praises.. they enjoyed riding him!
We also went to Ocala and visited our daughter JIll and her boyfriend , and ..drum roll please.. we got a puppy! Yes, another mini Aussie, and his name is Trip. He is a trip! Very cute, very friendly and smart And our Bekki is so confused by him! But they are adorable together.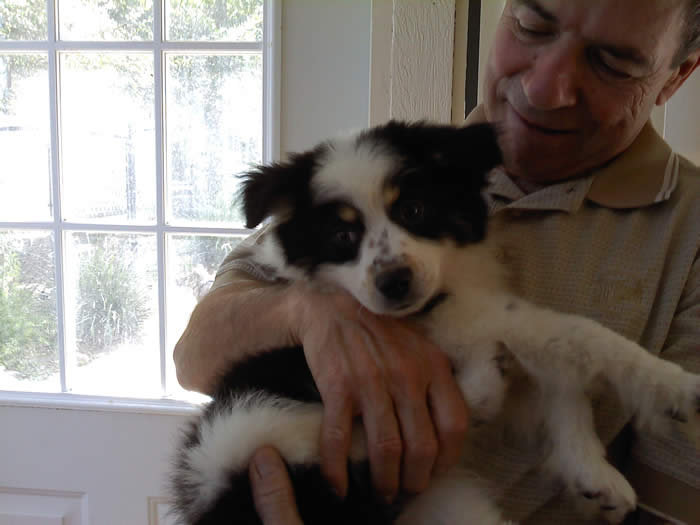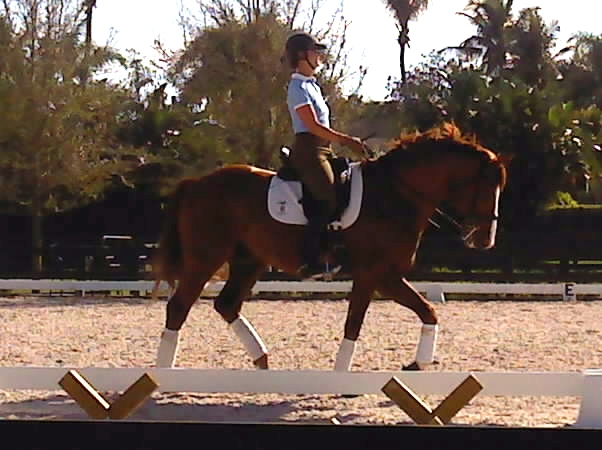 Here Marty holds Trip shortly after deciding we would take him home. What an adventure, on the plane! He was so good. Below right, Trip and Bekki together. She is still getting used to this bouncing bundle!
<Rosall and JJ
Dragee's, ( Gigi) price has been adjusted a bit higher due to her excellent progress in Florida. She will make a great ride for an amateur or youth, as well as a pro . young horse classes?? Serious inquiries please. WE will take her to inspection and Performance test for breeding too. She can be bred to Rosall immediately if so desired.
We hear that her mom, Bianna is doing really well with Katie Straton, keeping her fit and ready for her new owner. She is being shown to perspective buyers in Mt Airy, MD, please call . See her on the sales page. Also on the Windy Oak web page with Katie Straton.
January 28, 2011: Read letter to Breeders and horse lovers, 2011
Countdown to foals has begun! Beauty ( Little Black) approved TB, is due March20, in foal to Donavan.
Royal Princess (Royal Prince) is due July 2, and is in foal to Rousseau.
See our Reference sires page for more information re: Rousseau, or go the Hassler Dressage website.
These foals can be purchased in utero .. call for information,
Breeding requests are starting to come in so be sure that you give a call, or e-mail; info@esdonavan.com; and we can work out a Private Treaty for breeding your mare to Donavan. Rosall is handled by Hassler Dressage and they will help you make those arrangements. For that info, go to Rosall's page here on the website.
What a crazy month this is turning out to be. We moved to MD to escape the harsh winter in WI, and we have for the most part. However, snow , snow for the last 24 hours. The horses seem to love it, and Donavan especially goes out and stands in it while it is coming down.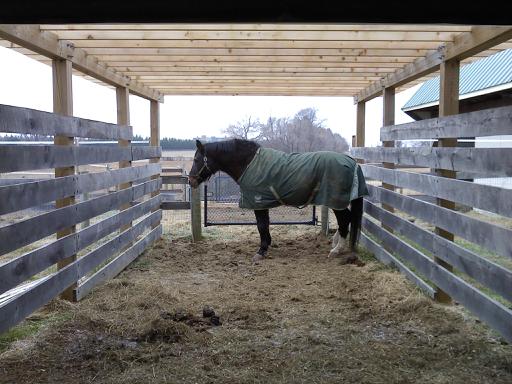 Oh he is enjoying his new cupola over his breezeway. That is just outside my Tack room/ofc window , so I can take a peek.
We have finally been able to start the remodel on our tack room. I am really happy with the work.
We tried to take some pictures along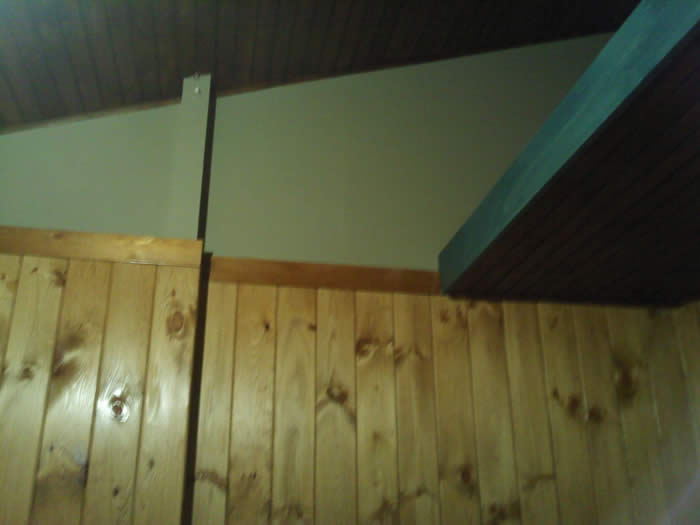 the way, mostly with my phone. The backsplash tile is really nice, slate squares of many colors. The walls are a combo of tongue-n-groove vertical 5" planks and painted walls.
WE found a great little black iron hanging light and we put bead board ceiling up, stained a reddish brown. Walls are stained a "golden oak". We painted some wall a darker khaki gray /green and trim a light ,light version. We used a bit of a blue green color paint to tie it all together.
The floors were tiled in a terra cotta tile, with a bit of design in the center of the room.
We welcome Rachel Buckler to our farm as our Barn management assistant.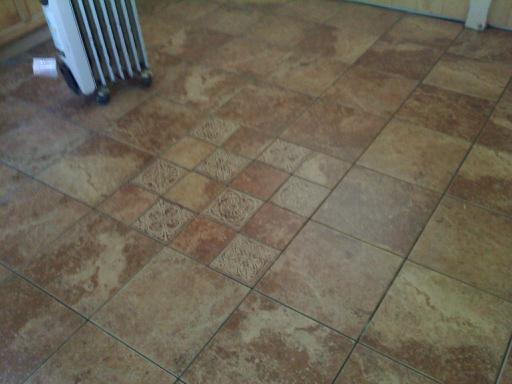 She came to us after having worked at a farm in ... guess where...
Wisconsin during her studies in school! She brought along her cutie
2 year old Qtr horse gelding, Oliver.. and he and Junior are already best pals.
After seeing our Grandsons , Corlan and Quincy in Seattle for Christmas, we decided we would go to the American Hanoverian Society Annual meeting in Portland , at the beginning of Feb. and go over to Seattle to see them again! So soon we fly off . The meeting is always a very fun and exciting event, sharing news, and ideas , and learning how better to breed Hanoverians and show them off to the world.

HAPPY NEW YEAR!! 2011
IN December, Rosall and Dragee by Donavan went with JJ Tate to Florida, to train and show! Rosall to begin his FEI efforts in earnest.. andDragee to become confirmed under saddle , walk , trot and canter, as she is a coming 4 year old!
Donavan is entering his 26th year. We love this guy and he looks super! Distinguished by the gray on his eyes and muzzle, but chipper and fun to be with. We are excitedly awaiting his foal out of out lovely TB mare, Little Black, called Beauty!
Check out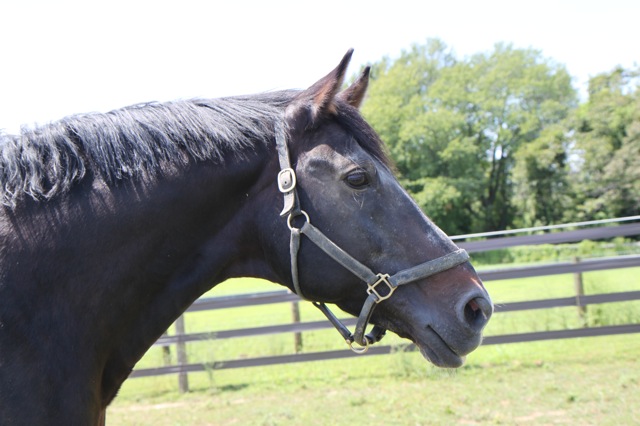 this great photo of Donavan by a client of ours.
Richard Malmgren of Hassler Dressage takes lovely photos of Rosall .. With Jessica Jo " JJ" Tate up. here is a sample: below.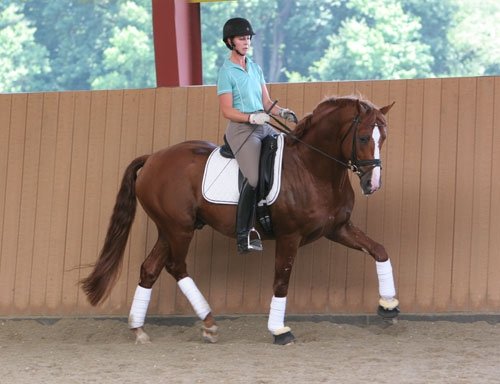 News Archives:
2010
2009
2008
2007
2005-2006
2003-2004
2002
2001