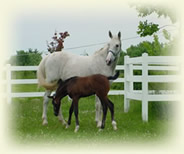 We Remember Teerose
We lost Teerose unexpectedly after she gave birth in 2002, when she suffered severe hidden internal injuries and courageously nursed her filly for an entire day before surgery revealed she had to be put to sleep. Tee went from a very successful career at Fourth Level Dressage to High Point Hanoverian at her Inspection and an equally successful career as broodmare of six wonderful foals. We had her just over a year, and had grown to cherish her. Her legacy lives on in her lovely foals, Delta Don, Drifter, Devotee all by Donavan. Also Winteroza, Arabella and Galataea. Winteroza had a Donavan foal named Drizzle.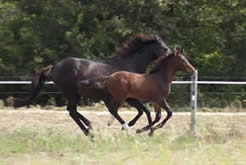 Eve of Victory
We are sad to report that Evie had to be humanely euthanized September 14 due to a severe colic. Our daughter Jill took her to 2 veterinarians to determine that surgery would be the only option and the results might not be excellent. So we have lost this wonderful mare. Donnacha, ( Dunny) was born July 4, 2005! The AHS judges had much praise for this colt and the Donavan /TB cross!! Dunny was sold to a up coming young rider for her future star.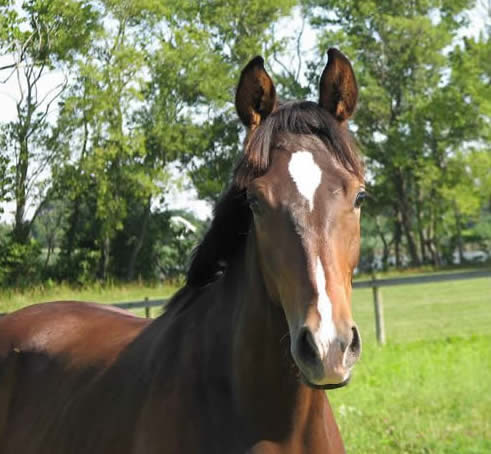 Dalton, by Donavan out of Bayley by Banter.
This nice colt was born under some difficult circumstances. His Dam had a progressive hind suspensory disease, and she was lost soon after his birth. He was lovingly nursed and cared for by our daughter Jill who owned the mare, and he had become a sweet and talented yearling. Suddenly we started to see some problems in his movement, which had been very nice, and eventually he was diagnosed with Wobblers syndrome. That is a neurologic problem and his quality of life was greatly diminished. In a difficult decision, Jill had to humanely euthanize Dalton. He is missed by us all .. especially by Jill.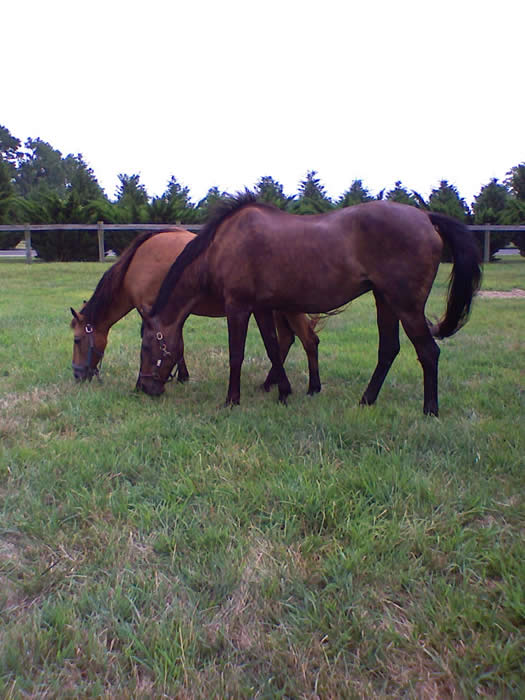 Remy, at age 29, and Sugar , the mustang , at age 25 left us about a year apart.. in 2011 and 2012
They were best friends. Remy gave us 2 fabulous Donavan foals, Dodie and Pilot, and she was TB mare who was approved by the Hanoverian Society for breeding. I rode her and enjoyed in many ways. My "Black Beauty".
Sugar was the Auntie for the foals when they were weaned and taught them so much. I miss them daily.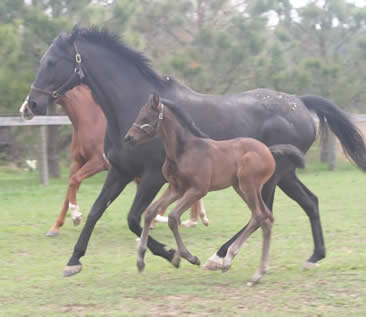 Sadly in late December 2014, we lost our beloved Little Black, "Beauty" after a painful colic that took us to New Bolton Center in PA to try to save her. IN our minds, there has never been a better TB mare , along with our Remy for breeding to Donavan and any other stallion, always producing wonderful top foals,: Democracy KIS, Balencaiaga by Bugatti Hilltop, Rapunzel KIS by Rosall, and top colt at AHS inspection, Exclusive KIS by Escudo II. She was turning 16 years old. I had hoped to gift her to my daughter JIll to continue her breeding program. Fly with the wind Beauty.. and say hi to Remy and Evie and Sugar.
Gone but not forgotten~ Pets give Joy, unconditional Love.
In the past years we have said goodbye to Rocky, a very sweet, rescued long haired black and white cat; Augusta, the princess, a multi colored long haired cat; Lucci, our daughter's lovely gray and white cat-dog, who lived here many many months; Smokey, a large gray , son of Popsie who we lost in 2011. , Chip our exhuberant Springer Spaniel; and his buddy Mac, Sweet tri-colored collie. Radar, our white , blue eyed wonder cat passed away, August of 2007. All lived long (13 -17 years) and love filled lives. And Daisy, such a wonderful companion. We were with them when they were humanely put to sleep, laid to rest nearby. IN 2013, we lost our little one, Tia, only 9 months old.. suddenly, due to a car accident..

Radar

Lucci
Rocky

Mac

Chip
Smokey; Popsie' s son

Augusta; pretty pretty

Tortilla, aka Tia; 2013

Little one that we lost too soon.

Popsicle, lived to be 17 years old.
Daisy, wonderful yellow Lab.. so sweet.

Chessie, our darling rescued Wheaten Terrier finally succumbed to old age. She was such a bright light here.