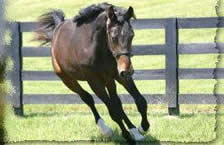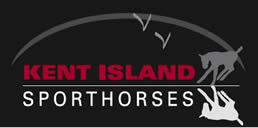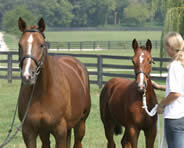 Introducing :
ES Donavan's
Click on colts or fillies to visit the foals.
If you own a Donavan offspring and wish to share a photo or story please do send it along.
Corrections are welcome!
Thank you~ Wendy
Hello to Dee Butler: Donavan's self-proclaimed East Coast Cheerleader!

Her mare by Donavan, Donnica has had a Blue Ribbon winning

Premiuim Oldenburg filly by Feinbrand named Fein Dancer, the first Grandchild!
Donnica, aka "Cookie", a 1997 mare by ES Donavan out of

Little Black Cloud XX is main mare book GOV, bred and owned by Dee Butler, and "the horse I have waited my whole life for".

The filly is Fein Dancer, aka "Piper", by Feinbrand, now at her new home in Gordonsville, Virginia. Piper, born June 2003, won first place in the Fillies of 2003 class at the NCDCTA Sport Horse Breeding Show in Raleigh, NC on September 1, 2003. She was also a premium filly at her inspection in Advance,NC on September 13, 2003.

She was bred by Dee Butler at Glen Duffin Farm in Zuni, Virginia.

She is now owned by Isabel de Szinay. Congratulations

and best wishes to DeeDee, Isabel and Piper.

Fein Dancer, by Feinbrand out of Donavan mare.

(DOB June 2003)>
*Drachen Herz, Donavan's first approved son,

an Oldenburg NA stallion, has also sired some grandchildren for Donavan. Dragonfly, Dragaonlily are two winning in hand.

---

Another Big Fan

April 11, 2007: We must now add Terry Blair of Georgia to the list of Donavan's Biggest Fans! She recently had a colt by Donavan after buying a colt in utero in 2006. Don Noir is out of Caviar (Cor Noir), and Top Foal at his OldenburgNA inspection; Prem. with 8.2; and new boy, Daniel, was born on Good Friday.

Don Noir, owned by Terry Blair.

Donny with wwc
---

Young Donavan foals!

What an ordeal! Life is full of challenges!
Above: Dulci, Dax, Lacy

Debrentanya(Debi) left, D'yquem (Emmy) Center, Dakairi right (all '06 fillies)

Essex, 08

---


Note: Deja's Legacy, (Lacy) above, top right and below, bred and owned by Jackie Ege, Miami Florida.

Check out her half brothers and sisters..Dax,, Dulci.Debrentanya, Dakairi , D'yquem..waiting for their necks to grow!!

Below, July 2005. Lacy at 2!! Jackie reports: A horse!! at last! Read the story on our We Get Letters page!

Lacy
<Dickens, 2005 colt bred by Hazel Clinton and Janet Manley HyCourt Farm,Texas; She said "must have him" so sold to a dear friend from Germany.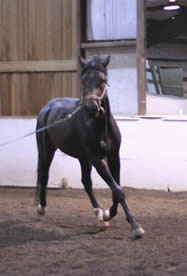 Davy Crockett, right,

colt by Donavan shown as a near 3 yearold, training at Wyngate

Dressage Center . Aka Donavan's clone went on to star as a 3 and 4 year old, taking the Championship in Region 1 at Training level and High Point of Show, 77%! He sold in 2007 to Jayne Nessif, MD who is staying in training with JJ Tate. She will compete him herself in 2008.