November-December, 2016-17
We are downsizing at KIS. ( for previous news , please click here) Kent Island Sporthorses | NEWS
AFTER many years of working hard, playing hard and enjoying the horses, we are downsizing and turning our focus a little bit in a new direction.
We have sold the foals from 2014 and did not breed for 2015. However we have some new , exciting activities going on.
Top priority is supporting in several ways, our daughter Jill Costello at Riverbottom Farm formerly in Texas and now in Oklahoma, as she resurrects her breeding program. She will produce high quality, good minded sport horses , suitable for Eventing, ( HER FIRST LOVE) Jumping , of course Dressage. She will have access to much of the remaining Donavan frozen semen, and of course Rosall and other fine stallions.
#####################
March-May, 2016
Rosalie KIS for Sale!! please see our Sales page: and our FB page .
WE are excited but also a bit sad, to offer Rosie for sale.
Begun under Team Tate Dressage and continuing with Katie Straton in Maryland. see more videos on FB page: Wendy Winett Costello
Rosalie KIS, 16.1h, Premium Oldenburg foal, started winning blue ribbons as a Yearling at Devon, GOV Individual Breed class . Then each year following finished either 2nd or 3rd in the same class with increasingly impressive scores. IN 2015 she placed 4th in 5 year old Materiale class and Suitability under saddle. Rosie is modern, refined, a very reasonable young mare. Her sire Rosall, known for world class Dressage gaits as well as hunter talent, won his 30 day test in Germany and the Oldenburg NA stallion testing , USA. Her Dam , by Brentano II ( top stallion in Germany in 2003) is an elite Hanoverian mare, imported from Germany. Rosie is with Katie Straton, in Mt.Airy , MD. Video: https://www.youtube.com/watch?v=sm3d-GlMhgQ
Amateurs and Professionals love her. I bred her, contact me for more photos and to have questions answered. She is in MD. 262-751-6779. Wendycos@gmail.com, or contact Katie Straton, 410-259-4165, ​ for more information and to make an appointment to meet Rosalie KIS.
$35,000.00 negotiable , if home is perfect.. show home. We know she can do well.
November 2015-February 1, 2016
Most recently , near end of January 2016, we have hired a new manager , Welcome Heather! 5 year old Democracy KIS is now in Mt.Airy , MD at Sunset Ridge, with trainer, NIcki Carson , and doing well. Rosall is now in Hunter work!! Reports from Rick Toering and daughter Hannah Toering are that he is really lovely and doing well, has automatic changes and beautiful form . They are located in VA, Hedgeland Equestrian Complex.
Find videos of these two on my facebook pages, Wendy Winett Costello, or Rosall sire of successful sport horses.
Thanksgiving time was busy and our winter was slow in comingl
The horses were getting chubby on the grass that lingered in the pastures even through December and into the NEW YEAR
Donavan continued to do well coming into his 31st Birthday!! We are so blessed that he is still here with us. Rosalie KIS and JJ Tate's gorgeous mare Damiana are her at home , after both being approved by the American Hanoverian Society for breeding Hanoverian sporthorses. They both looked beautiful at their inspection . Damiana, had been on track for a performance career when an unfortunate injury has caused her to be retired from the show ring and look ahead to breeding. Rosalie KIS, is ready to continue being a performance horse or to be a breeding mare.. time will tell.
We were thrilled to visit a Donavan son in GA, Don Noir, a big boy out of a Cor Noir mare, who is doing very well with his owner/rider Terry Blair . I had a chance to lunge him and get on him.. what fun!!
We also spent time in Canada!! We visited a breeder, KIrsten Kaiser from many years ago who still has her Donavan daughter, Dopple Dopple who is having lovely foals , making Donavan a grandpa!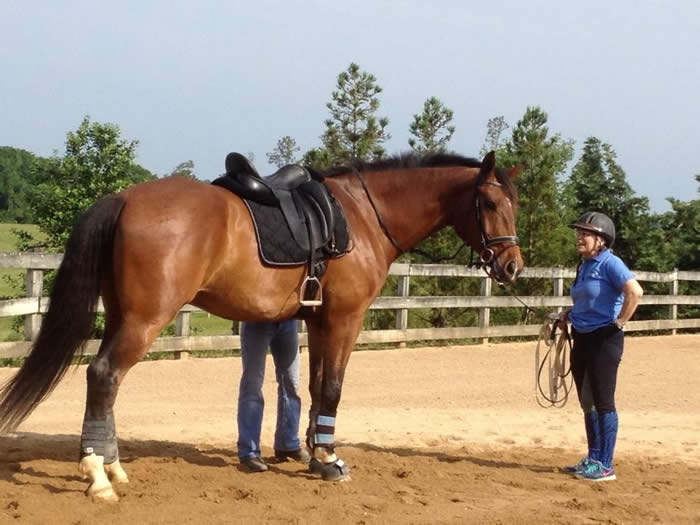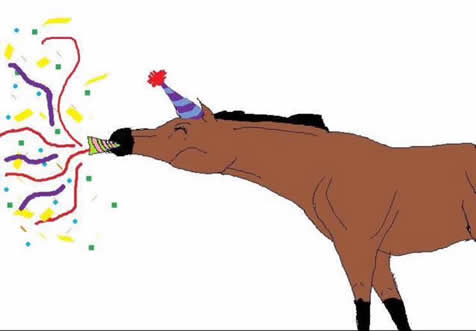 October 2015: Changes at KIS!!
Liliahn and Royal Princess OBX have shipped to Texas. Liliahn is in foal to Sinatra Song and Royal Princess OBX will be bred to Donavan in the early Spring!! We so very happy for our daughter in Texas. She also has a wonderful mare in foal; Tennebrae, (by Tantris (GOV) and out of Dona Valiant xx (ISR/Old MMB) is in foal to Mannhattan, a well known, successful Equine athlete. Read more and speak with her about options for purchase of this exciting foal: https://www.facebook.com/jill.costello.5?fref=ts.
Jill is also the owner of a successful saddle restoration and repair business, Fresh -Ride Restoration. So very proud of her.
Our Rosalie KIS, Rosall's lovely , award winning young mare , just took a 4th and a 6th place at Dressage at Devon in her first under saddle classes. She will be home with me , here in MD , while JJ Tate goes to Florida. Thanks so much to Kaitlin Blythe of Team Tate Dressage for showing her so well. She is out of a gorgeous Brentano II mare, EM Bevolina.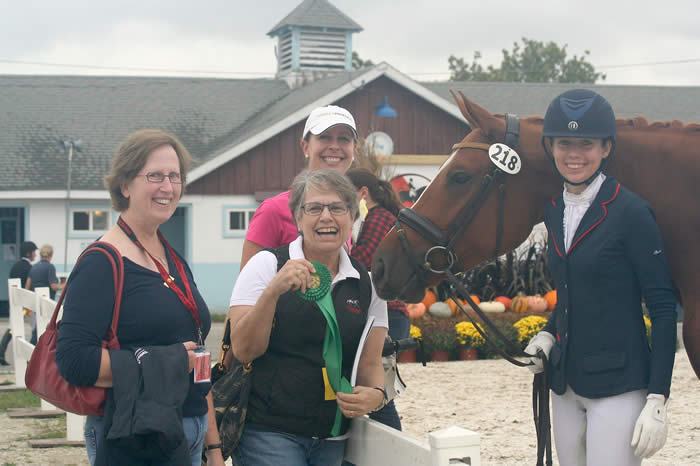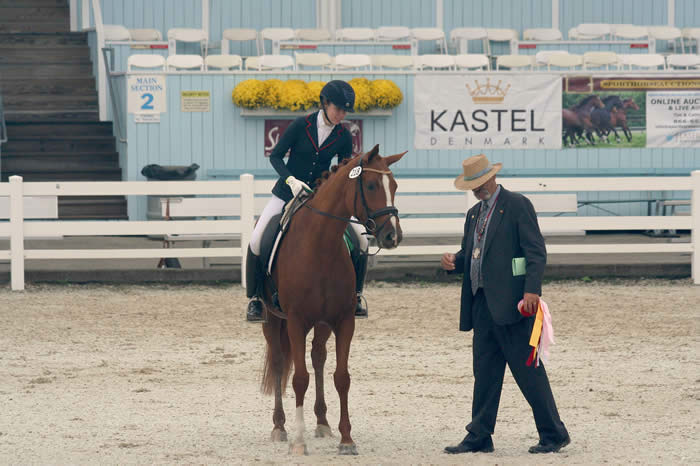 August 2015:
We had a very interesting, and also exciting Spring and early Summer. The Exciting part was a wonderful trip to London, England to meet up with our son Adam and his family which includes our darling grandsons, Corlan and Quincy. What a joy to see new places and things, eat new foods and interact in another country!! The trip did include some horses too! Of Course. The Queen's mounted guards were very impressive and such fun to watch.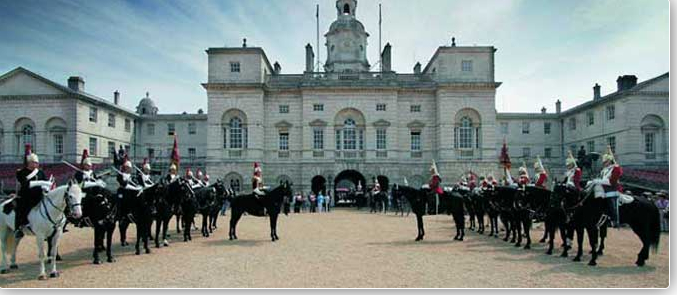 Changing of the Guards.
London. 2015
Next we leased our Elite mare, Royal Princess OBX for breeding. She is gorgeous and has had some wonderful foals. She is by Royal Prince and out of Banter mare, Brimming. But it turned out this Spring was very hard for the mares .. too cool, or too dark, too much rain, etc. So she had trouble with her heat cycle. However the mare , Liliahn that we purchased for our daughter Jill, to breed , when we lost Beauty... is in foal to Sinatra Song! Very excited for her. Lilly will travel to Texas at the end of August.
We were very pleased to have our home chosen for a magazine in the area," What's UP Eastern Shore". We are proud of the results we achieved during the long remodel! I have placed an album for the remodel on the Facebook page for me. Wendy Winett Costello.
DONAVAN is great!! He is now 30 years old and doing well. I have started walking with him in hand around the farm and he likes doing this! I think it helps him with his muscles tone and flexibility. See photo of me with him below.
The young stallion we bred, Royal English KIS, by Rosall out of Atlanta( Aktion/Pion) is doing beautifully in his Dressage career with Katie Hiller, in WI. see below. He is earning scores in the high 60% - 70%-iles. He is owned by Steve English. Katie is a top protege of JJ Tate.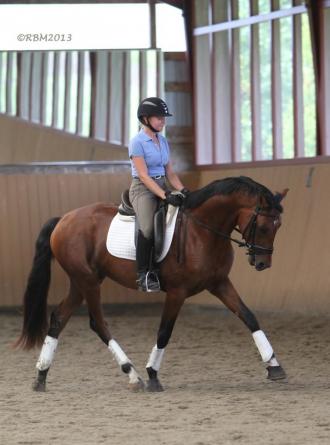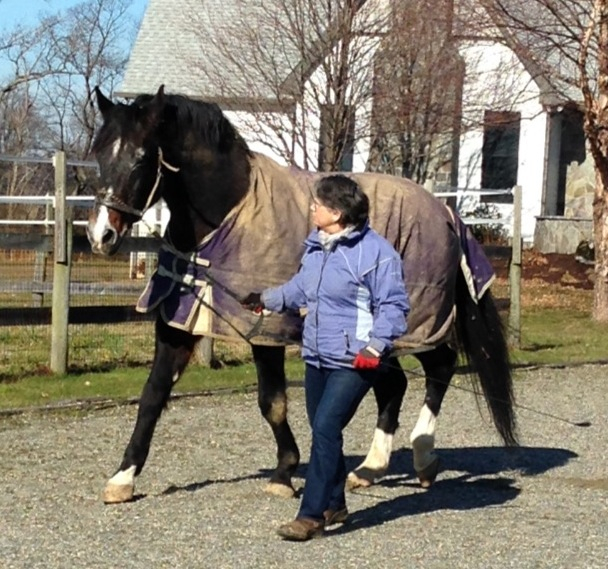 We have hired a new Barn manager, Our wonderful Karla Meyers is getting married early August and will have a baby in October. We wish her all the best!!!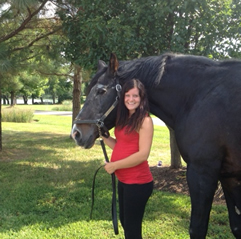 Karla and Donavan saying goodbye.
*Wendy and Donavan exercising!!
______________________________________________________________________
March 24, 2015: We 3/23/15 returned from a wonderful time at the COTA, Challenge of the Americas in Wellington, FL. A lovely time for the Charity , Play for Pink. JJ Tate and Jim Koford, Betsy Steiner, and many others rode in lovely 6 horse quadrilles to the delight of many. A delicious dinner was had by all, as well as lively music and dancing followed.
Now we wait to find out if Liliahn is in foal to Donavan. When that happens she will be on her way to Texas, to be with her owner, our daughter , JIll Costello.
In a few weeks, Elite mare Royal Princess OBX will be inseminated for the woman leasing her for the season, Tammi Nagel.
March 18, 2015:
After losing our lovely Beauty to a severe colic; we have , on behalf of our daughter Jill Costello, acquired the lovely Liliahn, a Loerke/Lauries/ Crusador / Weltmeyer mare. She is being bred to Donavan and then will join Jill's herd in Texas. LIliahn (chestnut on right) is 8 and has had one nice foal for her former owner Lisa Hall. She had excellent jumping scores for the Hanoverians! 8.5/9.0 !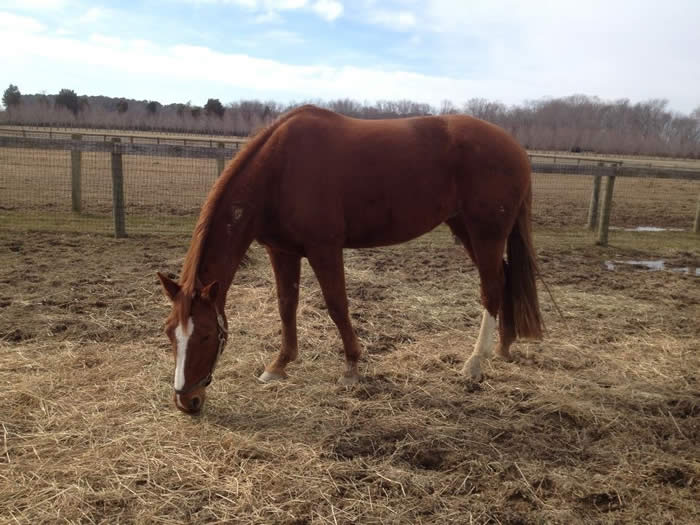 We are also leasing the wonderful Royal Princess OBX, to a client, Tammie Nagel, to be bred to Florianus, a popular stallion standing at Iron Spring Farm.
Marty and I intend to follow the Donavan and Rosall offspring around the country, .. so proud of RoyalEnglish KIS, Divine, Rosallie KIS ,Royall KIS, Democracy KIS, Dakairi KIS, D'Aktion KIS, Royal Roulette KIS, Digby, Donnachie, Dilly now known as Donika; Donika in Canada, Dinah , Dragee aka Juliette, and those we bred to outside stallions, Like Royal Rousseau KIS, and Essex, KIS and Exclusive KIS, Sinatra Balladeer aka Sir Lancelot!
And so many others.
Pilot is here and our trusty Qtr horse /paint, JR. for Marty, Honey pony, and our rescued Morgan mare Valley Girl. see the photo on left of Marty with Valley and her surprise colt, Twofer.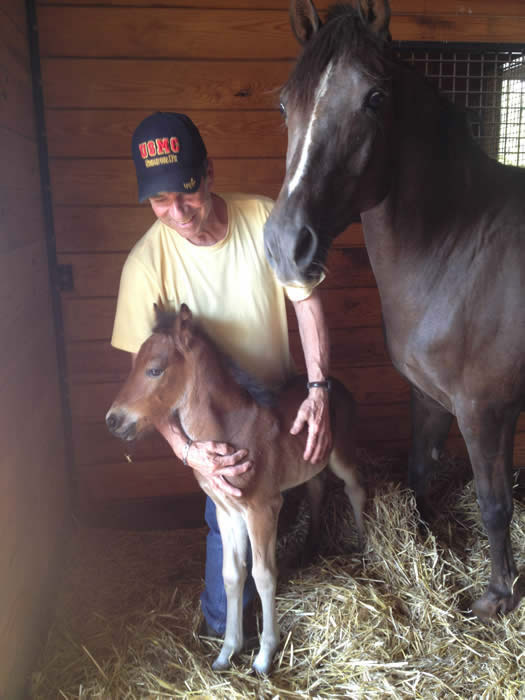 We are continuing to sell the frozen semen to breed to Donavan and Rosall. So please ask anytime. We are getting lower on Donavan , and may have to stop sales so our daughter can make her plans as she expands her breeding program in Texas.
We enjoyed the redesign and renovation of our home. IT took us almost 2 years. We have 2 new cats, Katya and Laverne, mom and daughter.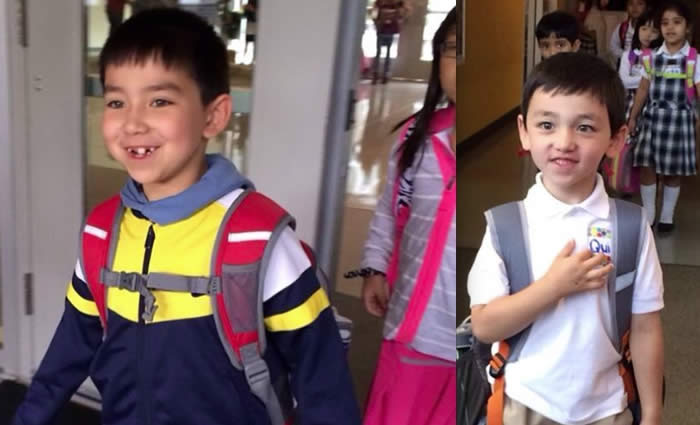 Recently we spent a lovely time in NJ, and New York City with our grandsons and their mom and Dad, our son Adam and his wife Helen.
We visited the 9-11 memorial and Empire state building and saw a Broadway show.
Donavan is now 30 years Old. On March 23, 2015.. he passed this amazing milestone.