Please note: (Oct. 2007)
*To learn more about Donavan , please browse the Donavan Page, and Accomplishments pages, ..including the Archives.

Horses sold by the original Riverland Farm Sporthorse Breeding

New ph. 443 249-3566 ~New fax: 443-249-3568 ~Cell: 262-751-6779

---

For the Foals of 2008 read the News page for May 11, 2008, and all about the new Foals.

Click here to read : For 2008 KIS bred some of the girls to outside stallions, read about the stallions!

Two Rosall Foals expected:

We have bred 2 of the mares back to Rosall and need some room in 2009!

We are expecting one out of Caviar ( Cor Noir) and out of Precious Icon ( Rolls Royce - sire of Rocher)

Mare page: click

ASK ABOUT OUR ECONOMIC CRASH PRICES

Foals of 2008:

1.SOLD Essex: Striking Black colt out of Prem. Old. mare Caviar ( Cor Noir) by Escudo II..Major Jumping potential, and also Dressage.

1.

photos above, Essex. (Escudo II) SOLD

---

2. Dahlgren: (aka Boomer) GOV Bay colt, By Donavan out of Rolls Royce mare..Dressage prospect ..Hunter?? big and strong., very handsome. "very nice colt" inspection judges. Economic Crash Price-$8,000

2. Dahlgren, "Boomer" by Donavan, above left above...Right at GOV inspection July 08.

Above, age 9.5 months. Click on left photo above to see more

and larger photos of "Boomer", Dahlgren KIS .

---

3. Paprika KIS: (aka Posh) Feminine Han. chestnut filly by Pablo, out of Atlanta by Aktion, Co-Top Filly of the AHS inspection, judges gave high praise for her conformation, type, femininity, and then said "it only gets better when she moves!" Picture Perfect!!

8th out of 30 All Han. 2 years and Under at Dressage at Devon 2008.

For Sale only to very serious buyer..special home. Inquire: 443-249-3566

4. Dalton , by Donavan out of Breathless ( Banter).

Hanoverian colt, very sweet temperament,

handsome, showing talent and great mind.

Bay, now dark. Click on photo to enlarge.

Special price to right home. Email for more details.

Jill Costello: <jill.costello@earthlink.net>

---

Foals of 2007 for sale: Economic Crash price: $8,500.00

Dragee. Fell in love with this one but we reluctantly offer her for sale , we have to thin our herd, since the move to MD. See Below. Bianna

Dragee, by ES Donavan, out of Bianna, (Bordeaux/Bolero) shows lovely suspension, and a super mind.. The judges commented on her power from behind.

Dragee at her '07 Han. inspection.

To see a short video of Dragee at age 8 months; go to

http://s245.photobucket.com/albums/gg52/tdgllc/?action=view&current=Drageevid.flv

She is on: Photo Bucket ( use google search ) and search for our album name TDGLLC

---

Sold Duchesse by Donavan, DOB. 4/07. out of Caviar, our Premium Oldenburg mare by Cor Noir. Duchesse is a gorgeous long legged filly. She is absolutely lovely, and her movement is very expressive. She has a free shoulder and her hock action is very dynamic. Her full brother , Don Noir, below , was top foal at his inspection in 2006.-earned 8.2.

Duchesse earned a whopping 8.4 for her Premium award at her inspection! The German head of Breeding stated Why go to Germany when you can find a filly like this right here."

Right below: Duchesse at her inspection: click to see more photos.

Congratulations to Donna Stevenson in Florida!

Duchesse, right

Caviar is now in foal for 2009 to Rosall!! Very exciting.

---

---

Foals of 2006 for Sale:

Dakairi, D'Aktion's little sister , gray.

By Donavan out of Atlanta (Aktion)

PRICED FOR SALE: $12,000. to thin out herd. her movement is lovely!! Her temperament is to die for and she will be modern and elegant for the Dressage Ring. Her legacy includes her Dam sire a Dutch warmblood, World Cup and Olympic competitor..Aktion.(Pion) For a DVD showing Donavan, her Dam and her Damsire, please call. Wendy 443-249-3566.

Dakairi, left above at her AHS inspection , summer 2006. Right, as a coming yearling with her brother Dax.

---

SOLD Debrentanya: (Aka Debbie) By Donavan out of Bevolina, Elite mare by Brentano II(Bolero).

This is a special filly related to Brentina, US Olympic star.

CONGRATULATIONS TO MARY JOYCE FLINN, MD.

Wonderful temperament , great substance and light , expressive movement.

-

click on picture to enlarge ready to back in Spring 2009

Photos MJCostello © and Karen Lietz

More of Dakairi , Debbie go to Foals of 2006 .

---

---

Deo Gratias : '04 Hanoverian. gelding, by Donavan, for sale in Ohio.

He is out of an approved TB mare, top at her inspection. His owner reports that he is now backed, fun to train and easy to work with. Contact Heather @Jubilee Farm..937-382-6226.

This mare was super Donavan match. and isn't he a handsome fellow!!

---

D'Aktion, '04, Premium Oldenburg gelding : DVD under saddle available: also on You Tube;

Very special opportunity for right person.$27,500.00

Now advertised on Dressage Daily- Marketplace.

JJ Tate, Grand Prix Dressage rider says DAX can go the top!!

JJ now is very excited about Dax. He is ready to go to a show, and is leaarning his lateral movements. She is very pleased with his start under saddle, and is really excited about his talent and demeanor!

Returned from Florida with amazing progress. April 16, 2008. Wendy 443-249-3566. or JJ Tate, 262-325-0099.

D'Aktion, was Reserve champion at his foal inspection. 8.0 on everything.

He is out of half Dutch /half TB dam, Atlanta by Aktion(Pion), an Olympic, World Cup stallion, known for his passage and piaffe, ranking among the top Dressage Sires in Europe. Dax is staying bay , out of a gray dam, imported from Europe, and will be tall, showing great promise as an FEI mount!! He scored all 8's at his inspection, pleasing the judges and observers very much. He has a wonderful gentle temperament, and is light with great suspension in his gaits.

D'Aktion (Dax) 6/12/05: At the June 10/11 show at Silverwood, CampLake WI, Dax won the yearling colts, with over 70% to score higher than all of the 2 year olds also and then went on to be Reserve Champion for all colts and geldings. This qualified him to go to the championships at the end of the season!! This definitely makes him more confirmed as a top prospect..

Dax, Florida, January, 2008: below; click here to see larger photos under saddle

---

2006 Oldenburg NA gelding: Red Riot, by Rapture R (Rotspon) out of a Donavan mare, Dominique.

Special Economic Crash price on Riot!!

Riot is a vry talented and flashy coming 2 year old.He is much like his sire, yet has his damsire's wonderful friendly and playful personality. He is staying chestnut.

For information and pricing call Jill Costello: 410-739-4595

-------------------

2005 FILLY FOR SALE IN OCALA, FL.

DEBONNE GRACE, FIRST FILLY OUT OF EM BEVOLINA BY DONAVAN, IS NOW FOR SALE , UNDER SADDLE , IN OCALA FL.

For more information, DVD , photos, call Maya, 352-812-4069. (Florida)

Gracie in Ocala , Winter 2007-08.

---

Davy Crockett , 2003, by Donavan out of Winpenny (Weltbekannt)

SOLD!! CONGRATULATIONS TO JAYNE NESSIF OF MD.

We are very pleased that Jayne and Davy will stay in training with JJ Tate!

Davy's page ; click here for more photos

We are breeding more like this one so ask us about them!!

---

Adult Horses for Riding and /or Breeding.
foaled, a filly in 2007, by Donavan. Reluctantly we have decided to offer Bianna for sale. Her talent , now seems to be as as a Hunter in the ring or jumper. She is hair under 16.0 hh, brown bay, star, Main Mare Book Hanoverian approved. She is modern, refined , excellent cross for Donavan. She has had professional training with Ann Jennings, an eventer of Pigeon Creek Farm in Mequon,WI and did a really good job, being exercised and happily ridden by a variety of riders. She has her Automatic changes and is pleasant and willing. **
**Bianna is now in MD. She is reported by her trainer to be such a wonderful Hunter that her price reflects her talent..Purchase price can include a Donavan breeding. Please call if interested in this teriffic package. This is a hard decision, but we need some room. .443-249-3566; Wendy Costello,
.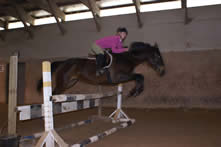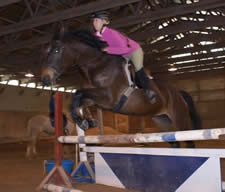 Showing some jump!! Practices over 2.6 grids, has automatic changes.. ridden by a variety of riders.
Bianna, very pregnant, out in the paddock, Then with Filly born 3-16-07 , below.
.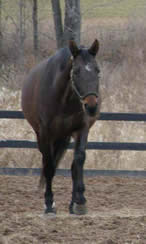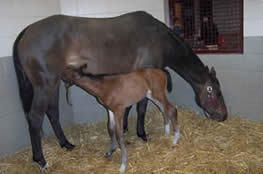 Lily is a very lovely, sweet, gentle mare, who was started late undersaddle. . She has had Dressage and Hunter training, likes it over fences, has 3 very nice gaits. She is dark bay, 16.2hh, good feet and easy keeper. She will need a rider with some confidence and/or a trainer to help continue her progress to meet her potential. $9,500.00 price reduction, and still negotiable to a good training situation. consideration to a young rider with trainer.
Call Wendy, 443-249-3566. Wendycos@gmail.com