Mares of Kent Island
Blessed are our Broodmares.
~~~~~
We carefully select our mares for their temperament, and natural athletic talent;
correctness of conformation, bloodlines and suitability to cross well with Donavan and Rosall.
Each one is under saddle (or will be) showing the mind and discipline to be a partner for a rider.
We consider very carefully before purchasing or selling one of these ladies.
~*~
We Remember Teerose (click to know more )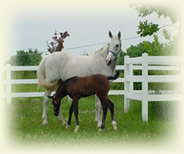 We dedicate our Mare page to this wonderful Hanoverian mare:
NOTE: Once in a while things just don't go as planned and hoped. Please read our Important note about Breeding http://www.esdonavan.com/importantnotes.htm

and also see link below.

* Pregnant Mare, Foaling, New foal Information from Wisconsin Equine Clinic
---
2008 Season: ( check News page too).

Caviar was bred to Escudo II and had a spectacular black colt, we are naming Essex. A jumper for sure..and a dancer too! Preciouis Icon (Manhattan) had a super colt, strong and handsome, named Dahlgren, (Boomer) who will passage and do tempi's with the best!..He is a Donavan son. and on Mother's Day, May 11, Atlanta ( Pepper) had a chestnut , flashy, feminine filly! She is adorable, photos to follow soon. Naming her Paprika..calling her Posh!

2007 Season:
For the 2007 season we left Bevolina and Atlanta open, so that our 2 maiden mares could have their first foals, and having 5 foals at one time was a bit much for our very hands-on program. Manhattan and Bianna had their foals, March16! Manhattan's colt was purchased by Isabelle Brown who had sold us the wonderful mare, , and Bianna's darling Donavan filly, Dragée is for sale..

Caviar, our Premium Oldenburg mare by Cor Noir had a gorgeous, long legged Donavan filly, Duchesse, May 16. She is also reluctantly offered for sale, due to the fact we moved to Maryland and are full ..and breeding to Rosall this year..2008, so need to sell. See News page.

Read our new breeding program for 2007, CLICK
~*~
---
Mares:

Ona Rainy Day - our first mare
'82; a.k.a. Remember Romance, a.k.a Remy. TB mare, by Vitrolic (Bold Ruler), out of Jennifer M. (Saidam). 15.2h Black Bay; Star and two white hinds with black  ermine spots. Professionally trained dressage 2nd Level. Dam of Duesenjaeger (Pilot), '99 and an '03 filly, Doha Day. . both by ES Donavan. Approved AHS and ISR/Oldenburg NA, Main Mare Book. Remy earned a 9/ walk and 8/ head and 7/ gaits from the American Hanoverian Inspection team! Her first Donavan foal, Duesenjaeger "Pilot" has been in the ribbons at breed shows, including at age 2, Get of Sire Class Blue Ribbon paired with his half brother Drachen Herz and a 2nd pl. in the colts and geldings class.. In 2006, 2007, he has continued with top scores in the mid- 70 %-iles at both First and Second Level. Remy and Donavan each threw their best to Pilot, who was highly thought of at his inspection, and called "one of the best we've seen", especially with a TB dam.
Remy right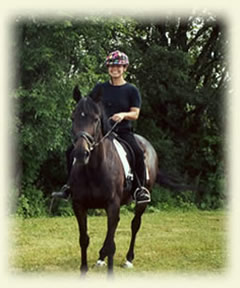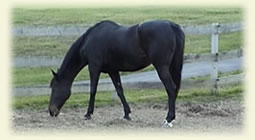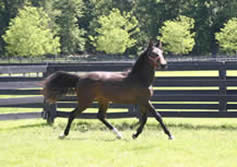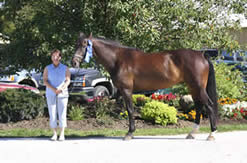 Doha Day (Dodie) Duesenjaeger (Pilot)
2004 saw 70+%-iles and several blue ribbons at Training level.Then Pilot went on to qualify for Region 2 Championships with  many scores in the 70%-iles at Training level and then won 7th in the Region at Championships at Lamplight.

 In 2005, Pilot continued his winning ways by qualifying for Regionals at Both First Level and Training level, with many scores above 69% , and averaging close to 70%. WDCTA and IDCTA Year End awards, including Champion Maiden at First level.

Pilot looks and performs more and more like his Sire every day.

2005-end of year: Pilot and JJ Tate are now consistently earning 72-75% at Training and First level! Pilot qualified for Regional Finals

2006: Pilot had an almost undefeated season at both First and Second Level, including a Born in the USA Award , High Point of Show, scores staying 69 - 77% range! Qualified for Region 1 Championships and took 3rd, with 67.2% closely behind a first place horse at 69%., and second at 67.6%.

In April of 2003, at the age of 21 years, Remy presented Riverland Farm with a beautiful filly by Donavan, Doha Day (Dodie) named in honor of our daughter serving in Iraq and Kuwait (Doha, Qtar) at the time. She went on to be named Top Filly at her Hanoverian Inspection.

In 2005 Dodie went with her brothers Davy Crockett and D'Aktion to the Silverwood show and took second in her 2 year old fillies class! Dodie has been sold to the Flecks of Iowa, and promises to be a fantastic riding horse and/or also an excellent foundation for a breeding program. A lot of talent in a smaller package!!
Remy, now retired from Breeding will be with us always.
---

Caviar -

Kent Island Sporthorses is very excited to have Caviar. (when we were Riverland Farm) Judi Gerhardt of Blue Moon Equestrian Center in Louisiana made this possible.

Caviar is a tall, (17hh) Black , Premium Oldenburg mare by Cor Noir (by Cor de la Bryere.) She resembles her Sire very much. We acquired her in 2004, first bred her in 2005. Caviar has already been shown to  ribbons in hand and under saddle.

Caviar foaled a fabulous colt in 2006, by Donavan.
Named Top foal at the Oldenburg NA inspection. 8.2 !

This colt is sold! Congratulations to Terry and Jeff Blair of Georgia! We are very happy for you!

Don Noir joined the Blairs September 10, 2006. Looking forward to seeing him Eventing!!

2007: Caviar gave birth to a gorgeous filly, Duchesse, who earned 8.4 at her inspction for 2nd place honors and high premium. The German judge said, " Why go to Germany when you can buy a foal like this here!"

Caviar had a spectacular Black colt, April 24, 2008 who is a handsome modern, fellow, who definitely likes to get all 4 feet off the ground! go to the News and SALES page to read more.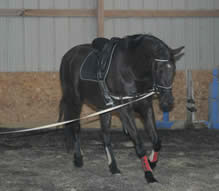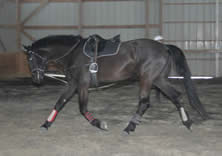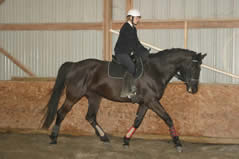 Caviar, bred by Blue Moon Equestrian Center in Covington, LA is one of Cor Noir's many successful offspring. Caviar was Young Horse Champion at the Good Horsemen's Breeders Showcase in 1999. Caviar demonstrates superb rideability and a terrific versatility under saddle. • Good Horseman's Breed Show Results: "Caviar", 6 year old mare out of Mr. C's Lady, was #1 Maiden Mare - Never bred with 80.75%, #2 in the Oldenburg and ˝ Oldenburg Class, #1 in the Open Under Saddle Class, Mares 6 and over with 77.9%, and Grand Champion of the Show. Caviar also represented Blue Moon Equestrian for a win in the Breeder's Group.

"Cor Noir had tremendous ability for the FEI collected movements. He had absolute international quality piaffe and passage and when he performed, he left a very strong impression. Cor Noir could also easily clear 5-foot oxers with total confidence. He was an extremely impressive stallion and one who I give full credit for being part of the foundation of our program's success." --Scott Hassler, Formerly Head Trainer for Hilltop Farm ; now Head of Hassler Dressage, and USEF coach for the Young Horse Training in the US.

Cor Noir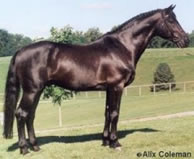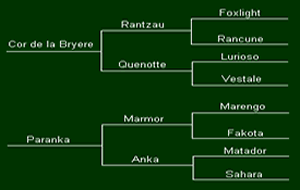 ,
---
Atlanta, a.k.a. Pepper

She is by Aktion; Dutch WB Grand Prix dressage stallion owned and ridden by Gyula Dallos of Hungary in World Cup and Olympic Competition. She is rose gray, 1996 mare, approved AHS, and ISR/Oldenburg, RPSI Main Mare Books . She was imported from Hungary and then purchased in summer '02 from JJ Tate, ES Donavan's rider.

Aktion is listed in the top ten most successful dressage sires of Europe ever. Pepper is nicely started under

saddle by JJ Tate, and was maintained under saddle by Shelley Day...Bred to ES Donavan in '03. Atlanta is the first mare to receive frozen semen from Donavan and was successfully impregnated for a 2004 foal.

A colt , D'Aktion (Dax) was born April 16, 2004 , and was awarded Premium status at his Oldenburg inspection at Meadowbrook Farm in Illinois. 

Dax, 2005 Qualified for the Year End championships, Breeders Series, by earning scores to top the yearling and 2 year old colts and geldings, and then to be Reserve Ch. of all colts and geldings at Silverwood, Camp Lake WI. June 2005. He then went on to 7th place in the championships at Lamplight out of 19.

2007, Dax now under saddle. Doing beautifully with JJ Tate. 2008, lovely under saddle, For Sale.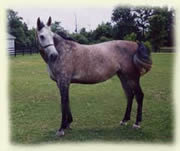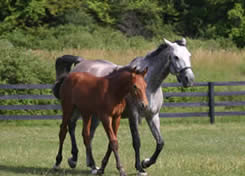 See Sale. He has definite FEI potential, and will be a very tall boy!!

Pepper was Bred to Donavan in 2005. .

Now that Pepper passed her AHS mare performance test , she is approved

by the American Hanoverian Society and this filly will be a Hanoverian.

This one may be a keeper..if she is anything like her brother DAX.

2006-April 23, Pepper has delivered a lovely filly by Donavan! Named Dakairi. She is very feminine and her hip and shoulder are wonderful. She does not quite have the Donavan stamp..color wise , she is Bay now with only 1 hind sock and no star..But she will be gray..even though her brother is a red bay above.

2008: Pepper had a sweetheart of a Mother's Day present May 11 ; by Pablo. She is a chestnut filly, very feminine, very correct. 3 socks, strip and pizzazz.

See Sales page for DAKAIRI, DAX AND PAPRIKA

Below:

Atlanta , (Pepper at her inspection) , in hand and Mare Performance Test:

She is 16.1h with light and airy movement, terrific trot, suspension and

excellent mind under saddle. She is a favorite of our Farm trainer, Shelley Day.

Pablo, by Pilot is known for his jumping success and Dressage.

Pablo- in Germany. google Equus Rainbow Meadows to learn more of Pablo

---

EM Bevolina (aka Berolina) , by Brentano II (Bolero).

Black Sky XX TB

Bolero-Hann

Baronesse-Hann

---

Grande Hann

Glocke-Hann

Ferbel- Hann

Absatz- Hann (Abglanz-Trak.)

Argentan, Hann

St. Pr. Worms Hann (Wohlan, Hann)

---

Inschalla AA Anglo-Arab(Israel)

Indira, Hann

Dufthalle, Hann (Duft I, Hann)

*more complete pedigree go to link above chart, Brentano II (Bolero).

The Donavan Group, LLC then at Riverland Farm, Now Kent Island Sporthorses, announced in

the summer of 2003 the purchase of a beautiful young

Hanoverian mare, Bevolina, from Klaus and Elke Herrmann ( originally of Germany) of West Lafayette Indiana.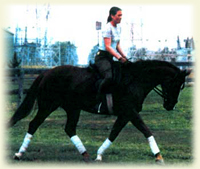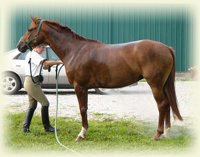 She is by Brentano II (Bolero/Black Skyxx) She passed her Mare Performance Test and became an Elite Mare Candidate. She is out of Aline (Argentan/Absatz) with the Grande and Inschalla lines close in her pedigree as well. She is half-sister to Brentina, Silver Medalist Debbie McDonald's World Equestrian Games and Olympic Mount and was US Hanoverian Horse of the Year in 2002! Bevolina (aka Berolina) is 16 hands, a rich, dark chestnut with thin blaze and left fore, right hind socks. She came over from Germany, in the German Verband Main Mare Book with several 8's on her score sheet. She is going very well under saddle in dressage.   She, Passed her Mare Performance Test well, became an Elite mare when her first foal, in 2005 , by Donavan, was born , see DeBonne Grace..below

Sunday, March 27th, 2005, her first foal, a filly is born!! Here she is, on the left below at 4 hours old!! The other photos are when she was almost 4 months.

Read more on the Offspring page about DeBonne Grace.

DeBonne Grace sold at 1 month.

©MJCostello 2004-2005

2006: Bevolina had another filly!! 4-27-06, a surprise (thought it was a colt) filly. This is a special filly again!.. Bevolina has 2 fabulous siblings, Brentina, World Cup and Olympic Champion, and Barclay a gelding, World Cup competitor as well!

left< Debrentanya, 2006 filly

by Donavan out of Bevolina. Like mother like daughter!

Elite Mare Bevolina below, right.

(click on filly photo for more photos)
"We just love Bevolina's sweet personality. She is beautiful, & very comfortable to ride!"

*********************

---
Precious Icon, aka "Manhattan"

Dutch Mare by Rolls Royce (sire of Champion Rocher,

ridden by George Williams, Top International Competitor).

Lovely bay, 16h+ Main Book Oldenburg NA ; lovely Dressage movement, under saddle.. Purchased April 14, 2006. Wonderful type for Donavan, very feminine typey, great mom, talented too.

Manny is 9 years old, with a very gentle nature, and settled in easy as pie!

2007 had a fantastic colt, Don Giovanni sold in utero to the Browns of Ohio.

"Manhattan delivered a handsome strong bay colt, by Donavan, named Dahlgren (Boomer) in 2008, what a Dressage prospect..or Hunter!!
Manhattan by Rolls Royce, Lovely under saddle.

---

Eve of Victory below with her colt.

We are sad to report that Evie had to be humanely euthanized September 14 due to a severe colic. Our daughter Jill took her to 2 veterinarians to determine that surgery would be the only option and the results might not be excellent. So we have lost this wonderful mare.

I refer you to my News Page notes about things not going the way we hope for! wwc

Donnacha, ( Dunny) was born July 4, 2005! The AHS judges had much praise for this colt and the Donavan /TB cross!!

Dunny was sold to a up coming young rider for her future star.

Dunny and Evie
---
Bianna - by Bordeaux, who stands at Dr. Barb Schmidt's Bridlewood Farm in KY.

Riverland Farm, NOW Kent Island Sporthorses, and The Donavan! Group, LLC purchased Bianna, (2002) by Hanoverian Stallion ES Bordeaux (Bolero) and out of Alexa (Abajo xx), Main Mare Book Hanoverian mare. as a yearling , from Dr. Doug and Shannon Langer of Maple Run Farm, Helenville, Wisconsin. Bianna is a beautiful and elegant, refined and athletic young Hanoverian. Coincidentally, her dam, Alexa,(Abajo xx) arrived from Germany with Donavan! This was meant to be! We are very pleased and looked forward to offspring from this match.

Jan.- May 2005, Bianna was in Texas , with daughter Jill, maturing and becoming even more elegant.

She was backed. She returned home to Riverland, Approved for breeding by the AHS Summer 2005, Main Book Mare..

Showing talent in jumping.. and as a Hunter

Bianna and her lovely , very correct and sweet filly, '07 Dragée are being offered for sale .see Sales Page. $15,000/Bianna** , $10,000.00 Dragee.

Bianna is now in training as a Hunter and jumper and doing very well!! She is with Anne Jennings of Pigeon Creek Farm and they love her. **price going up with training. She has her automatic changes and is jumping grids, and going very well on the flat.

call Wendy 443-249-3566.
Above>Bianna: foal w/Dam Alexa(Abajo xx)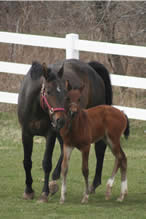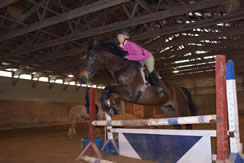 Bianna, above with new filly, Dragée by Donavan; and jumping in WI.

---

Calico Mountain Sugar and Spice- aka Sugar

Sugar, a Buckskin Mustang mare, 13.3h, was adopted at age 8 from the Bureau of Land Management. She had been rounded up in Nevad at aabout age 5 or 6.

This little mare, intended to be our pet, has the world's best nature, and is calm and wise. She cares for the weanlings, teaches the other horses manners, and gave birth to Spirit, (Esprit d'Amerique du Nord),

her '02 colt by Dazzler, a Cheval Canadian.

You're next Dodie! That feels good Auntie Sugar!

left, Spirit smiles for Marty, and stands with Wendy. He is only 2.

* In a bitter sweet decision in 2007, we sold Spirit. Marty's lessons on Faith are going so well, he is ready for a horse that is farther along than Spirit, so Spirit is enjoying a new home in ILL.

For more Go to Spirit and Faith's page.

Who is Faith?? A wonderful new riding horse for Wendy!! She is part Hanoverian ,part TB and part Mustang!! and she is wonderful, Dressage trained, and gives great lessons! She is a very special horse!

Faith ,Remy and Manhattan play!

Check our News page , click on News Archives to read more about these mares and their foals.
Thanks for your patience.
Wendy Costello
wendycos@gmail.com