Riverland Foals of 2007
Dragee, Hanoverian 2007 filly, By ES Donavan out of MMB Bianna (Bordeaux). DOB: 3-16-07
1 day old.
Go to New photos for this filly, at 3 weeks old!CLICK!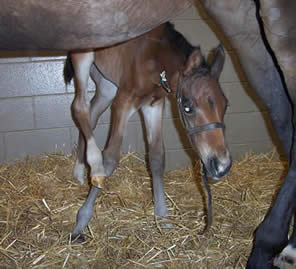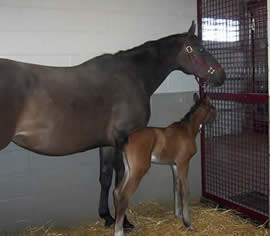 |At the Wisconsin Equine clinic for observation, born 16 days early |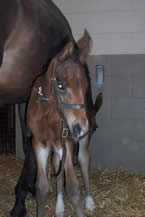 The catheter was for colostrom, she did not get since she surprised us early AM and did not nurse on time, so added some for insurance. She is fine. She is refined, and spunky, nicely compact, and very light on her feet!
Pardon the bad camera work,
her eyes are nicely dark and large!wwc
---
Don Giovanni, By ESDonavan, out of Precious Icon, aka Manhattan, Dutch WB mare by Rolls Royce, out of TB mare.
DOB: 3-16-07, 8:00 PM;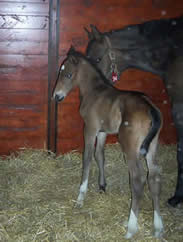 AT Wisconsin Equine Clinic, half day old,
a very handsome boy! Same 3 white socks as sister Dragee, but he has the star!!
Don Giovanni is already purchased by Isabelle and Dave Brown , Ohio.
He is modern and just lovely! What a great first time mother Manny is.
We call him Jon Jon.