Donavan!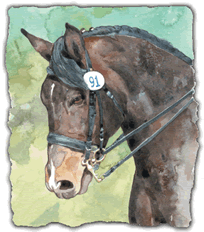 Elite Hanoverian Stallion, ES 492 ( AHS)
Donavan****, star stallion for the Oldenburg NA
DOB 1985.
Sire: Derwisch (Dirk)
Dam: Akelei (Argentan)
17.1 hh, mahogany bay
socks: 2 hinds and one right fore, large snip
EVA testing: negative
Bred and born in Germany,
As of December 2008, Donavan has moved to Kent Island, joining the Costellos and his broodmare band, and some of his offspring at Kent Island Sporthorses!

Read more on the News Page.

Watch for the redesigned KIS Website!!

coming soon.

* Consistently listed on the USEF list of Leading Sires: Dressage/Dressage Breeding;

Currently, 2007, he is 71st out of almost 1000 sires listed for Dressage Sires.

This is a very big accomplishment. His traditional type continues to mix well with more modern type, and his offspring with their wonderful minds continue to bring joy to all of their riders.

1. Donavan achieved #7 on the Final list of USEF Leading Sires- Dressage Breeding for 2004!
2. Donavan was listed #9 out of 164 stallions on the 2005 USEF Leading Sires Dressage Breeding List . He is on the lists of Leading Sires, Dressage, and Leading Sires, Hunters Lists . Check the Links Page to visit USEF.
3. Donavan's frozen semen is very successful, near 100 %, usually on first try. This is very high.
4. Donavan's 100 Day Test score, 136.16 points is still among the highest earned in the US. He was reserve Champion, very close behind the first place stallion.
5. Donavan seems to throw just about 50% fillies and colts. ( Some years more fillies, but this is the average)
6. Donavan never throws chestnut color! Even some gray mares have bays!

Though Dressage is Donavan's discipline of highest of accomplishments,

he is also being listed as Sire on the Hunter lists and his offspring are showing Jumper and Eventing also.
Donavan below at age 20 and 21 (Spring 2006) Sound and healthy, a joy to be around.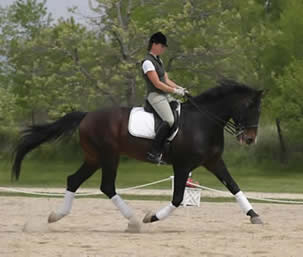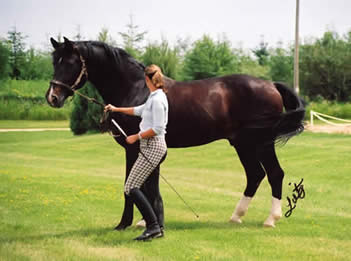 Trained and Ridden in competition by Jessica Jo Tate
---
To see Donavan's esteemed bloodlines more fully, click on this chart.

Click here to Learn more about the A-Line of his Dam Akelei.

Click here to learn more about the D-Line, of his Sire, Derwisch

Breeding Approvals.

Donavan is lifetime approved and licensed for breeding by the American Hanoverian Society, the German Hanoverian Verband, The International Sporthorse Registry/Oldenburg NA.; Canadian Sport Horse Association; The Oldenburg Horse Breeders Society (GOV); and the Rhineland Pfalz-Saar.

Breeding Fees: 2009 update:

Donavan is turning 24 in March , 2009. We want to insure he stays strong and feels good! His semen is still good so we will entertain inquiries for shipped semen Private Treaty only. We would like to group these breedings in March--June .Frozen semen will be available for purchase any time aftr March until November.

*Donavan is having excellent success breeding AI both fresh and shipped cooled. . ( see notes above). Excellent Frozen for 2009 is $300.00/ dose.

Frozen semen is available through Select Breeders Southwest. Inc. Aubrey Texas.

Private Treaty contracts will be arranged if using frozen semen.

Donavan has proven to have excellent frozen semen! Donavan is near 100% success rate for the use of frozen semen and most were after only one try. We offer a contract with full LFG if you use frozen semen from Donavan for an entire season, with no success. 4 doses to the season. Go to our links page to reach Select Breeders Southwest where Donavan's frozen semen is stored.

For Canadian citizens we can offer Private Treaty, frozen only. contract, at par; Payments are USD to Select Breeders.

Below Donavan at age 20, showing off for TV cameras. May , 2005
~:~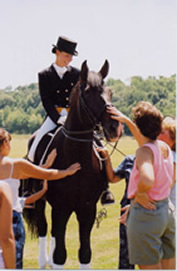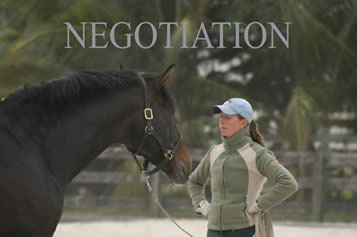 click here ~Read About Donavan's History: ~ click here
Our Dream:

Wendy and Marty Costello, owners ofKent Island sporthorses, ( formerly Riverland Farm) and ES Donavan, strive to breed and assist others to breed, the highest quality warmblood horses for FEI level sports and for pleasure that embody Donavan's kind and affectionate temperament, his natural talent and striking beauty. These offspring are suitable for both the amateur and professional rider. Donavan's long, successful dressage career has demonstrated that he represents the best qualities of the Hanoverian breed, and consequently, the characteristics desired by all warmblood breeds. He absolutely fulfills the goals of the American Hanoverian Society and the German Hanoverian Verband. In accordance with his high 100 Day Test scores in jumping and dressage, he is sire to successful offspring in all the Olympic disciplines.


Please enjoy our website and come back often.
"With Donavan, something wonderful is always happening! "
click on the photos to enlarge.
Donavan in competition, Grand Prix Dressage.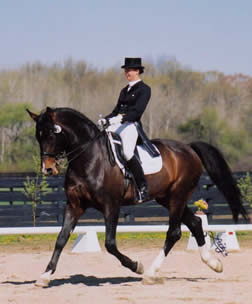 And as you visit all aspects of our website , you will know THE REST OF THE STORY!!