Teerose: We Remember
We lost Teerose unexpectedly after she gave birth in 2002, when she suffered severe hidden internal injuries and courageously nursed her filly for an entire day before surgery revealed she had to be put to sleep. Tee went from a very successful career at 4th level dressage to High Point Hanoverian at her Inspection and an equally successful career as broodmare of six wonderful foals. We had her just over a year, and had grown to cherish her. Her legacy lives on in her lovely foals, Delta Don, Drifter, Devotee (see Foals of 2002), all by Donavan. Also Winteroza, Arabella and Galataea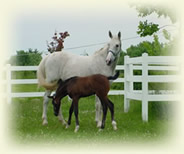 .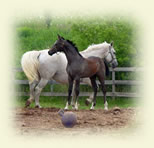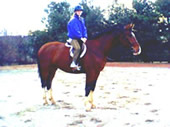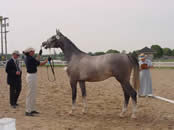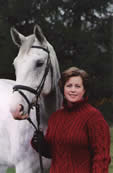 L to r. Tee and Winteroza, Delta Don, Drifter, Winteroza , Devotee as youngsters and grown up Drifter.
Delta Don is now in PA showing Hunter A circuit, under the show name Donovan, note the spelling..

..see new photos on the Offspring page and in the News.;

Drifter ( see his lovely photos on the offspring page) is going nicely under saddle in Illinois, and Winteroza was bred for a 2005 Donavan foal! She is also going beautifully under saddle., Devotee (Lula) is now a very tall , lovely gray mare and starting under saddle, Now in training to be a jumper..Dec. 2006, age 4. 17.hh!!

***Wonderful! Winteroza, now owned by Valerie Ahl, had a colt by Donavan! He is lovely! Now known as Drizzle, read about him on the News page & Offspring pages.