Faith and Spirit @ Riverland Farm
Spirit's real name is Esprit d'Amerique du Nord. He is out of our adopted American Mustang, Calico Mountain Sugar and Spice, a small, 13.3hh buckskin mustang mare adopted from the BLM. (Bureau of Land Management). He is by Dazzler, a Cheval Canadienne, a breed similar to our Amaerican Morgan, (old style) .
2006, Spirit is now 4 years old, 15.1+hh, and under saddle for about a year..and is my husband, Marty Costello's horse. Since Spirit has such an agreeable and level headed personality, Marty , a beginner Dressage rider can ride Spirit , but take lessons on Faith , and Spirit can continue to learn too, from one of our trainers, Shelley Day.
Faith (Leap of Faith) is also a buckskin, though just about 16hh and 9 years old. She came to me already having some good Dressage training and having been shown. AND she can go outside on trails which is what I needed to ride with my husband and have fun at home. She is a dear, and so versatile! Marty can take lessons on her with no worry about her being silly or stupid.
You can see Sugar and Spirit on the Mare's page as well, near the end, and learn more about the Cheval Canadienne breed by going to my links page and clicking on Jubilee Farm.
Jan. 2007 we made a decision to sell Spirit, so Marty can find a horse that is a bit bigger and farther along... It was a hard decision, but Spirit sold to the first person who came to see him, no surprise, and he is happy in Illinois, and Marty is beginning his searchfor a new horse.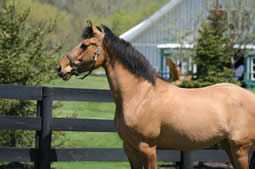 Faith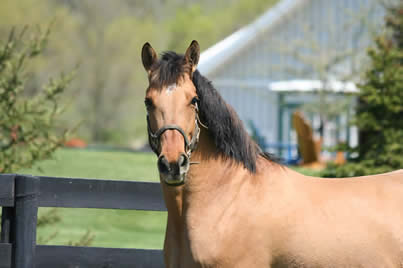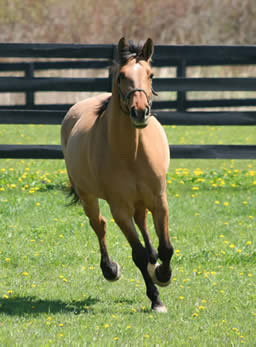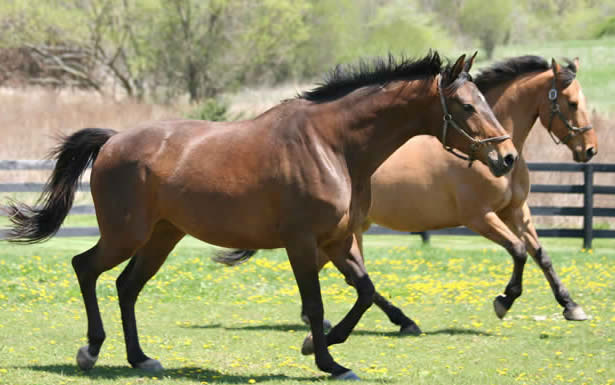 Above, Faith and Manhattan romp!
---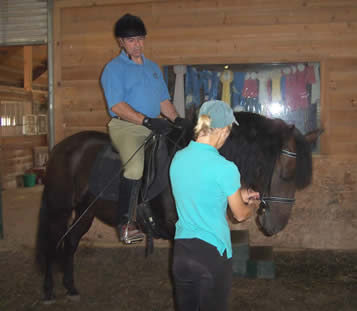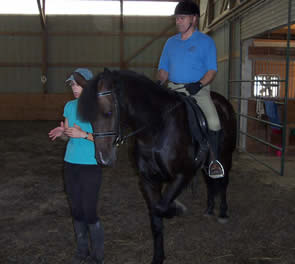 Marty and Spirit taking lessons, trainer Shelley Day.
Marty gets tips on lunging Spirit.
For anyone with a spouse that is "not interested in horses" keep working on it, it can happen!! wwc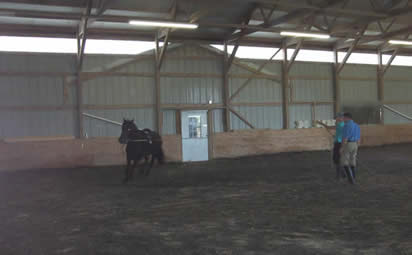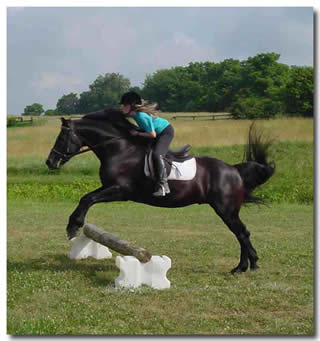 Dazzler, Spirit's Sire.