Pedigree for EM Bevolina :

By Brentano II (Bolero)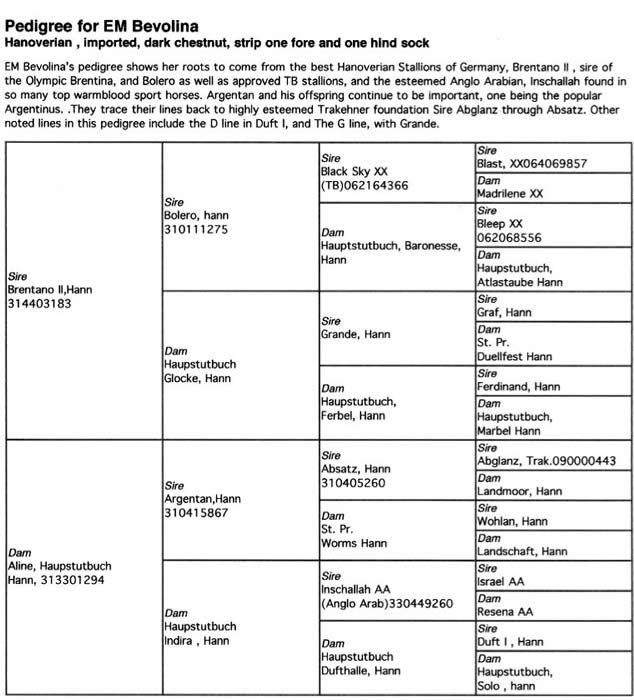 Bolero's Hanoverian Bloodlines Impact Dressage
By Polly Ellison
One of Bolero's most well-known descendents is Debbie McDonald's 2004 Olympic mount, Brentina, by Brentano II.
Bolero, a classic foundation stallion in the Hanoverian Verband, is one of the few sires to produce a new foundation stallion, Brentano II, along with other top stallions, Bismarck and Brentano I. Also, three of Bolero's descendants medaled at the 2004 Olympics in Athens--Beauvalais ridden by Spain's Beatriz Ferrer-Salat, Bonaparte ridden by Germany's Heike Kemmer and Brentina ridden by American Debbie McDonald.
Bolero's dramatic influence is made all the more remarkable by the fact that he died of a heart attack at the age of 12, when German breeders were just beginning to appreciate the potential he had as a sire. Bolero passed on his noble attitude and rhythmic gaits, producing outstanding, elegant dressage horses who have proven particularly successful when bred to Hanoverian G- and D-line mares.
Bolero was by Black Sky, a Thoroughbred who produced very rideable dressage horses. Bolero's success contradicted the popular belief of breeders at that time, which held that breeding a mare by a Thoroughbred with a Thoroughbred stallion would not produce successful offspring. But, in fact, Thoroughbred influences contributed to the breeding of dressage horses from that point onward and proved to be one of the main factors in producing more elegant, lighter dressage horses. Bolero's dam was Baronesse, a Hanoverian mare out of the mare Atlastaube (by Athos and out of Fliegerheil) who produced the popular sires Grenadier, Hitchcock and Winner.
Brentano II 1983, 16.2hh, Bolero's most successful son in terms of breeding, was the approved winner in Verden in 1985 and runner up at the 1986 Hanoverian stallion performance test. To date, he has produced 16 approved sons and 86 state premium mares, and the World Breeding Federation for Sport (WBFSH) consistently ranks him in the top 10 dressage sires. He was named Hanoverian Stallion of the Year in Germany in 2003. His score of 141.41 pts., at his 100 Days test was the highest Dressage index.
Having trained to Grand Prix himself, he seems to have passed on this ability to many of his offspring. He is known for passing on his solid basic paces, type and excellent conformation. He was represented by 21 riding horses at the Hanoverian Elite Auctions and is a fantastic value, standing at stud for only €460. Brentano II's dam, Glocke, also produced Brentano I--a stallion at the State Stud in Celle, Germany. Brentano II's grand dam, Ferbel, was a half-sister of the stallions Garibaldi I and Garibaldi II. There is also a very distant link through Bolero's dam line to Alferate, the dam line that produced such stallions as Wolkenstein I, Wolkenstein II, Wolkenstein III and White Star.
Brentano II's greatest success is through his daughter Brentina, ridden by Debbie McDonald, of the USA, and Brentina's full brother, Barclay II, ridden by Sven Rothenberger of the Netherlands. Both of these horses did exceptionally well at the 2004 Olympic Games and continue to be among the top dressage horses in the world. Also competing at international Grand Prix-level is the Bolero son Beauvalais and Bonaparte, by the Bolero son Bon Bonaparte.