ES Donavan's History
Early Years
DONAVAN was born in 1985, in Germany and brought to the US as a coming 3 year old. He completed the very rigorous 100 Day Testing for Stallion Licensing in 1988, receiving a very high score of 136.16 , for the Reserve Champion honors competing with 18 other stallions. His marks included 9's for rideability, willingness to work, jumping ability, trot and a 10 on his canter. This score still stands as one of the highest earned since the United States 100 Day StallionTesting has been held. This emphasizes that even as the general quality of stallions in America improves , Donavan's quality endures! German judges in 1996 at the Hanoverian Stallion licensing in Maryland declared Donavan East Coast Stallion Licensing Champion based on his performance record at the time and commented on this very fact of enduring quality. (see our opening page for these quotations)
Middle Years
AS a youngster, Donavan was owned for many years by a group of enthusiasts, and he was put into the hands of several trainers.. before , at age 9, he was purchased by a private owner, and he landed at Tempel Farm in Illinois under the guidance of George Williams, then Head Trainer/Rider of the Tempel Lippizzan Stallions. With this top rider and trainer to bring him along Donavan blossomed and along his way up the Dressage levels , began his FEI work, earned many USDF Year End Awards, Trophies and high placings...then began his Grand Prix work. It was at this time that the circumstances of Donavan's owner changed and in 1999-2000 the present owners, Wendy and Marty Costello, entered the picture.
Present ... and into the future
It reads like a Fairy Tale sometimes, or a soap opera..but Once Upon a Time..Wendy Costello wanted to breed one wonderful mare to one wonderful stallion to have her " last best horse"! She had found the mare, (Ona Rainy Day aka Remy); the mare had been approved by the American Hanoverian Society and then she saw Donavan..and was very excited to discover she could breed her mare to him. The result was Duesenjaeger (Pilot), foaled in 1999 . A month after he was well received at his keuring , a turn of events occurred that resulted in Donavan becoming her stallion and forever changing her life!
And as you visit all aspects of our website , you will know THE REST OF THE STORY!!
Click on the photos to enlarge.
©Karen Lietz photo  © Kristine Fischer photo ©Marty Costello photo
© MJ Costello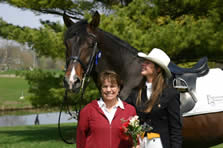 Donavan, Wendy Costello, JJ Tate at Midwest Horse Fair , April 2005. Donavan , age 20, completed his Exhibitions at Midwest Horse Fair, to the music of "Country " songs..thrilling sell out crowds and receiving standing ovations!
Click on ad to enlarge.