Donavan and JJ Tate were again well received by the crowds at the 25th annual Midwest Horse Fair, April 16-18, in Madison Wisconsin, enjoying standing ovations and many, many visitors! WE especially enjoyed visiting with our friends from Illinois, Indiana, Iowa and Minnesota that came in to see Donavan!".
Spring foals are arriving. As of May 1, 2004 there are one filly and six colts! Click here for more!

Donavan's retirement year, 2003, was topped off by being listed #2 on the Dressage Breeding Leading Sires list of the USEquestrian Federation, due to the wonderful showing of his son Drachen Herz!

Donativo, bred by Highland Farm in Canada, was sold to Anita Houtsma in Illinois. Congratulations to her! We are excited that he has come to the USA and will be watching for him, perhaps eventing for Anita and her daughter!

JJ Tate will be in Florida until April 2004 riding with Oded Shimoni, Olympian and World Cup competitor from Israel. She has several horses with her, and Donavan will join her in January. JJ will return to Wyngate in April and prepare for the show season in the Midwest. She will perform with Donavan at the Midwest Horse Fair April 16-18.

Brentano II was named Hanoverian Stallion of the Year in Germany for 2003. Riverland Farm is so excited to hear from the German Hanoverian Verband that Brentano II, sire of our new mare Bevolina (now nicknamed Boca), has been named Stallion of the Year! We have to thank our lucky stars for noticing her advertisement in the National Sport Horse Sales List. Something said, "Go see this one!" It was another of those "meant to be" moments. We are so appreciative of the help that her former owners, Elke and Klaus Herrmann of Indiana, gave us in order to seal the deal. Now we cannot wait to have her in foal to Donavan! - that will be a wonderful foal!! Anyone interested in reserving a foal from this pairing, let us know.


Wendy and Marty Costello are happy to report that Donavan's Retirement (from competition) Party was a huge success! There was laughter, tears, and a lovely tribute from Mr. Charles DeKunffy. We watched fantastic riding by JJ Tate on Donavan and Margaret Goodell on her stallion, Drachen Herz, a Donavan son; a free-lunging demonstration by Duesenjaeger (Pilot), a 4-year-old gelding; frolicking about of darling Donavan babies - Doha Day, Davy Crockett, and Déjà vu; delicious food; and best of all many friends and fans of Donavan's were there. A most heartfelt Thank You to Candace Tate and the staff of the Wyngate Dressage Center for helping us get our babies ready and keeping everything running smoothly. Thanks to Brenda Schulte for trailering Pilot over and bringing her yearling, DJ. As always the Dressage Center is a lovely place to hold an event like this and now we look forward to the next phase of Donavan's remarkable career!!

On September 15, 2003 Donavan was presented to the Rheinland Pfalz Saar International (RPSI) for approval and licensing. He greatly impressed the German representative, who noted his excellent bloodlines, and was entered into the Stallion book I, with scores of 9 on his Type (Breed and Sex Type), Canter, Overall Impression and Development, and used his 9 from his 100-Day Test on his jumping ability. (8s on his Trot and Conformation). His overall score was said to be one of the highest they have awarded. Wendy and Marty Costello very much enjoyed meeting the representatives of the RPSI and their visit to Nancy Maloney's Crossroads Farm in Hartford Wisconsin.


Congratulations to Dee Butler of Glen Duffin Farm, Virginia! Her filly, Fein Dancer (aka Piper), Donavan's granddaughter, was a premium 2003 filly at her German Oldenburg Verband inspection in North Carolina on September 13, 2003. See a photo of her on the German Oldenburg Verband website. Piper is by Feinbrand x Donnica by Donavan!

A wonderful story came to us from Jacqueline Ege. She calls it, "How to buy a horse when you don't have a clue!" but I prefer to call it, "Where there is a will there is a way!" Click here to read about Deja's Legacy by Donavan.

The Donavan Group,LLC at Riverland Farm announces the purchase of a beautiful young Hanoverian ma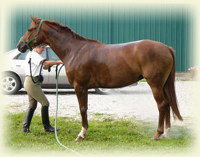 re, Berolina, from Klaus and Elke Herrmann of West Lafayette Indiana. She is by Brentano II (Bolero/Black Skyxx) out of Aline (Argentan/Absatz) with the Grande and Inschalla lines close in her pedigree as well. She is half-sister to Brentina, Silver Medalist Debbie McDonald's World Equestrian Games mount, and Hanoverian Horse of the Year here in 2002!
Berolina is 16 hands, a rich, dark chestnut with thin blaze and left fore, right hind socks. She is five years old, and is in the German Verband main mare book. She is going very well under saddle in dressage. She is a maiden mare, and will now be ridden and then readied for her mare performance test for the American Hanoverian Society inspections, and be bred to Donavan.
"We just love her sweet personality. She is beautiful, and she is so comfortable to ride! And she will cross well with Donavan!"


Riverland Farm's wonderful colt, who we named "Dempsey" when he arrived on the farm at age 2 months, is now officially registered as "Davy Crockett"!! When we sent in the registration forms, they always ask for 3 choices. I put Dempsey first, then instead of choosing for 2nd choice or 3rd choice a funny spelling of Dempsey, like Demmpsey or Dempsee, or Demppsey; I put an American Hero, Davy Crockett! (we were all feeling very patriotic!) Well that is his official name - I like the name Davy Crockett! There are approved stallions named Golfball, Robinhood, Walk On Top and Fred Astaire! So Davy Crockett it is. We will probably keep calling him Dempsey in the barn but he will be listed as Davy Crockett on official papers and when he becomes a star in competition! By the way, he is getting taller and more refined-looking, is as sweet as he can be, like Dad, Donavan!, and may have his mom's very pretty face! We promise pictures!

Drachen Herz, the young Hanoverian stallion known as "Draco," by Donavan, was provisionally approved for b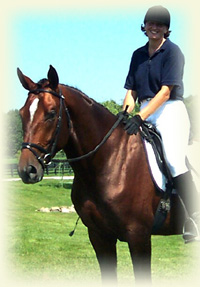 reeding at the ISR/Oldenburg NA Inspection, Sunday, August 17. He will go to the 100-Day test in 2004 at Paxton Farm, to be tested for his lifetime license. The 100 Day test here in America is administered in accordance with the 100-Day test given to stallion prospects in Germany. Donavan was tested in 1988 after arriving in the United States as a young horse and, as Reserve Champion of his test, still holds one of the highest scores in the history of the US test.
This is very exciting news and The Donavan Group, LLC at Riverland Farm (Marty and Wendy Costello) congratulate Margaret Goodell of Willow Glen Farm on this fabulous achievement!


Once again Donavan and I have helped raise money for the Task Force on Family Violence/Milwaukee area. While JJ Tate is in Germany riding with Oded Shimoni, Israeli Olympian, and watching the international competitions, Donavan and Greta Pell, JJ's wonderful co-head trainer at Wyngate Dressage Center, gave a lovely demonstration of a Grand Prix Musical Freestyle. The performance was in conjunction with a POLO Match to raise funds for this worthy cause. Donavan was a hit again displaying his wonderful temperament and rideability (Greta had only been riding him for three weeks or so while JJ was away). Donavan also loved meeting the kids and adults who gathered around to pet him.




On July 22nd, 2003 Riverland Farm's Doha Day (Dodie), by Donavan out of Ona Rainy Day, won Top Filly out of nine lovely fillies at the American Hanoverian Society inspections at Oldenburg Farm, Mequon Wisconsin! She also won the first annual Midwest Breeder's Group Award for Inspection Site Champions. We are so excited! All along she has been something special to us. She is out of our lovely Remy (Ona Rainy Day), Thoroughbred, approved AHS, who has given us our 4-year-old Duesenjeager (Pilot), now so handsome and going well under saddle.

Dodie's half brother Dempsey was also complimented by the German judge even though not the top colt that day, a very fine colt to watch as he grows up!

We cannot thank enough Margaret Goodell of Willow Glen Farm, owner of Drachen Herz by Donavan, for all of her help in getting these two mares and foals ready and to the inspection site, and shown in hand in a very professional manner. Even though she has been busy showing her stallion and training others she found time to give us her much needed hands!



Maureen and David Lowrey, of Highland Farms in Orillia, Ontario, Canada, have called in to announce the birth of their new colt by Donavan, born in June, who they say is "Grand!" He is big and easy! He is bay, no white, and dam is the lovely gray Canadian Sport Horse mare Riqueza, by Rio Grande (Westphalen and Hanoverian lines) and out of Tessa, CSHA, from Goldschlaeger/Gotthard Hanoverian lines. So don't know yet if he will go gray. This colt, a half brother of Donativo by Donavan, has been named "Barney" by their 5-year-old son, but will have a D-name for his registered name soon! Pictures have been promised! Be sure to check back! Warmest congratulations to the Lowreys.
Sire Rio Grande is a very successful sport horse and sport horse sire.


July 11, 2003, Wendy Costello, owner of Donavan, is so happy to report that her 4-year-old gelding by Donavan, Duesenjaeger, is home from his backing and training at Wyngate Dressage Center, and she is up on him and riding. "I have waited four years for this and am so excited!" "Pilot," as he is known, was bred BEFORE the Costellos bought Donavan and is out of their beloved, AHS-approved Thoroughbred mare Ona Rainy Day, "Remy". He is now a 16.3 hand handsome boy, with a very charming demeanor and easy to work with, even for this amateur! Remy is now 21 years old and just presented the Costellos with a full sister to Pilot, Doha Day! She is looker!!


Congratulations to Anna Schueler from Minnesota on her purchase of Oldenburg gelding Donnerschlag by ES Donavan out of Winterset. Anna is excited to take this youngster home and start him on his dressage career! Donner went under saddle simply and easily after two weeks of ground work and then trainer Margaret Goodell, of Willow Glen Farm, got on him and that was that! The next day he trotted and the next day new owner Anna was on his back too! That Donavan temperament and trainability demonstrated once again! We are so please for them both! It will fun to watch this partnership develop!


Congratulations to Valerie Ahl upon the purchase of two wonderful girls from Riverland Farm, Winteroza, 2-year-old by Winterprinz, and Winpenny, dam of our Dempsey, '03 colt, who will become a part of a new warmblood breeding program for Valerie. We look forward to many Donavan foals, dressage and jumping stars of the future! We are thrilled.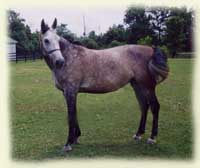 Riverland Farm is pleased to let you know that our mare, Atlanta, aka "Pepper," is now pregnant by Donavan with frozen semen! We could not be more excited! First try, maiden mare! Atlanta is by Aktion, Dutch Warmblood from Hungary, recently listed in the German Hanoverian Verband Newsletter to the US as one of the top ten dressage sires ever. He competed with his owner/trainer, Gyula Dallos, in the Olympics, the World Cup, and for over ten years at Grand Prix! He and Gyula gave performances with many of the notable riders in Europe. This will be a wonderful foal!
Sadly, we just had word that Aktion just passed away at the age of 22, so our "Pepper" is even more special. She is approved for breeding by the ISR/Oldenburg NA and the Rhineland Pfalz-Saar International.

Donavan will be taking a break from competition, and we are proud of his Farewell (from competition) Tour scores! At Sorensen Park on May 23-24, Donavan scored 66% at Grand Prix and 64% at Intermediate II under judge Tom Poulin - not bad for the 18-years-young guy!
Then at his old "stomping grounds," Tempel Farms in Wadsworth, llinois, where he started his great career with George Williams aboard, Donavan took a second place in the FEI Test of Choice with his Intermediate II score of 61.6% with distinguished judges Janet Brown and Axel Steiner. He received an 8 on his one-tempis (flying changes every stride)! The weekend ended on a nice note when the announcement was made about Donavan's semi-retirement and his career highlights were read.
Here is an excerpt from the wonderful article, found on Dressage Daily website, about George Williams, international dressage competitor, who rode and trained Donavan while he was at Tempel Farms as the head trainer there:
"As a competitor, George's highlights during his Tempel years include winning several Regional and National Championships with USA Equestrian and USDF. He was the USA Equestrian Central States Intermediaire I Champion on Conversano II Belvedera, a Lipizzan; USDF Region 2 Prix St. Georges Champion and Intermediaire I Freestyle Champion in 1989 aboard Donavan, a Hanoverian; and Fourth Level Region 2 Champion on Zoice, an Oldenburg. George earned his Bronze, Silver, and Gold USDF medals during this period."

Congratulations to Julie Aper on the birth of her "very tall" filly by Donavan out of her mare, Chase the Music.

Congratulations to Jackie Ege and family in Florida upon the birth of their darling filly, Deja's Legacy, by Donavan out of Sweet Princess.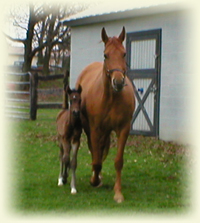 Riverland Farms' two new foals are making names for themselves! :-)
Winpenny's '03 colt by Donavan is now called Dempsey! Is anyone old enough to remember Jack Dempsey, the boxer? Well, my Dad talked about him! :-) It is also an Irish/Gaelic name meaning, Proud!
Remy's '03 filly by Donavan is now named Doha Day and Dodie is her barn name, that means beloved.
Sometimes either one is called Dodo!

Riverland Farm announces the purchase of Hanoverian mare Winpenny and her 2003 Donavan colt, so far unnamed, from Nancy Bowlus of Frederick, Maryland. Nancy and her husband have decided to sell their Blumont Farm and their horses. We are all pleased that Winpenny and her colt will be coming to Wisconsin. We will let you know more about their futures when they are settled at Riverland. First the colt will get a name, and then will be registered and branded at the AHS inspection in July. Then we will know more about what is in store for him! Nancy does report he is very sweet, very big, has great conformation, and floats! - just like his dad!
Winpenny is a lovely, tall mare showing great potential under saddle, so if someone is interested in owning a wonderful mare for show and later on breeding, please call. I will consider only the best home and plans. Her bloodlines are wonderful: Weltbekannt (Weltmeyer/World Cup I) and also Werther, and a Thoroughbred line, Jet Set by Jet Stream. There are several States Premium mares include in her pedigree!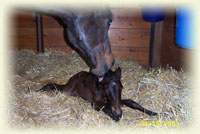 Our filly finally arrived! Due March 29th, just arrived April 16 - at 1:30 AM. I just spent the night at the Wisconsin Equine Clinic where Remy (On a Rainy Day) has been for four weeks waiting for the foal. Though Remy is 21 years old, she had this foal exactly as nature intended.
The filly is still not named, although "Delayed Delight" was first thought about right. We tentatively plan to call her Doha Day. Doha is in honor of our daughter, Jill, who says that they cannot wait for "Doha Day" when she and other soldiers can go to Doha, Qtar to enjoy more modern conveniences and buy products of comfort during the war. Jill is stationed in Kuwait. "Day" is in honor of the filly's mom, On a Rainy Day (Thoroughbred, approved Hanoverian), and the "D" is of course for Donavan. Her barn name will probably be Dia (Spanish for "day") or Dodi ("beloved").
This filly is full sibling to Duesenjaeger, "Pilot," our gelding now under saddle at Wyngate Dressage Center. This filly must have been waiting for Daddy Donavan to return from his weekend receiving standing ovations at The Midwest Horse Fair, in Madison Wisconsin, before arriving. Donavan was nearby when she entered the world! What fun to run from one stall to the other and see the three all together, Dad, mom and filly. She has Dad's and brother's same three white socks and mom's star. She is a very pretty little lady and very correct! We are extremely excited! We cannot thank the doctors and staff at the Wisconsin Equine Clinic enough for their support and expertise! especially Dr. Kristina Johnson, who prepared to spend the night with me there, and Dr. Andy Schmidt, who offered to come in also if there was any problem at all!

We just got word of the birth of a colt on April 8, out of a Hanoverian mare, Winpenny, owned by Nancy Bowlus of Frederick, Maryland. Nancy reports he is "floating around the paddock!" So far her Donavan colt is unnamed.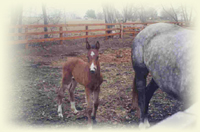 The first Donavan foal of 2003 was born on March 14, two weeks early. Dartanyon is out of Bedazzle My Heart, a lovely gray Oldenburg mare by Bordeaux* (Hanoverian) out of an approved Thoroughbred mare. He is bay like his dad (may turn gray?) and has Donavan's three socks too. Owner and breeder Linda Bland is thrilled! Dartanyon is for sale.

Planning Ahead!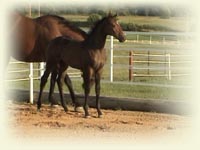 Riverland Farm and The Donavan! Group, LLC are excited to introduce you to Bianna, by Hanoverian Stallion ES Bordeaux and out of Alexa, Main Mare Book Hanoverian mare. She will be a future broodmare for Donavan, and a riding horse. She was purchased from Dr. Doug and Shannon Langer of Maple Run Farm, Helenville, Wisconsin.
Bianna is a beautiful and elegant, refined and athletic young Hanoverian yearling. Coincidentally, her dam, Alexa, arrived from Germany with Donavan! This was meant to be! We are very pleased and look forward to offspring from this match. Check back from time to time and watch her grow up.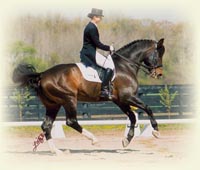 News from the USDF re: 2002 Awards: Donavan has earned Second Place in the Hanoverian /All Breeds Year-End Awards at Intermediaire-II. His average was a teriffic 61.463%. Of course his partner was Jessica Jo Tate of Wyngate Dressage Center, Walworth Wisconsin.

We may soon be able to accomodate breeders who prefer working with frozen semen for Donavan. In November Donavan was tested for semen freezing, and the report is he had "great numbers," as they say! We will be "field testing" on one of Riverland Farm's young mares this year, and only a few select outside mares. Please inquire if you are interested.

SALES News from Riverland Farm:
Congratulations to the Peterson family of Sheboygan, Wisconsin on their purchase of Theo, a Thoroughbred gelding. Daughter Ashley had been leasing him for Pony Club and they have become a wonderful team. We are so pleased that Theo will be with her for a long time!

Congratulations also to Kathy Cook on her purchase of Sammie R., Brenda Schulte's Thoroughbred mare. The plan is for Sammie R. (a.k.a. Justine, Oldenburg NA-approved) to have another Donavan foal, a sibling to Deja Vu ('02).

We are thrilled that Betsy Battista has purchased Kay's First, a Thoroughbred mare who is approved by the AHS and Oldenburg NA. She is the dam of Drachen Herz, a young stallion by Donavan, owned by Margaret Goodell, of Willow Glen Farm. Betsy purchased Kay's First with a Donavan breeding. Kay's First (Tilly) replaces Betsy's mare who had an unfortunate accident and was euthanized, also losing a foal by Donavan. We all are hoping to see two new Donavan offspring from the Battista breeding program!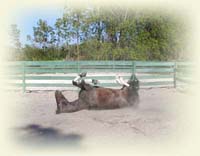 Donavan is in Florida
for the 2003 Winter Equestrian Festival, and he seems to be enjoying himself! He will return to Wisconsin to breed at the end of March!

A Donavan son, Dooley, owned by Carol Allgauer, was just awarded a First Place USDF Year End Award at First Level with an average of 71.324% for 2002! Congratulations to Carol and Dooley! We will watch for more good things in 2003.

January 17,18, 19 Wendy and Marty Costello went to the American Hanoverian Society annual meeting in Baltimore to receive Donavan's Year End Award and also to enjoy meeting other breeders and stallion owners and to get reacquainted with old friends. A highlight of the meeting was Dr. Ludwig Christman of the German Hanoverian Verband's talk on bloodlines and the influence of the Thoroughbred, the Trakehner, and the Holsteiner on the Hanoverian bloodlines. He also gave tips on breeding our stallions to approved Thoroughbred mares. This delighted us as we know that Donavan is a wonderful match for TB mares, producing offspring of interest to eventing competitors - because of his high jumping ability scores - as well as offspring with dressage talent.
Anyone with a Thoroughbred mare who might like to breed to a warmblood, and who needs information regarding that process, just call us: Wendy Costello, 262-243-9190 or email: wwc@donavan-stallion.com.