Spring foals have started to arrive! Stay tuned for more photos!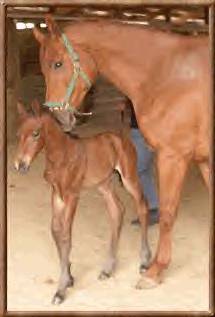 Valerie Ahl has announced the birth of her '04 Hanoverian colt by Donavan, named Divot ,( if AHS ok's ). Winpenny (Penney) is also the dam of Riverland Farm's Davy Crockett by Donavan . Winpenny was purchased in foal by Valerie Ahl and is being bred back to Donavan. Valerie is so excited about this big beautiful colt, she is keeping him! Winpenny is from the Weltbekannt: Weltmeyer and World Cup lines.
visit Valerie's new website..sporthorseprospects.com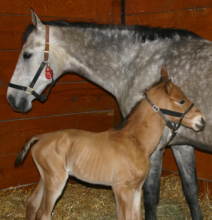 Colt - He is "probably to be named D'Aktion, or Daxion...called Dax. (Grandsire=Aktion ). (We have been calling him "Frosty" since he is our frozen semen baby.) He is lively, athletic and as sweet as he can be! Pepper, mom is being bred back to Donavan for '05 foal.



Colt, out of Atlanta, a Dutch Warmblood/Thoroughbred mare by Aktion (approved Oldenburg NA and RPSI). Bred and owned by Wendy and Marty Costello of Riverland Farm, Mequon, Wisconsin.
A filly by Donavan was born May 11... a bit early..to Fenella, Catherine Powell's lovely gray Oldenburg mare, at Bryn dar Farm in Dale, Texas. Catherine reports , Dara is "gorgeous", very dark, huge, with a diamond star, a strip and one white hind. She thinks she may turn gray but she is very happy! Photos will follow.
Congrats to Cat!!

Congratulations to Emily Neuman on the birth of her filly by Donavan out of her lovely TB mare Apple Baroness! Another one a bit early but perfect! She is very "feminine" and a bay..a white hind and fore and a star!! Name to be a form of Dolce!
Emily works at the Wisconsin Equine Clinic where Donavan spends much of his Breeding season so we are joined in congratulating her by all of the staff and doctors there! Emily and Wendy Costello go back a way, when they trail rode together , long before Donavan was a dream come true in her life. Pictures have been requested!!

Colt, 4/01/04. born to Heather and JJ Schulte's AHS-approved Thoroughbred mare, Red Head Knock Out (Lucy). Colt is bright bay, with one white hind sock, a star and very straight legs all around - a handsome big fellow! The Schultes own Jubilee Farms in Ohio and also breed Chevals Canadiens, standing Dazzler, Sire of Riverland Farm's "Spirit" out of their mustang mare, Sugar. (see Mares page and News of 2002)

Filly, named Daphne, born to Rebecca Meana's Trakehner (Westphalen premium) mare, Pantera, 4/04/04. Might be black! Star, 3 white socks!! Sound familiar? ... like Donavan. Lovely, came a bit early but everyone is fine! Pantera is a first-time mom and doing well. Rebecca is in Iowa and she began her journey into breeding to Donavan by buying the donated breeding from the September 11-Firefighters Benefit Auction that was held by Wisconsin Equine Clinic. This is the "horse of her dreams" and the breeding was purchased as a present to herself for graduation from college! We are so happy for her!

Colt, born to Bedazzled, Linda Bland's lovely gray mare, by Bordeaux. This is a full sibling to Dartanyon, now a yearling, and this one also has three socks and a star. She thinks he will go gray though Dart has not. Linda reports a very healthy, correct boy already showing great movement! She has thought she would decide to sell one? We will see!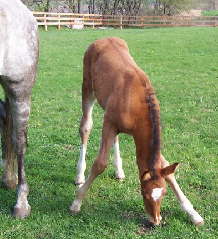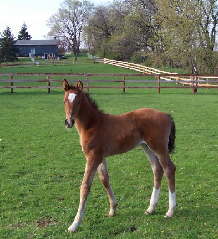 Filly, born to Trish Brost Phippen's Ramona, a Thoroughbred mare, Plymouth, Wisconsin. Filly and mom will be going to an inspection/approval this summer. Filly is a bay with strip and 3 white socks..yes :-) and Trish is thrilled.

Colt, out of Here's My Angle, an ISR/Oldenburg-approved Thoroughbred mare. The colt is named Destrea, and was born April 10. He has a hind sock, a hind white heel, and a flame-shaped star. He is owned by Liz Stroemer of Sonrise Farm, Custer, Wisconsin.

Colt, out of Sammie R, an ISR/Oldenburg-approved Main Mare Book Thoroughbred mare. The colt is named Ducatti, and is owned by Kathy Cook of Sonrise Farm, Custer, Wisconsin. He was born April 14 and has three socks and a big blaze!