Back to the News page, ESDonavan.com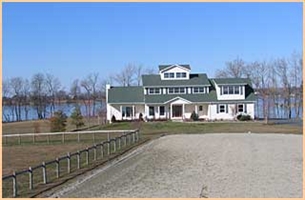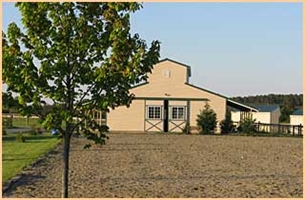 October, 2007 Kent Island , Maryland.. our new place in Maryland ; above the original barn.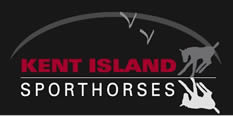 Kent Island Sporthorses will open its doors on October 6th , 2007 when the main group of horses arrive from Riverland Farm in WI. Donavan is landing that day at GoodNess Ridge Farm in Mt. Airy, MD, staying with JJ Tate and Shari Glickman for awhile until his special suite is built at KIS.
Furniture , household, barn items arrive in MD. by the 8th, and then we go back to finish the move when we drive our our dogs and cats and the truck/ trailer and pull in on October 10. Our mare Manhattan (Precious Icon) will arrive the following weekend from Ohio where she has been with her former owner, Isabelle Brown, and Isabelle's new Donavan colt , Don Giovanni. Then our two yearlings Dakairi and Debbie (by Donavan) will come home from visiting with Angela Barilar at High Point Hanoverians in Chestertown MD. Thanks so much to Isabelle, and Angela and her staff!
We have added a couple of newcomers to the group. We have purchased a beautiful yearling filly from Don and Dee Kapper at OuterBanks Farm in Ohio. She is Royal Princess by Royal Prince out of Brimming by Banter. Look for more about her on the News page. We also welcome "home" a lovely, red bay young mare by Donavan and bred by our daughter Jill, several years ago. Her name is now Delicious Dot (aka Dilly). She was originally purchased and loved by a young woman who had to sell her and we were happy to get her back. Dilly is very nicely under saddle, and we hape to have her as one of our riding horses or perhaps to breed her one day. Dilly and Princess should be arriving within a month of our settling in. Update: March, 2008: Princess arrived early in 2008, Manhattan is here and now has a new colt.
We have discovered that Bianna, our kind , lovely Hanoverian mare, who just had a sweet filly this year, is showing talent for Hunters/jumpers. So she is staying back in WI with the excellent eventer/trainer Ann Jennings of Pigeon Creek Farm , Mequon,WI. Bianna is easy to ride and loving the attention! So she is for sale and I think would like to be a performance mare for a while!
Plans for the Farm:
March 23, 2008.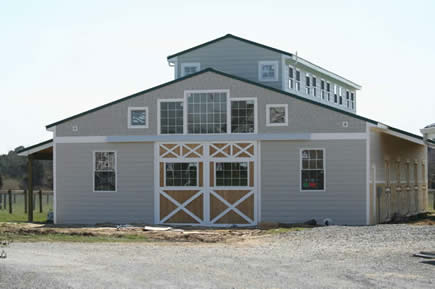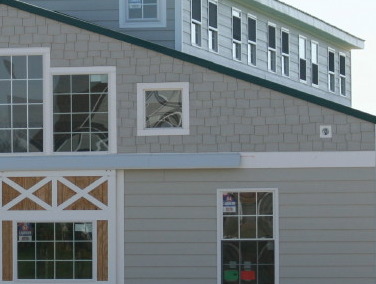 Here comes the second BARN! We are almost there. The second Barn is mostly finished, still waiting for the plumbing to be finished, then the lights go up, the stall doors and grills go in, the mats go in , the office apartment on top gets outfitted and the staining and painting ...then the horses move i!
We have put up some new fencing for a new pasture, and some stone walks are in so no more muddy walks. We made the entry gate areas of several pastures firmer with bluestone.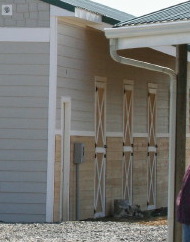 Next, in no certain order, a Stallion suite for Donavan, adding on to the house, an equipment shed, some additional landscaping, patios, walks, etc. We will consider building an indoor arena as well.
We plan to paint or stain the unfinished parts of the exterior , doors and lower parts of sides of the barn a deeper shade >
of the same color that is on the main part..the shingle detail on the top front, will be darker
After the new barn is finished, we plan to spruce up the old barn, and the run in sheds, by making them match the new barn more in color and the interiors. New doors for the old barn as well.
We will fence in the Dressage arena so we can use it for some work with the youngsters, and for picture taking etc.
Links of Interest:
Donavan , his foals, and other information
JJ Tate Wows them in Florida 2006!!
About Judy Walker; artist, Creater of The Donavan Watercolor