From the Desk of Wendy Costello, Update January 20, 2009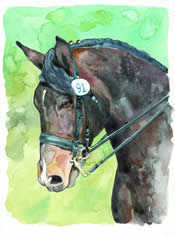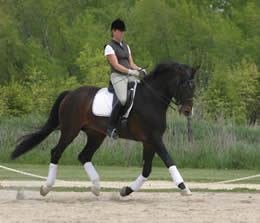 Kent Island Sporthorses
Let's have a party!
In September 2009, ES Donavan, our beloved Hanoverian stallion will have been with us for 10 years. He will be 24 years old in March. We are amazed at the flight of time, but also all that was experienced, accomplished and created due to this wonderful stallion coming into our lives. We have made lifelong friends, through Mr.Donavan.
We are now in the midst of completing and updating a new facility, for the newly formed Kent Island Sporthorses. Though buildings of "KIS" are not yet finished we are far enough along to want to celebrate.
We plan to have an Open Barn Party. Perhaps early this spring.. We want all of our horsey friends and acquaintances: mare owners, and foal owners, breeders, and Donavan offspring owners, new neighbors, old non-horsey friends to please come and share in our progress!
Donavan's condo is now built and Donavan has moved in!. Perhaps our young stallion Rosall can visit too assuming our wonderful trainer, JJ Tate says OK. :-)
It is my hope/plan to establish an achievement award in Donavan's honor.. perhaps with the USDF or AHS. I would love to hear ideas of an award or recognition that should be sponsored.
Since Donavan is 24 in March, we are making some changes. He is still healthy and able to sire more offspring. However we want him to be fully retired soon to live like a king. He has been "semi retired" until now - after Grand Prix competition until 18, Grand Prix exhibitions until 20, and continuing under saddle until very recently, breeding very full books of mares throughout.
So with that in mind we are also announcing that Donavan in 2009 will only stand for collections to the public for a limited book in private treaties. We also have frozen semen and it is very good quality. I invite inquiries. Donavan is a proven sire of quality offspring , crossing especially well with the approved TB's of several registries, and the very refined warmbloods often seen today. He carries bloodlines on his sire's side, Dirk, Duft II, Duellant, ( the "other D-Line" ) that cannot be found readily in Germany today, but are highly esteemed, and therefore, we believe should be cultivated for the future. On his Dam's side is the ever sought after A line of Argentan.
We often hear glowing reports from those that love their big and strong, good boned Donavan horse, that succeeded in the sports and also for pleasure riding. Donavan is an extraordinary example of health, soundness and longevity. His temperament, trainability, work ethic, along with his natural talent are appealing qualities that are consistently passed on producing sought after Amateur horses as well as those also shown successfully by professionals.
His sons and daughters, produced in nearly equal numbers, almost always are bay, a few gray, never chestnuts, and are both attractive to look at with talent for successful competition in all disciplines, Dressage, Jumping, Hunters and Eventing
Thank you for your friendship and support.
Good Luck to all in 2009.
We will be in touch again, soon.
Wendy and Marty Costello
Kent Island Sporthorses / wendycos@gmail.com